This is the only place you could invite these two lovely ladies to join you in a threesome and it wouldn't be totally inappropriate... because that's a golf term! Get your mind out of the sand trap!... TopGolf is a massive complex near the Domain that mixes elements of a driving range, dart board, and sports bar to create a golfing experience that won't make you want to beat down Bob Barker.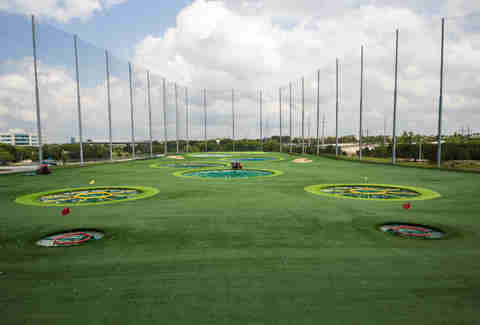 How it works: the three-story, 215yd driving range is outfitted with these giant targets. The balls are embedded with microchips. Depending on the type of game (six to choose from!), you'll aim for different targets, score points, and totally obliterate the up-to-five friends who can join you in a bay which you rent by the hour.
As shown by Platinum Lounge hostess Kati (who passed the 5hr hiring gauntlet known as "the X-factor"), there's no need to bring your own clubs. Each bay is outfitted with enough firepower to kill an eagle.
Here, bartender extraordinaire and sometime bikini model Jillian shows off her impressive form.
Once you've swung up an Angel Cabrera-sized appetite, bite into the Mushi: a Mexican twist on sushi conceived by a head chef who's cooked for the last three presidents, so you know he's got executive experience.
Just like a shot whose backspin keeps it from rolling around the green, that mushi's got... bite!
And don't forget to wash it down with their 60oz Golf Bag Fishbowl. Just be careful: we hear there's a hole in one. Zing!