The ultimate ATX visitor's guide... for the less-than-ultimate guest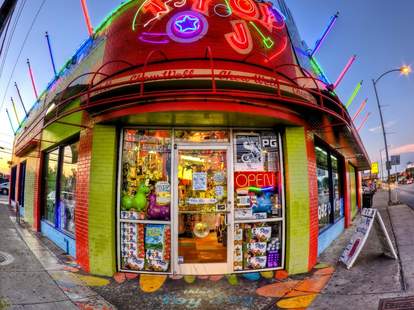 Because not everyone has the stamina to stand in line for three hours at Franklin or stand up straight after drinking their way across 6th St, we've compiled a list of recommendations for those harder-to-please, but still-very-welcome visitors to our fair city.THE GUEST: YOUR SISTER AND HER THREE-YEAR-OLD KIDBecause finding a place for a kid to play in Austin isn't exactly... child's play, here're five spots where a kid can be a kid.Toy Joy, 403 W 2nd St; 2nd St District; 512.320.0090After 25yrs spent serving the big kids of the UT campus, the iconic Toy Joy has moved to the more parent-friendly 2nd St District, where it's still peddling the same array of wacky, actually hilarious gifts, like a bag of concentrated unicorn farts. No, really.
AustinKids.org
Austin Children's Museum, 201 Colorado St; 2nd St District; 512.472.2499
The Austin Children's Museum is a solid pick for their Funstruction Zone (3 stories of foam structure-building!), a physics-based golf ball Rube Goldberg-esque exhibit, and even basic wood-working classes. Best of all, there're a dozen watering holes within a few blocks for you to escape for a quick drink.

Central Market, 4001 N Lamar Blvd; Hyde Park; 512.206.1000
Sample City, aka Central Market, is swarming with families trying tastes of the latest gourmet groceries, plus it's got a cafe with an awesome patio, and actually legit live music.
MixSee.com
Peter Pan Mini-Golf, 1207 Barton Springs Rd; South Austin; 512.472.1033
For the last 65yrs, Peter Pan Mini Golf has served as a Barton Springs Rd Never-Never Land of laid-back putting vibes, and lucky for you they never-never get upset if you bring in beer.

Coolhaus, 403 E 15th St; Downtown
Every kid loves ice cream sandwiches! And Coolhaus delivers the frosty goodness in flavors that will blow both your sis and her child's mind, while her kid runs circles through the East Side Fillin' Station food trailer park.


THE GUEST: YOUR GRANDPARENTS
Remind your grandfolks of the sorta-good old days with some antique oddities, nostalgic agriculture, and the Vietnam War.

Mayfield Park and Laguna Gloria, 3505 W 35th St; North Austin; 512.467.1868
Because, back in their day, peacocks were everywhere, the double-shot of the bird-filled grounds of Mayfield Park and Laguna Gloria offers a sanctuary from the loud sounds of the city.
LBJ Museum, 2313 Red River St; UT/West Campus; 512.721.0200
Although grandma and grandpa may be shocked by the realism of the animatronic president, the LBJ Museum is a must for any history buff, and while you're there you can enjoy a Vietnam decision room video game.

Springdale Farm, 755 Springdale Rd; Central East; 512.386.8899
If grandma grew up on a farm, or just likes to eat like she did, hop over to tour the bountiful grounds of Springdale Farm, or make reservations for their farm-to-table weekend meals via Eden East.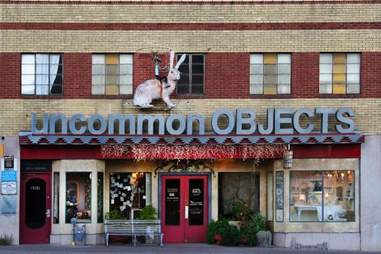 Facebook.com/UncommonObjects
Uncommon Objects, 1512 S Congress Ave; South Austin; 512.442.4000
The best of the best antiquing is to be had at South Congress's Uncommon Objects, and luckily your granny's poor eyesight won't be good enough to read some of the staggering price tags.

Alta's Cafe, 74 Trinity St; Downtown; 806.786.0115
One of Austin's best-kept secrets, Alta's Cafe sits right on the water and serves as a scenic-but-still-in-the-city afternoon activity with simple snacks, coffee, and breakfast tacos.


THE GUEST: YOUR FRAT BUDDY WHO CAN'T DRINK ANYMORE FOR VARIOUS REASONS
You stood beside him when he pledged Sigma Phi, and you're still standing beside him now that he's pledged not to consume alcohol because of a court order or a nagging wife or a liver problem. But hey, there's still sports, right?

Pinballz, 8940 Research Blvd; North-Central; 512.420.8458
Relive classic bumper-based gaming at Pinballz, whose collection of games has climbed to 200+ and boasts nearly all of the most canonized tables, ranging from movie tie-ins like Star Trek to all-time classics like Medieval Madness.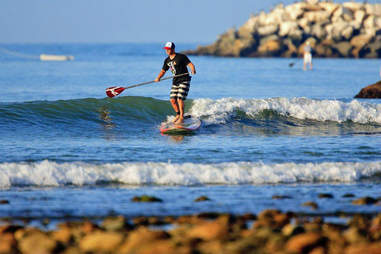 Facebook.com/SUPATX
SUP ATX, 515 S Congress Ave; South Austin; 512.517.5417
Take in the majestic non-alcoholic beauty of Lady Bird Lake on a stand-up paddle board rented through SUP ATX.

Red's Indoor Range, 6200 W Highway 290; West Austin; 512.892.4867
Let off some steam with one-on-one shooting lessons, or by renting out everything from Berettas to AK-47s.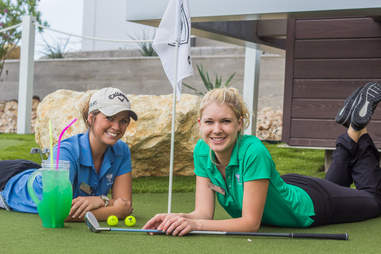 TopGolf, 11301 Burnet Rd; North-Central; 512.222.5950
Whether or not he's a golfer, TopGolf is still a pretty damn smart move, given that their system caters to amateurs and they've got a legit menu, plus plenty of other distractions, like pool and a really cute wait staff.

iFly, 13265 N US 183; North-West; 512.774.4359
Since your buddy can't take any substances to get high, opt for an unforgettable indoor skydiving session.