While Austin is indisputably the best place in Texas, sometimes change is healthy -- especially when that change involves a road trip (come on, you know you aren't going to do something crazy like move away!). Texas is massive enough that there's something interesting no matter which way you roam. Here are 11 road trip-worthy destinations, all of them within a couple of hours of Austin:
New Braunfels
Distance from Austin: 48 miles Southwest; 50-minute drive
Why it made our list: Lazing about in a tube on a cold-spring river is the picture-perfect definition of a Texas vacation, and there's no better place to do it than in New Braunfels. Head to Texas Tubes to rent your flotation device and settle into the Comal River with canned drinks in hand (it's still legal). If wine's your drink of choice, Dry Comal Creek Vineyards and Winery is your answer. Known for their Black Spanish wine, you'll find bottle discounts, tours, and plenty to drink.
Pro tip: Stay and play at mega-waterpark New Braunfels Schlitterbahn, with crazy rides like the Black Knight (tubing in the dark) or the six-story-tall Master Blaster Uphill Water Coaster -- which is as much fun as it sounds.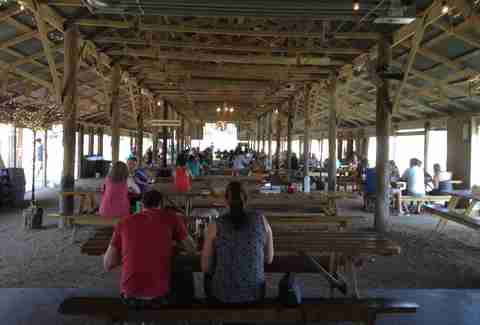 Dripping Springs
Distance from Austin: 24 miles West; 30-minute drive
Why it made the list: Known as "The Gateway to the Hill Country", a better nickname for the town would be "The Gateway to the Booze". The town is home to plenty of liquor and beer production companies that offer tours to the public. There's the Dripping Springs Vodka Distillery, Tex Mex Brewing Company, and Jester King Brewery. Be sure to feed that stomach with fresh, wood-fired pizza pies from Stanley's Farmhouse Pizza, located right on Jester King's premises.
Pro tip: Take a pause from the everyday and head out to the ethereal Hamilton Pool Preserve, a grotto complete with a 50ft waterfall and brilliantly green water. 
Cedar Creek
Distance from Austin: 21 miles Southeast; 35-minute drive
Why it made our list: Gaze at the eerie beauty of the (sadly) partially destroyed (from the wildfires of 2011) Lost Pines Forest, where miles and miles of loblolly trees stand. When you're done, go loosen up and have some fun at the Dinosaur Park, where full-sized replicas of the creatures line a trail outside.
Pro tip: Relive those camping years at the Hyatt Regency Lost Pines Resort & Spa, where archery, trap shooting, horseback riding, and s'mores roasts are all on the schedule.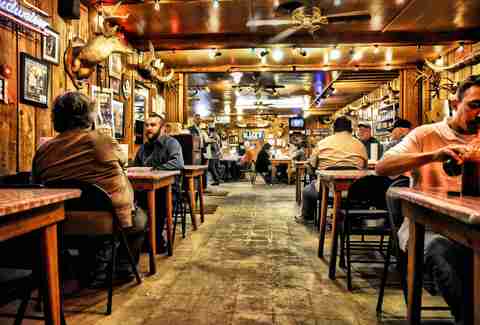 Lockhart
Distance from Austin: 30 miles South; 36-minute drive
Why it made the list: Home to three of the state's best-known barbecue restaurants, Lockhart wears the nickname "The Barbecue Capital of Texas" proudly. The brisket at Black's Barbecue is perfectly flavorful, moist, and fatty. Then go sans-sauce at Kreuz Market, where they don't allow distractions from their meats. Oh, and don't forget the newest of the three, Smitty's Market -- technically it's the newest, even though it's in the old building that held the original Kreuz. If you can somehow pace yourself, eat something from all three restaurants. If not, well, it's not that far away.
Pro tip: Attempt (and likely fail) to work off all those calories by rummaging through the eclectic vintage goods at the town's many antique shops, like Field's Stable Antiques or MG's Antique and Collectible.
Wimberley
Distance from Austin: 38 miles Southwest; 45-minute drive
Why it made our list: It's considered an artist's haven. Hit up galleries like Gallery on the Square, Wimberley Glass Works, or Pitzer's Fine Arts if you can go the high-end route. Make sure you also take the time to go to Market Days, one of the state's oldest outdoor markets, complete with food, music, and of course... art.
Pro tip: If you like vineyards and breweries, why not try an olive oil field? Bella Vista Ranch offers tours of their fields and tastings of their olive oils.
Gruene
Distance from Austin: 46 miles South; 50-minute drive
Why it made our list: Visiting the Gruene (pronounced  "green") is like taking a trip back to old Texas. The buildings that stand today were built back in the 1840s by the town's founders, Ernst Gruene and his sons. Dine at the Gristmill River Restaurant and Bar, which is housed in the former cotton gin. Spend the night in the family Gruenes' old Victorian home, the Gruene Mansion Inn, right along the Guadalupe River.
Pro tip: Stretch out those legs and drink all the cheap beer you can while two-stepping to your heart's content at Gruene Dance Hall, Texas' oldest dance hall, where country music greats like Willie Nelson, George Strait, and Lyle Lovett all played.
Johnson City
Distance from Austin: 48 miles West; 1-hour drive
Why it made our list: Celebrate America's political history by visiting the birthplace of the country's 36th president, Lyndon B. Johnson, whose family made it's name in the town as ranchers and businessmen. Get a quick history lesson at the Lyndon B. Johnson National Historical Park Visitor Center. Then head out the Texas White House, otherwise known as the LBJ Ranch, where the President and First Lady, Bird Johnson, made their home in the Lone Star.
Pro tip: Referred to as the "Wildflower Capital of the Texas Hill Country," the roads and highways of Johnson City burst into colorful blooms come springtime, so take leisurely drives and enjoy the blossoms. Otherwise, soothe yourself by making an appointment to visit some of the town's sweet-smelling lavender farms like M&J Lavender Farm, where you can pick flowers and buy lavender goods, too.
La Grange
Distance from Austin: 60 miles Southeast; 1.1-hour drive
Why it made our list: Embrace the state's Czech roots at the Texas Czech Heritage and Culture Center. Tour through a Czech village (including former houses of old residents), dance to polka music at the Polka Lovers Club, and splurge on the lunch option for the best stew.
Pro tip: Make a pitstop at Weikel's and eat all the kolaches (Texas' unofficial state pastry).
Fredericksburg
Distance from Austin: 80 miles West; 1.5-hour drive
Why it made our list: Although peaches are plentiful during the summertime in this Hill Country destination, there's plenty of other things to do in the off-season. Rock climbers should head to the otherworldly formations and giant pink granite dome of Enchanted Rock. Then, rest those muscles and drink at bed & brew Fredericksburg Brewing Company, where the rooms above the restaurant come with a free four-sampler of beers from the brewpub downstairs.
Pro tip: Even though the Pacific Ocean is 3,000 miles away, the National Museum of the Pacific War delves into the history of World War II as it affected the Pacific region. Why? Because Admiral Chester W. Nimitz, who was the commander in chief of the Pacific Theater, grew up in the town. 
Shiner
Distance from Austin: 90 miles Southeast; 1.5-hour drive
Why it made our list: Every can and bottle of Shiner beer is made right here at the Spoetzl Brewery, the state's oldest brewery. Find out how the Bavarian beer is made while touring the brewery (which started out as a tin house in 1909), and drink all the free samples you can.
Pro tip: Beer pairs well with sausages from Patek's Shiner Smokehouse. Pick up a couple links, too, at their grocery store.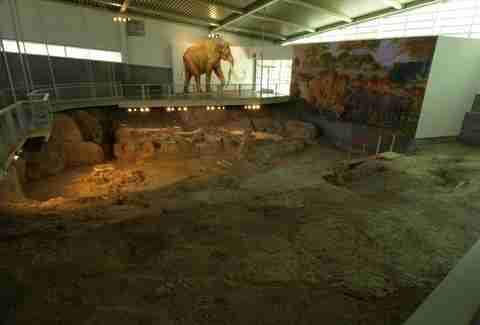 Waco
Distance from Austin: 102 miles North; 1.4-hour drive
Why it made our list: Texas is the Dr. Pepper state, and the Dr. Pepper Museum pays true homage to the classic drink with memorabilia galore and exhibits like "Soda Pop at the Movies", which examines fizzy tie-ins in films, and a visual timeline of the soda's storied past.
Pro tip: Take an even further dip into history by visiting the Waco Mammoth Site, maybe the country's only mammoth site, where over 20 mammoth skeletons and a sabertooth tiger have been uncovered since it's 1978 opening.
Sign up here for our daily Austin email and be the first to get all the food/drink/fun in town.