Event of the Week North Austin's dude-friendly experiential resort Travaasa is throwing a BBQ Bash for the ages with smoky dishes from iconic pits like The Salt Lick (pork ribs, fire roasted corn, blue cheese slaw), Lexington-based Snow's BBQ (brisket and potato salad), and Dallas fire-starters Pecan Lodge, who're bringing beef ribs and green chile hominy. The other pits are also worth a sniff, see who else is cooking here

Thursday, June 13th The Paramount's next door neighbor the Stateside Theatre hosts a digitally restored version of the classic 1957 train-hopping Western 3:10 to Yuma. All aboard

Friday, June 14th The Austin Convention & Visitors Bureau is unveiling the 10th edition of their yearly local music compilation at The Belmont with performances from neo-soulsters Suite 709 and the Latin fusion stylings of Este Vato. The first 300 people in the door get a free CD!

Saturday, June 15th Saturday's other live BBQ option, comedic stronghold ColdTowne Theater's throwing an improv event called Braised in Texas with the cast riffing on the idea of a Central TX BBQ competition. Sounds... sketchy?

Sunday, June 16th Oh crap, it's Father's Day. Luckily the Blue Starlite Mini Urban Drive-In's got you covered with a cookout-friendly double feature of Mr. Mom and National Lampoon's Vacation. Reserve your car space right here

Throughout the Weekend The Alamo Drafthouse Lake Creek is repping the Summer of '83 with screenings of Jaws 3-D alongside a food special of flash-fried fish & chips. You're gonna need a bigger boat

Austin will be swarmed by thousands of leather-clad hog-riders for the ROT Rally, but fear not, non-motorcycle-riding readers, there's still plenty of exhaust to enjoy, ranging from vintage cycle shows to performances from vintage rockers like Twisted Sister and Vince Neil. They also have a comedian wanted for killing audiences across America... Find out who right here

(Next) Thursday, June 20th South Austin outpost of New American eats Olivia is cooking up a whole goat alongside a Loncino hog, all paired with suds from local brewery Hops & Grain. Call to make a reservation (it'll book up fast); get the number here
Recommended Video
Get Handheld Korean BBQ With This Burger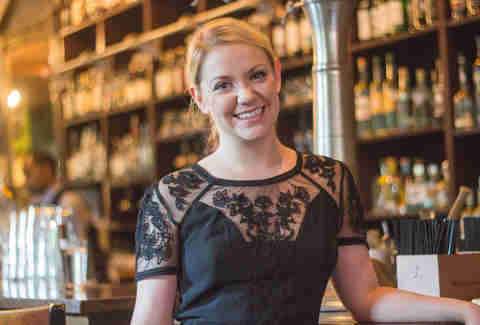 Local Lady We Love, and Where To Meet Her
Meet Shelly Lashley. When she's not busy reading her subscription to Poetry magazine, taking fingernail-art to new heights, or sneaking into the pool at Eastside Commons, she's keeping the absinthe-greased wheels turning at cocktail den Peche as the front-of-house manager. Traversing a busy bar all day means she can eat as much mac 'n cheese as she wants without getting fat, but also that she knows a thing or two about restaurant etiquette.

Here, a tip from this week's Local Lady We Love (if you see her out at spots like Whisler's or Butterfly Bar, she accepts thank yous in the form of well-crafted Negronis): "Don't push tables together like it's your damn living room."