Before you go to that big ranch in the sky, there are first a few obligations you have to fulfill as a resident of Austin, Texas. Narrowing this list down was no easy task, but if you stick to the plan you'll undoubtedly die a happy man (or lady). Here are 29 Austin things you'd better do before you die, or (worse?) leave Austin.
1. Drinks at the Cloak Room
This is where folks who work in legislation go to drink whisky and canoodle in their work clothes. The bartender is notoriously cranky, so don't ask for another round until after she's had a smoke break.
2. Have an Armodelo from La Perla
The beautiful concoction (imagine the coldest Modelo you've ever had, now imagine it's rim filled with fresh lime juice, lime salt, and a dash of Tabasco) sounds like "armadillo." Get one before La Perla is plowed down and replaced with an establishment whose style is less "dive-bar-with-pool-table" and more "bougie-condo-with-a-pool-and-bar."
3. Catch a set at the Elephant Room
Hey! It's a unique jazz experience that doesn't involve ill-advised shots or people talking over the music. Revel in its old-school appeal.
No explanation needed.
5. Bowl a 300 at Dart Bowl
Okay, fine -- more like a 86 and a plate of delicious, albeit gut-destroying enchiladas.

6. Eat the best barbecue in America at Franklin
Franklin Barbecue has consistently topped the lists of every conceivable publication for five-ish years. Grab a mini-cooler, a folding chair, embrace the wait, and get it done.

Make sure it includes: Joe's Bakery, Mi Madres, Mi Trailita, La Cocina de Consuelo, Tyson's... as many places as possible, really.
8. Admire the view from Mt. Bonnell
Between the skyline, river, and hill country views -- this is something that can inspire awe in anyone who decides to make the not-too-far trek. Bonus bucket list item: make a citizens' arrest when you see someone simultaneously declaring their love and vandalizing the viewing platform!

9. Hit all 10 days of SXSW
Supplies needed: Dr. Scholls gel inserts, $4000, spare liver, and lots of Topo Chico. #areyougellin

10. Stroll through Texas State Cemetery
Remember how much you loved field trip day when you were a kid? Well, don't let the fact that you're an adult who pays taxes now get you down. Have some tacos and a margarita at Takoba, then cross the street and stroll the beautiful grounds where Texas' leaders are now spending eternity.

11. Hit Dollar Hot Dog Night at a Round Rock Express game
Warm summer nights and cheap hot dogs, ahhhh. Even better if you bring a flask... not saying it's okay, just saying I've seen people do it. Pro tip: goes down at Monday home games.
12. Go on a classic/craft cocktail hop
Start at Garage, then hit up Peché, Isla, East Side Showroom, Whisler's. Then call a Lyft.

13. Go to a roller derby bout
We are home to some of the most badass, coolest ladies -- whom you would not want to piss off. Also, they come up with the best names. We're looking at you, Bendy Davis and Lonescar.

14. Spend an afternoon at Hippie Hollow
Convince your friend to get in naked, then throw a handful of chips into the fish-filled water near them. Let the show begin.

16. Shop for music at Waterloo Records
Remember the good old days of going to your local record store and buying something because the album art looked cool, or getting a recommendation from a cool punk clerk, or picking up xeroxed show flyers? If not, go now. If so, this still exists at Waterloo -- so also go now.

17. Touch everything at Toy Joy
So, the original location is gone, but the second you step inside the new 2nd St store, you'll be transported back to the Drag. Bins of odd plastic toys, vintage replicas, puppets, Sanrio -- it's like being a kid, only now you can afford to actually buy something.

18. Go to a Quote-Along at the Alamo Drafthouse
The Action Pack is responsible for kooky quote-along and sing-along movie events that occur all month. These usually include props, contests, and a lot of singing, dancing, and yelling.

19. Go to a secret bar
Garage is a gorgeous cocktail bar tucked in a parking garage, Vinyl is just beyond the hidden door at beer bar, Chicago House. And the mother of all speakeasies: Midnight Cowboy. You'll need a reservation and there is a two-drink minimum at this former "massage parlor."

20. Tour a brewery
Or two or three. Independence, Live Oak, Hops & Grain, Austin Beer Works, Rogness, Jester King...

21. Go to movie night/classic car show at Top Notch Hamburgers
Like you need an excuse to eat some of the best burgers and fried chicken around.

22. Hang out on 12th and Chicon
Check out Dozen Street, The Badlands, and one of our favorites, King Bee. These spots are bringing great drinks, food, and live entertainment to the notorious intersection. Just think of the remaining sketchiness as added "character."
23. Watch the bats
But not from the bridge -- that's for tourists. There are riverboat rides for a nominal fee, and they are usually BYOB.

24. Karaoke at Ego's
You haven't lived until you've embarrassed yourself at Ego's. The wood-paneling, the hour-plus long wait for your song, the parking garage... it's all part of the charm.

25. Sunday brunch at Green Pastures
Bring out your Sunday best, peacocks and milk punch await you!

26. Celebrate Christmas all year
At Lala's Little Nugget on Justin Ln, it's Xmas all year long. The jukebox includes tunes primarily from the '50s, the tree and lights are always up, and the regulars are chock-full of dad jokes.

27. Drink German beer at Scholz Garten
Beer, brats and bowling -- it's been open since 1866, and although it often caters to the UT football-viewing crowd, it's a great spot for nostalgic beer-drinking any night of the week.

28. Go to a taping at ACL Live
If you enter often, you have to win tickets at some point. (Not that we would know... sniffle...)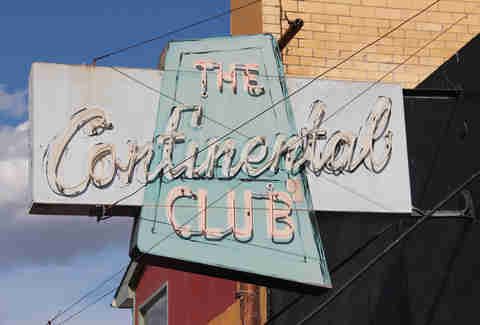 29. Catch a show at the Continental Club
The "grandaddy of music venues," the Continental has been featuring Austin's brightest talent since 1957.
Sign up here for our daily Austin email and be the first to get all the food/drink/fun in town.