Never a Dull Moment This Summer with These Things to Do in Austin
Food festivals, natural spring pools, and fan-cooled patios are calling.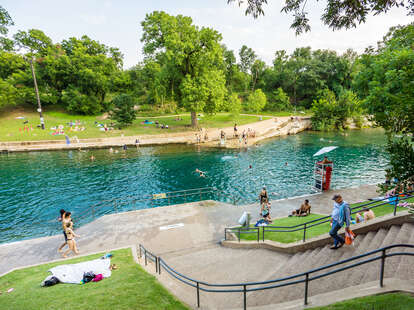 Barton Springs Pool

| stock_photo_world/Shutterstock
Barton Springs Pool

| stock_photo_world/Shutterstock
It doesn't matter if you've lived in Austin for two years or 10, the winter will make you forget how hot it gets. But as spring and summer roll in, those 90-plus-degree days return. Still, outdoor festivals, walking trails, and refreshing watering holes beckon (and occasional rainy days provide cover). On those unbearably hot days, we retreat inside with laugh-out-loud comedians, moving theater productions, escape rooms, and novelty gameshow nights. Here's what to do in Austin for a thrilling summer.
Get a cool drink on a patio
Drinking inside a cool cocktail bar is for the colder months. Spring is a time for lounging and day drinking. Austin hosts many bars with patios so big they are basically parks. Radio,The Hive, Luster Pearl, Tweedy's — Austinites have plenty of options for enjoying the spring air with a drink in hand. For those of us who don't drink alcohol, there are also plenty of places to find great mocktails, many of which provide that loungy outdoor atmosphere.
Laugh it up at the comedy clubs
Austin has a burgeoning comedy scene, and it's as good time as any to discover a new local favorite. Open-mic nights can be a mixed bag of talent, but plenty of Austin's best get their start at places like Kick Butt Coffee and The Velveeta Room (which also host many pro shows). Coldtowne Theater, The Hideout Theatre, and The Fallout offer an incredible slate of shows, especially if you're a fan of improv. Alternatively, Cap City Comedy Club is an excellent spot to check out stand-up.
Check out local Escape rooms and mock game show venues
Escape rooms blew up in popularity about a decade ago, and since then the experience has been refined time and time again. For the unacquainted, escape rooms see you and some friends hurtling through challenges to make it out of a room under a certain time limit. While major cities used to only have one or two places, there are now many opportunities to engage with fun and expertly themed puzzles. Here in town, Novel Escape bases its rooms on scenes from famous books, while Austin Panic Room and Escape Game Austin offer your classic heist, prison break, and cabin escape challenges.
If you don't like the pressure of having to unlock some doors, GameOn! ATX is a cousin to the escape room experience. An outing you can't find almost anywhere else, this company allows you to play vintage game shows with your friends. Their flagship game is a Family Feud-esque experience where you and your crew can divide into teams and test your knowledge while muttering "good answer, good answer" to each other.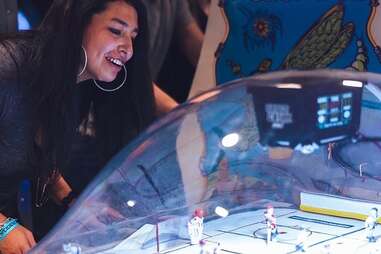 Play board games at a bar
Austin is home to many spots where you can both get a drink and settle in with a fun board game. Vigilante Gaming Bar provides a friendly atmosphere (read: don't fret about not being a too-serious gamer) and a wide selection of games for all levels. The Emerald Tavern is another fun location with a massive selection of games and a cool pub-style feel. If the drinking element isn't a big deal for you, Tribe Comics and Games is a great place to meet new people at their frequent game nights.
Go all out at food and drink festivals
Our city may have a lot of festivals, but if you haven't been to a flavor-based one, you and your taste buds are really missing out. This season treats us to the Hot Luck Festival (co-created by Aaron Franklin of Franklin's Barbecue), the Austin Soul Food Festival, and The Diaspora Food Festival. Each one brings with it the opportunity to sample some of Austin's most joyous culinary experiences. It's always a blast to head out, be in community, and chow down on some delicious food.
Catch a play or experimental production
When people discuss visiting Austin they usually bring up three topics: live music, food, and being out in nature. With that narrow focus, folks can often overlook the number of talented performance artists who regularly work in town. The Ground Floor Theatre is one such place that hosts many captivating performers. Operating under the belief that theatre is for everyone, they have a "Pay What You Can" policy, where folks can choose how much their ticket is. They are currently putting on a show called Sanctuary City, a story about the triumphs and challenges faced by two young DREAMers. The Vortex is another well-loved venue that is known for its experimental works. They've hosted interactive plays in the vein of NYC's Sleep No More, quirky dance groups, burlesque shows, and more. They have a few shows running this season, be sure to check out their full slate of performances.
Barton Springs Pool is one of those places synonymous with the city. Lifelong locals and new transplants alike hold the place in high regard. This place doesn't need a fancy sales pitch. It's relaxing cold water in a hot, hot city. The serene natural pool in the middle of Zilker Park is almost always open, with hours running from 8 am to 10 pm. There's plenty of space to lay out on the grass, sunbathe, read, and chat. If you're an extreme morning person, you're welcome to get there as early as 5 am, but do note that lifeguards don't show up until eight.
Not that you need to be told to spend time with your dog, but if both you and your buddy have been spending too many days indoors, it's nice to have options for both of you to stretch your legs. For those lucky enough to count man's best friend among their households, there's a plethora of opportunities for you to enjoy Spring with your pup. To start, Yard Bar, an Austin classic, lets you enjoy an adult beverage while your dog goofs off in their very own dog park (hence the name). There's also Armadillo Den in South Austin, where you can play a round of corn-hole while your furry friend roams the expansive lot. You can also head down to the Barton Creek Greenbelt. Austin's scenic, multi-entry walking trail and watering hole. And unlike Town Lake (AKA Lady Bird Lake), the water is safe to swim in for both humans and dogs alike.
Hit up Austin's excellent bookstores
If you're a fan of lying to yourself about the number of books you will read this year, then Austin lovely indie bookstores are an excellent place to pass the time. Jokes aside, Austin's local shops offer fantastic reads and atmosphere and deserve your money way more than any massive online retailer. ​​Vintage Books and Wine lets you peruse their selection with a glass of wine in hand, and Resistencia Bookstore features selections from Chicano, Latinx, and indigenous artists. Alternatively, you can check out the Austin Public Library, a massive space fit with gorgeous art installations and a rooftop garden.
Check out some live music
The "Live Music Capital of the World," is a lofty title, and arguably inaccurate. But it is undeniable that top-notch music exists here in pockets. You just need to know where to look. The Elephant Room offers live jazz in a basement bar setting every single night. Every Thursday, the Long Center runs free outdoor concerts for almost the entire season and well into summer. You can two-step to some bluegrass at Sagebrush, catch the best of the local scene at The Far Out Lounge, or discover your new favorite bands at Hotel Vegas. Antone's, Stubbs, and Mohawk have all more than earned their popularity—hosting rising stars and big names alike. And don't forget the city's trademark venue, ACL Live at the Moody Theater, which never fails to keep a stellar lineup of performances on the docket.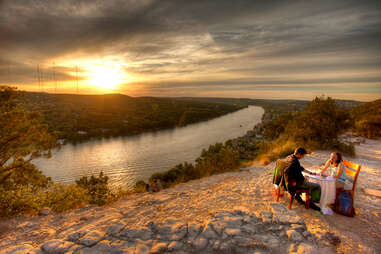 Even on the hottest days, the view at Mt. Bonnell is worth the adventure. The 775-foot peak is the highest point in Austin and overlooks Lake Travis and the rolling Texas Hill Country below. It's a common misconception that seeing the view involves a big hike, but it truly takes less than five minutes of casual walking to go from the parking lot to the scenic view. It's always beautiful, and now is the perfect time to get a glimpse of the late sunset to cap off your evening.
Jade Fabello is an Austin-based freelance writer who primarily writes personal essays about culture, art, grief, and love. You can find his work in publications like Texas Monthly, Starwars.com, Study Hall, and I love words and you, his newsletter that covers the craft of writing.