The 18 All-Time Greatest Things to Do in Austin
Museums, festivals, barbecue, and much much more beckon for fall and winter fun.
Barton Springs Pool

| Courtesy of Antone's Nightclub, Photo-illustration by Thrillist
Barton Springs Pool

| Courtesy of Antone's Nightclub, Photo-illustration by Thrillist
When it comes to things to do, the Texas capital is a playground of wide and varying adventure. Into the great outdoors? There's greenery from downtown and beyond—hiking trails, swimming holes, and bluebonnet viewing opportunities aplenty. City dweller with a conference badge? The museums, restaurants, and shops will keep you busy in between all that business chit-chat. Single and looking to mingle? We bet you'll meet a handsome suitor or ten on Sixth Street, at Oilcan Harry's, or one of the many brilliant festivals dotted throughout the calendar year.
That's because Austin has got the sauce, baby. That is to say, there's plenty of things to do in Austin this fall and winter. Singles, couples, families, tech folk, artists, students, and even Jonathan Van Ness are making a home right here. If you're only in town a short while or you're a local keen to earn your stripes as a fully-fledged Austinite, we have just the bucket list. Here are 18 all-time great things to do in Austin.
Things to Do in Austin This Fall and Winter
The Congress Avenue Bridge Bats
Downtown
The reason for Austin's nickname, Bat City, lies under the bridge—Congress Avenue Bridge. Every night between March and November, around 1.5 million Mexican free-tailed bats emerge to feed, creating a swarm in the sky. Arrive on the bridge, beside it, or right under it just before sunset to witness the natural spectacle. Best of all, there's no need for bug spray: the bats feed on those pesky mosquitoes.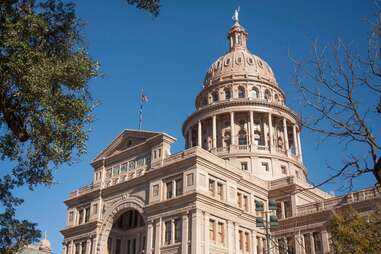 Texas State Capitol
Downtown
Everything's bigger in Texas, and when it comes to state capitol buildings, that's ever so true. The granite Texas statehouse is one of the nation's most distinguished and a National Historic Landmark since 1986. At three stories high, it's even taller than the US capitol in Washington DC. Visitors can enter anytime during opening hours or join a guided tour, both completely free of charge. When the capitol is closed, it can still be admired from the surrounding 22-acre park.
Museum of the Weird
E 6th Street
Austin's the kind of place you can get your freak on all year round, not just during Halloween—though it's especially encouraged. And at the Museum of the Weird the city's quirky culture is embraced. In the style of a classic American dime museum, this collection spans oddities such as a full-size Dracula wax figure and the skull of Texas bigfoot. The gift shop out front is an excellent spot to purchase a souvenir of your time in ATX.
Mexic-Arte Museum
Warehouse District
The Mexic-Arte Museum is an important destination amongst Austin's diverse communities, dedicated to traditional and contemporary works from Mexican, Latin, and Latin American artists. The permanent collection contains over 1,500 pieces spanning rare books, Mexican dance masks, paintings, and sculptures, but this isn't just a showcase. Mexic-Arte holds celebrations throughout the year and you'll get to join the fiesta through both exhibits and events during Dia de Los Muertos or Cinco de Mayo (social media is the best way to watch for announcements).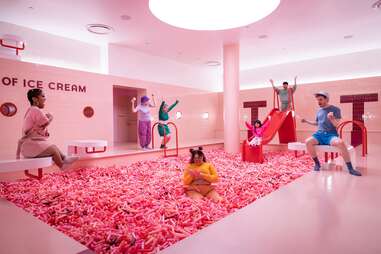 Museum of Ice Cream
North Austin
Kids and ice cream are always a winning combination, especially in Texas, so take the gang to The Domain—that north-of-the-city destination—for an afternoon of slides, rides, a giant sprinkle pool, and of course, more ice cream samples than you can handle. The bright pink Museum of Ice Cream will bring the big kid out of adults too, and the photo opportunities are delicious.
Peter Pan Mini Golf
Barton Springs and South Lamar
T-Rex has been an Austin landmark for decades, perched within this independently owned mini golf course since 1948. For generations, families have come to play at Peter Pan. There are two 18-hole courses clad with colorful characters. Best of all, it's BYOB, so mommy and daddy will have just as brilliant a time. Bring drinks in a cooler, and remember, no glass.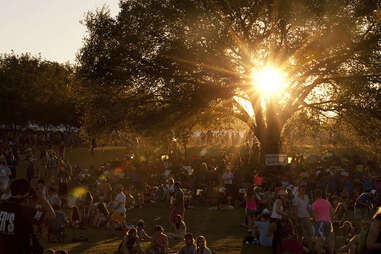 Things to Do Outdoors in Austin
Zilker Park
Zilker
Austin's most popular park spans a whopping 351 acres and hosts a hotbed of activity year-round. In spring, ABC Kite Festival takes place here. Come summer, the brave sweat it out for Blues on the Green. Fall's biggie is, of course, Austin City Limits music festival. Winter and outdoors don't usually go hand in hand, but in Texas, that's prime time for sunshine and ball games. The Austin Trail of Lights sees millions of bulbs, holiday trees, and displays turn the green into a winter wonderland. This year it takes place between December 8–23.
Ladybird Lake
Downtown/South Austin
Lady Bird Lake features on every skyline photo of the city, reflecting icons like Austin Public Library and Fairmont Austin on its waters. In warmer months, it's a splash with stand-up paddleboarding and kayakers who either bring their own paddles or rent from Austin Rowing Club. Winters might be a tad chilly, but that doesn't mean y'all can't enjoy the glorious views and a cool breeze. Operators from Capital Cruises to Viator offer boat tours, captain included, over the lake with the option to add food and drink packages.
Lake Austin Spa Resort
West Austin
A decidedly bougie-r option to experience the outdoors involves this Lake Austin spa. The remedy to a hectic working week, Lake Austin Spa Resort is the perfect to unwind. An overnight stay can cost a pretty penny, but you can still come and enjoy their healing wonders with one of the many day pass options that make for nice Valentine's, birthday, and treat-yourself gifts. These usually feature a treatment and access to their beautiful (adults-only) lakeside oasis where guest activities include yoga on the dock, cold plunge, and hydro bikes.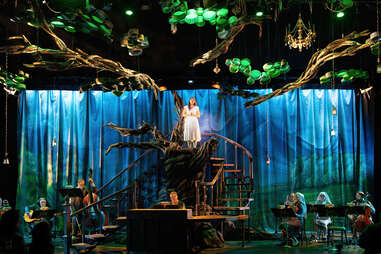 Live Entertainment and Nightlife in Austin
Antone's
Downtown
Austin's the self-proclaimed 'Live Music Capital of Texas', and while neighboring cities may disagree, there are certainly plenty of live acts playing night on night. The best place to catch them in action is the historic Antone's Nightclub downtown. Established in 1975, the blues venue has hosted the likes of B.B. King, Jimmy Reed, Ray Charles, and James Brown, and helped develop local talent like Stevie Ray Vaughan, and Gary Clark Jr. Other excellent live music venues include The Continental Club on South Congress and Emo's in Riverside.
ZACH Theatre
Butler Shores at Town Lake
The talent's strong not just in the realm of country, rock, and blues. Austin's got a mighty performing arts scene too, and South Lamar's ZACH Theatre is where to see local talent in action. Upcoming shows include A Christmas Carol (Nov 17–Dec 31, 2023), The Little Mermaid (Jan 26–March 3, 2024), and Beautiful: The Carol King Musical (July 31–Sept 24, 2024). Who needs Broadway, anyway?
Higher Ground
Downtown
If you're going to party in the Bible Belt, you may as well dedicate it to the church. Higher Ground is a spiritually themed downtown restaurant, bar, and lounge, that culminates into a massive party at the end of the night across multiple stories. The upstairs dance floor uses a repurposed church organ as a DJ booth, and 'Holy Hour' is your chance to get extra lit (on the cheap). In other words, expect a sinfully good time.
Oilcan Harry's
Downtown
Austin's long served as a safe space for the drag community in Texas, and Oilcan Harry's is where they shelter. The venue invests the most in the art form than anywhere else in town. Here's where queers and their allies come to enjoy the most fabulous of sequins, hair-dos, comedy, lip-synching, death drops, and much more. There are drag events every night of the week hosted by local stars, and if you're lucky, the odd RuPaul's Drag Race contestant may even drop by. Oilcan Harry's is also the oldest LGBTQIA bar in Austin, currently situated on 4th Street.
Where to Go Shopping in Austin
Waterloo Records
Downtown
Waterloo Records is one of the most famous record stores in all of Texas, and no music lover's visit to ATX is complete without a visit to browse the thousands of albums available on shelf (which you can also listen to before purchase). For the full experience, coincide your visit with a live gig from an emerging artist or a record signing from a more established one. The events page always has something going on.
The Little Gay Shop
East Austin
Texas politics can be darn right depressing sometimes, but luckily in Austin, The Little Gay Shop is here to sprinkle a little joy into our lives. The store brings together the works of LGBTQIA artists—on T-shirts, on books, and of course on print and painting. Check out the 'Y'all Means All' posters for an inclusive memento, and if you're a local, consider joining the Little Gay Book Club. Note that the store location has recently moved to 1902 E 12th.
Where to Eat and Drink in Austin
Walton's Fancy & Staple
Warehouse District
Part-time Texas transplant Sandra Bullock has a neighborly cafe that's become quite a brunch institution. They don't take reservations, so if you and your pals want to sample her eggs, bacon, sausage, and toast (a.k.a. "The Staple") with a big carafe of mimosa, then get here early. Outside of that, regular breakfasts and lunches are equally a treat at Walton's, and there's a counter with a huge selection of baked treats that are very fairly priced ($2 macarons!). Now, we've yet to see Sandy in here, but that's just one of the many excuses to keep coming back for more.
LeRoy and Lewis Barbecue
St. Edwards
If you have stomach space for one meal and you want to tick off both Austin's famous food trucks and barbecue at the same time. Ding ding, enter LeRoy and Lewis. Yes, La Barbecue and Franklin have been in guidebooks for years, but this Pickle Road food truck is slowly creeping up on them with smoked meats oh-so-fine in a humble beer garden. Plus you'll save time on queuing. They're open Wednesday to Sunday from 11 am to 9 pm.
Veracruz All Natural
Downtown
There are conflicting answers when you ask Austinites, Where are the best tacos in town? But if you ask us (and many others), it's at Veracruz. Sisters Reyna and Maritza Vazquez opened their first trailer in 2008, and their tacos are so beloved that they've expanded to seven locations. That's a lot of tacos! The migas is a breakfast staple and the grilled fish taco is wildly addictive. Fresh juices and smoothies balance out the queso.
James Wong is a Libra who loves the Spice Girls. Born in London, lived in Tokyo, and now residing in Austin, he has written Texas guide books and spoken at SXSW.