Austin is undeniably cool; we have an obscene amount of food trucks, festivals, and swimming holes, as well as a live music scene that punches way, way above its weight (earning us the "Live Music Capital of the World" nickname). Along with that coolness, though, comes a kind of activity paralysis. How can you decide the best ways to spend your time when there's so much going on out there? And even worse, what if the so-called cool stuff actually turns out to be a total bust? 
We know these pain points all too well, which is why we've laid out a foolproof guide to Austin's essential, can't-miss activities, from well-kept local secrets to well-known touristy stuff that's actually worth checking out. Want a memorable, no-expense-spared Austin experience? Check. Wanna ball on a budget? Also check. Now that you know what to do, get out there and get into the coolest things to do in Austin.
Take a tour of Austin with us
In this episode of Gatekeepers, our team of experts shows Thrillist that Austin is still plenty weird these days. We hit up Justine's Brasserie for crab salad and mellow vinyl tunes, sample mezcal at Whisler's with some live flamenco guitar accompaniment, take an ultra-chill dip at Barton Springs, attend a supper club at the Austin Winery, and more.
North Lamar
$$$
Prepare for a tongue twister… from the folks behind Ramen Tatsu-ya, Kemuri Tatsu-ya, and Domo Alley-Gato Tatsu-ya, comes DipDipDip Tatsu-ya: the new-school shabu shabu restaurant in North Austin. While the concept is simple -- dip ingredients into simmering broth and eat -- the learning curve makes for a fun dining experience. Uncooked meat, veggies, dumplings, and noodles are brought for you to swish and cook in your boiling broth along with dipping sauces and rice. At DipDipDip, the interactive dining experience is given the full Tatsu-ya treatment; expect top quality ingredients, killer cocktails, and great service.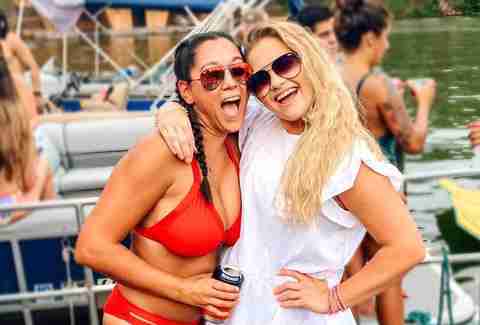 Various locations
$$$
Whether you want to swim, chill at the party cove, or just cruise, Lake Travis and Lake Austin are gorgeous year round. Grab your crew, rent your own private pontoon or ski boat from Float On (yes, they come with a qualified captain!) and head to the 360 bridge rope swing or the infamous Devil's Cove where hundreds of boats tie up to party. For just $28, you can join a sunset booze cruise that includes drinks!
Balcones Park
Free
Yes, this scenic spot is a magnet for basic people, but if you can find a spot and tune out the engagement proposals and selfie-obsessed students, it's very peaceful. As the highest point in town, the view here is second to none -- and best of all, it's free like all of this fun stuff.
Burnet Road
$
The Little Longhorn Saloon aka Ginny's is a live music institution and one of Austin's oldest and most historic bars, its tiny stage hosting decades of musicians who helped shape our city's culture. On Sundays, crowds gather for cold beer and the anomaly known as Chicken Shit Bingo which is exactly what it sounds like--chickens shitting on bingo squares with a lucky winner claiming their prize each round. Try your luck every Sunday from 4pm-8pm; tickets are $2 but cheering for shitting chickens is priceless.
Sixth Street
$-$$
Dirty Sixth has a rightful reputation as the place where mistakes (and sometimes misdemeanors) are made, but you can avoid the worst of it by visiting only the street's essential bars -- we're talking places like Midnight Cowboy, Easy Tiger, and Casino El Camino. Leave Coyote Ugly and The Aquarium to the college kids.
Playing tour guide around Austin requires a versatile ride. The 2020 Acura ILX can handle a run to pick up the country's best BBQ just as well as a trek to watch the sunset from the edge of town. 
Various locations
$-$$$
With Prohibition in the distant past, speakeasies now serve to make us feel as if we're part of an exclusive club of those in-the-know. Austin's most exclusive drink dens offer classic cocktails made tableside, rare mezcals, pricey memberships, even creepy rope swings, but most importantly they provide access to a world your lame coworkers will never know.
South Congress Avenue
Free
Bats are cool, but 1.5 million bats flying in a peppered mist against our famously colorful sunsets is the coolest. Each year from March to October, swarms of Mexican free-tailed bats burrow in the crevices underneath the South Congress bridge and emerge each evening to the amazement of wide-eyed tourists and jaded townies alike. During fall the bats take flight around 8pm, and although the most popular viewing spot is atop the bridge, a better move is to hit the water in a kayak or canoe and simply look up. (See exact flight times here.)
Various locations
$-$$
Austin, as with most cities these days, is completely obsessed with brunch; as a result, there are countless places across town where you can avail yourself of French toast, indulgent Benedicts, and bottomless mimosas. Of course, it helps to know which brunches are actually worth brunching, which is why we put together a comprehensive guide to Austin's brunch scene. Protip: Try the hearty fare at uber-hip Carpenters Hall.
Explore Austin's iconic murals
Various locations
Free
Instagram feed feeling a little light? Grab your best friends and pose in front of some of Austin's most iconic murals -- jumping, human pyramid, the sky's the limit! Go for lovey-dovey with "i love you so much" at Jo's Coffee or "You're My Butter Half" on East MLK; go classic at South First's "Greetings from Austin" or the "Hi, How Are You?" mural by iconic musician Daniel Johnston near campus; or get emo with East Seventh's "Till Death Do Us Part" stenciled spray paint art, (conveniently located across the street from Texas State Cemetery, bonus!)
Various locations
Free-$$
It goes without saying that ATX has a ton of great events going on every single weekend -- we've got a weekend guide specifically for that reason -- but what about during the week? What if you're looking for a cool event on a Tuesday? Well, that's where our seasonal event calendar comes into play: we keep it updated, so there's always something to look forward to.
Various locations
$-$$
We Austinites live for great 'cue, and luckily we are home to some of the best pitmasters in the country. The most well-known is Franklin Barbecue and its notoriously lengthy line (last we checked people were arriving as early as 6am!) but if waiting isn't your style, there are spots with equally good offerings. La Barbecue's brisket and beef ribs and LeRoy & Lewis' pork belly and mac & cheese-stuffed quail are currently our top contenders, but you can check out our full Austin BBQ breakdown for even more worthy options.
Red River
$
Drag troupe PooPoo Platter puts on several hilariously entertaining drag shows every month at Elysium. The talented PooPoo Platter queens -- who include power couple Bulimianne Rhapsody and Louisiana Purchase -- host tribute shows dedicated to one iconic band or artist (think Dolly Parton and Depeche Mode) where the queens embody the artist and perform to their hits.
Visit the Eastside's taprooms
Various locations
$
Austin is the craft beer hub of Texas with talented brewers creating unique beers and as a result, packed taprooms. If you're on the Eastside, hit up Blue Owl Brewing for sour beers, Hops & Grain for crisp IPAs and warm weather lagers, Zilker Brewing Co. for a wide-range of accessible brews, and Lazarus Brewing for an eclectic selection of house beers.  
Watch live music, obviously
Various locations
$-$$
The Live Music Capital has a hell of a lot of music venues, so where should you start? Well, we've outlined Austin's very best music venues in a separate article, but here are some Cliff's Notes: for a taste of classic tunes that range from rockabilly to soul, make a trip to South Congress' The Continental Club Club and C-Boy's Heart & Soul. Hotel Vegas is the where cool kids go to see garage, psych, and punk bands. Cheer Up Charlies is a queer-but-friendly-to-all club with two stages and an eclectic blend of genres from electronic to hip-hop to dance parties like '90s and '00s Girl Group Night.  
Various locations
$-$$$
What an exciting time to be in Austin, our ever-evolving food scene has granted us some real gems worth getting acquainted with. You might just end up making Vaquero Taquero's al pastor tacos, Uroko's sushi hand rolls, or Kinda Tropical's CBD waffles part of your regular rotation.
Zilker Park
$
Ahh, the crown jewel of Austin; the reason people want to move here, and the reason some of us convince ourselves to stay. Barton Springs Municipal Pool is a 3-acre spring-fed pool flanked by lush grass and trees with a kiddo-friendly, shallow limestone shelf on one end, a max depth of 18 feet on the other and a temp of ~70 degrees all year. The pool is open until October 27th and closed until April 2020, so plan accordingly. Once you've mastered Barton Springs, explore our other favorite swimming holes. 
Various locations
$-$$
Austin has a lot of food trucks -- we're second in the US for number of food trucks per capita -- and they're the best way to explore cuisines without going broke. Tacos, Thai, Filipino, vegan burgers; whatever you're craving, there's a food truck somewhere in town that's open and serving it. Even better, many of Austin's best food trucks are clustered together in "food truck parks" throughout the city, and we've got a comprehensive guide to those food truck parks to help you navigate them.
Check out Austin's best happy hours
Various locations
$-$$
Because saving money is ALWAYS cool, we dug through Austin's many, many bars to find the finest happy hour deals in town -- and then we put all that information in a handy happy hour guide, which you can use to plan your next post-work outing.
Drink at a holiday-themed pop-up bar
Various locations
$
Celebrate the "miracle" of insanely long lines and holiday-themed booze again this year at Miracle on 5th Street at The Eleanor and Beachbum Jerry presents: Sippin' Santa, a holiday-tiki mashup, at Nickel City. The bars will be transformed into winter wonderlands serving quirky holiday-themed cocktails in equally kitschy glassware and mugs. The very popular pop-ups will run from November 25 through the end of the year. Oh, and one more thing...quit stealing shit, y'all. This is why we can't have nice things.
Various locations
$-$$$
A perfect day in Austin requires sunshine, a slight breeze, a frosty drink, and a freakin' rooftop (the experience is further enhanced if chips and a melted cheese product are nearby). Pro tip: The newest kid on the block (literally) is Gin Bar, offering over 60 gins and located on the rooftop of the very new Arrive East Austin Hotel on East Sixth.
Campus
Free
At the University of Texas campus, on the third floor of the Student Activity Center is public art installation The Color Inside, a Skyspace by artist James Turrell. The circular dome and oculus serves as an open-air naked observatory; every day at Sunrise and Sunset the walls illuminate with color. The evolving hues combined with the sky and shadows create a perception-warping, very cool experience. You'll need a reservation.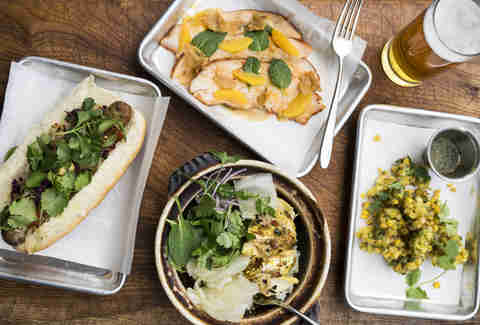 South Lamar
$$
Loro, the very new Asian smokehouse and bar brought to you by James Beard Award winners Tyson Cole and Aaron Franklin, features grilled and smoked meats, sides, craft beer, and batch cocktails. Order food at the bar, and dine in the minimal yet warm interior or outside under the shade of ancient oak trees. Loro is a first-come, first-serve joint, and reservations are not available (yet, fingers crossed).
Various locations
Free-$$
Learn your destiny via a tarot card reading from Sound Sight Tarot at popular East Sixth hangouts. Get a complimentary reading at speakeasy Milonga Room every fourth Thursday of the month, be sure to get the secret password. You can also get readings at Native Hostel, Ah Sing Den, and Clive Bar. Check the schedule and reserve your spot.
Downtown
$
The Escape Game is extremely addictive, and has a super simple premise: you have 60 minutes to escape a series of rooms using logic, problem-solving, communication skills and a few much-needed hints. Challenges rank in difficulty from "we got this" to "OMFG this is impossible," as we found out in the Jail Break experience. Which will you try first: escaping prison, on the hunt for gold, or in a museum stealing back a piece of art?
Southwest Austin
$
Award-winning Jester King Brewery is the pride of Austin, they are the masters of authentic farmhouse brewing incorporating "well water, local grains, hops aged in our barn, local fruits and vegetables, foraged plants, and native yeast and bacteria so as to make beer uniquely tied to a time, place, and people." Go this weekend and bring home large format bottles only available onsite.
Sign up here for our daily Austin email and be the first to get all the food/drink/fun in town.