15 Actually Cool Things to Do in Austin During Quarantine
All social-distancing approved.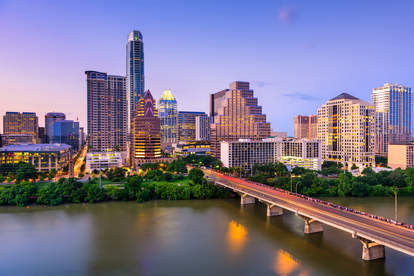 This year marks a springtime like no other in the city of Austin and across the globe. Governor Greg Abbott has slowly relaxed statewide measures to breathe new life into the Texas economy, but social distancing standards are still highly recommended by Mayor Steve Adler and medical experts. So what is there to do around here in between Zoom meetings while we're all still sheltering in place? Honestly -- plenty.
Here's a foolproof, quarantine-approved guide to Austin's essential activities during the glorious spring season. Make sure to plan ahead and double-check website listings for last-minute closures and changes in hours due to COVID-19.
Take a tour of old-school Austin with Thrillist
Remember pre-COVID Austin? Take a trip down memory lane with the Austin episode of Thrillist's Gatekeepers, as Chef Ashley Jonique visits Justine's Brasserie, Barton Springs, Whisler's, Austin Winery and more with a team of local experts.
Butler Hike-and-Bike Trail
Free
The 10-mile Ann and Roy Butler Hike-and-Bike Trail around Lady Bird Lake is key to the city's reputation as an outdoor enthusiast's mecca. Located in the heart of downtown Austin, the trail has multiple access points for runners, bikers, rollerbladers, and hikers to traverse a route of their choosing. Note that the Butler Trail is currently running one-way, clockwise around the lake, to encourage social distancing.
Lady Bird Lake
$-$$$
Whether your preferred vehicle of choice is a paddle board, kayak, canoe, or inner tube, there's plenty of buoyancy to be found on Lady Bird Lake. Spread on some sunscreen, pop on your shades and enjoy a few peaceful hours of serenity on the lake. Check local listings for rental outlet availability.
South Congress Avenue bridge 
Free
"The bats!" are one of Austin's simplest tourist attractions. Head down to the South Congress Avenue bridge in downtown Austin at the end of the day and pick a spot either on top of the bridge, or below on the Butler Hike-and-Bike Trail -- careful to stand six feet apart from other groups -- and wait until dusk for the bats to emerge. About 1.5 million bats live underneath the bridge in what is the world's largest bat colony.
Advertisement
Acura
Playing tour guide around Austin requires a versatile ride. The 2020 Acura ILX can handle a run to pick up the country's best BBQ just as well as a trek to watch the sunset from the edge of town. 
Mt. Bonnell

| Roschetzky Photography/Shutterstock
Mt. Bonnell
Free
Challenge yourself to jog, bike, or walk through the gorgeous neighborhood on Scenic Drive to Covert Park and the top of Mt. Bonnell. The 775-foot peak is considered the highest point in Austin and looks over Lake Travis and the beautiful Texas Hill Country. Bring a picnic to enjoy on the pavilion at sunset for a unique date night.
Butler Pitch & Putt
$
The city of Austin's golf courses have reopened with new guidelines to ensure social distancing amongst guests. Make sure to reserve your tee-time online before you go and enjoy the beautiful outdoors near Auditorium Shores, right in the heart of downtown. Players are currently required to provide their own clubs and balls to prevent transmission of COVID-19.
Various locations
Free
Step up your instagram game by visiting Austin's iconic murals in a self-guided graffiti art tour. Make sure to include the classics, like "i love you so much" at Jo's Coffee on South Congress, "You're My Butter Half" on East MLK, "Greetings from Austin" on South First and Annie Street, and the "Hi, How Are You" frog on Guadalupe and 21st. Also make sure to check out the new tags from graffiti artists on the boarded-up bars down Dirty Sixth Street, as the party district has shut down during COVID-19.
Smokey Denmark

| Dan Gentile/Thrillist
Various locations
$-$$$
There's an argument to be made for Kansas City and Carolina barbecue, but Texas rules as king of brisket and several of the state's top spots can be found right here in Austin. Put Franklin's, La Barbecue, and Micklethwait on your list. For even more options, check out our full guide to Austin BBQ here. Make sure to check with individual restaurants for adjusted hours and take-out/delivery options due to COVID-19.
Various locations
$-$$$
Perhaps the only food more famous in Austin than barbecue are our world-class taco offerings. Whether you're a breakfast taco connoisseur or prefer to mix-and-match tacos with happy hour margaritas, Veracruz, Tacodeli, and Torchy's are amongst the classics. Check out our full guide to local Mexican restaurants here. Make sure to check with individual restaurants for adjusted hours and take-out/delivery options due to COVID-19.
Barton Creek Greenbelt

| Kim Hefner/Shutterstock
Barton Creek Greenbelt
Free
Put on your hiking shoes and take a jaunt down the Barton Creek Greenbelt. With 12 miles of gorgeous trails and seven different access points along Barton Creek, there's enough mileage to facilitate dozens of outdoor adventures. Challenge yourself to hike or mountain bike the whole thing, rock climb by the Gus Fruh entrance, or bring a bathing suit and a beach chair to camp out all day by Campbell's Hole or Twin Falls.
Online
Free, donations to HAAM accepted and encouraged
No concerts, no problem. Austin's most iconic live music venue, ACL Live at the Moody Theater, is live-streaming content all through the pandemic to keep the Live Music Capital of World fueled. Tune in throughout the week for live streams with local musical artists and behind-the-scenes content. For updated listings, check their website.
Try Austin's local breweries
Various locations
$-$$
While Austin might be most well-known for its rich culture of barbecue and Tex-Mex, the capitol of Texas also has a staggering number of local breweries. Though tap rooms are currently closed due to COVID-19 restrictions, most breweries are offering beer to go -- some of which are even social distancing inspired! You can do a social distance brewery crawl to pick up beer in North Austin at neighboring spots Austin Beerwork, Celis, Circle and Adelbert's; in Central Austin, stop by Hi Sign, Live Oak, and Pinthouse Pizza; if you're on the East Side, check out Friends and Allies, Hops & Grain, Blue Owl, Lazarus, Zilker Brewing, and Austin Eastciders; in South Austin, visit The ABGB, Independence, and St. Elmo's. For a day drive (or ambitious bike ride), add Jester King, 12 Fox, and Vista Brewing to your list.
Online
Free
The folks at UT's Blanton Museum of Art have gotten creative in the age of COVID-19. If you're sick of Netflix, consider adding a virtual art tour to your queue, then enter the #BlantonBakeoff by creating a baked treat inspired by your favorite piece from the collection through May 17. There's also downloadable coloring pages and weekly Q&A discussions with the Blanton staff. Check the website for listings.
Online
Free
You can outsource art class thanks to The Contemporary Austin's new digital create-at-home series. On Friday mornings, tune in to their Facebook and instagram channels for step-by-step video tutorials explaining this week's project.
Online
Free
Austin's very own DJ Mel drew hundreds of thousands of viewers to his impromptu Facebook livestream set after SXSW was canceled. Now, the tastemaker is taking to the tunes every Saturday night from 6 to 10pm for a family-friendly dance party. Set up your speakers, move your furniture, and get ready to bust a move.
Sign up here for our daily Austin email and be the first to get all the food/drink/fun in town.
Johanna Gretschel is a Thrillist contributor.