The Weekend Playbook: A tipsy spelling bee and DAVE-FREAKING-CHAPPELLE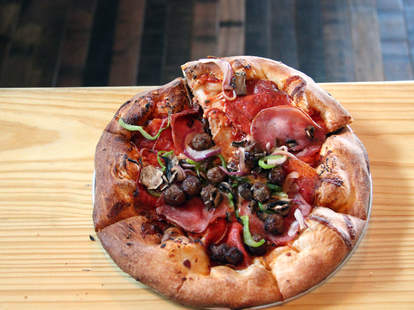 Freebie of the WeekIt is upon us! The year's premiere event for people who like nice clothes but don't want to pay a lot for them, Le Garage Sale. Luxe boutiques like By George and Co-Star will be in attendance, as well as brands like RVCA, Volcom, and Nixon. To win a pair of passes, just tweet at @ThrillistATX
Thursday, August 22ndActually delicious West African fusion food trailer Cazamance presents "Eyes Eat First", a five-course Senegalese dinner with live music and an open bar. The eyes have it!
Friday, August 23ndStart freaking-the-freak out, because the people at Funny or Die are bringing to town DAVE CHAPPELLE, Flight of the Conchords, Hannibal Buress, Demetri Martin… oh, and did I mention… DAVE CHAPPELLE?? Oddball Comedy & Curiosity Festival tickets, right over here
Austin Music People present United We Jam, a two-day fest featuring the likes of White Ghost Shivers, Shivery Shakes, and a ton more non-shivering local talent. This event is taking over most Red River and East Side venues, so you'll be there anyway. Check the schedule
Saturday, August 24thThriller-dance yourself over to Spider House Ballroom for the 3rd Annual Michael Jackson B-Day Bash. The BodyRock ATX crew is providing you with four decades of classic MJ to shake your ass to. When you get there, be sure to ask Annie if she's okay
Sunday, August 25thIt's time again for The Austin Chronicle's 23rd Annual Hot Sauce Festival going down at Fiesta Gardens. Walk around! Taste stuff! Breathe fire! Cry a little! Then vote for your favorite! Free with food donation to benefit Cap Area Food Bank, you charitable bastard, you
Pinthouse Pizza and Houndstooth Coffee are teaming up for a buzzworthy day of bean/beer tasting. It's free with a limited edition bag of Tweed Coffee. Geek out on caffeine stats right here
Monday, August 26thWhat's more fun than hanging out at Mohawk Austin and watching a bunch of drunk people compete in a spelling bee, while comics Blake Midgette and Chris Cubas moderate the madness? Nothing. FREE Drunken Spelling Bee
Tuesday, August 27thKick it on the lush lawn of the Long Center for Trailer Food Tuesdays! ATX favorites Chi'Lantro BBQ, The Peached Tortilla, and GoodPop will be there, along with free Camp Gladiator workouts and live music. Sounds relaxing, huh?