26 things you have to explain to out-of-towners about Austin
You live in Austin, and that, inevitably, means visitors. Whether you have college buddies who want to come party for a weekend or you're hosting a German couple from Airbnb (that extra bedroom is really coming in handy now!), you are going to have to explain a few things. Just like the cold-hearted snake described by Paula Abdul, we don't play by the rules -- so here are some talking points you may want to address the next time you inevitably play tour guide.
1. We keep it casual
Don't expect us to get too dressed up unless someone is getting married, and even then there's a decent chance the bride may be barefoot. Speaking of weddings, cowboy boots are considered formal, and spray-painted mason jars are considered elegant dinnerware.
2. We act like we're above celebrity
When there are celebrities in town (remember the year Ryan Gosling was everywhere!?!), we will pretend to ignore them while slyly posting about it on Facebook. "Totally sitting next to Dave Chappelle at Justine's right now!!!!"
3. That goes for celebrity chefs, too
"Oh, Paul Qui? Yeah, his restaurant's great. I heard he won Top Chef Texas, and some big magazine made him Chef of the Year or something, but he's cool… I've been at the same table with him at Liberty a bunch of times. He's pretty chill."
4. Rents are sneakily expensive
We will pay $2,000 a month for a one-bedroom rental, a few blocks from 12th and Chicon -- "Mom, it's not THAT dangerous, I mean this is Austin, not Houston…"
5. Tacos are a food group
Tacos in the morning, tacos in the evening, tacos at suppertime…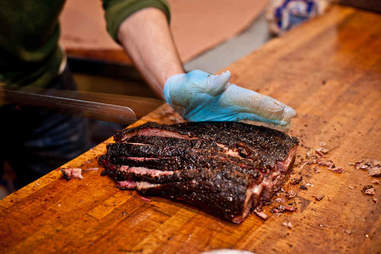 Franklin BBQ
6. BBQ is a lunch food
Sure, there're a few decent places where you could eat brisket for dinner (mainly Lambert's), but most BBQ joints worth their salt/pepper rub will be sold out of meat by mid-afternoon.
7. That nickname "The Live Music Capital of the World" is actually true
Any night of the week, you can catch live music. Whether the band is any good or not is another matter. (Hint: if you hear a rough version of "Brown Eyed Girl" coming from Cedar Street Courtyard, just keep on walking.)
8. On a related note, our festivals are better than your festivals
Where else can you watch Future Islands 10 times in a week while eating free Taco Bell's Doritos Locos Tacos and drinking free Tito's Vodka?
9. You don't understand how big of a deal SXSW is
No matter how many NYTimes think pieces you read, there's no real way to comprehend how ubiquitous the festival is until you've been. And yes, it's way too big now, but yes, we still love it.
10. We have a lot of watering holes
Not the ones with bearded, tatted bartenders (though we have those, too). Summertime is the time of year when thousands of 20- and 30-somethings (and a handful of tan, oddly-fit septuagenarians) flock to Barton Springs, Deep Eddy Pool, Hippie Hollow, and many others -- sometimes to swim and sometimes just to soak up some sun with a smuggled six-pack of Lone Star.
11. Barton Springs is 25% swimming, 75% laying in the grass
Temperature regulation is key: float in the water until you're freezing, lay in the grass until you're boiling, repeat.
12. People like to brag about not having a television
"I mean, I have Netflix, but like I would never sit on the couch and like, ACTUALLY WATCH TV, gross." (You will see these same people at a bar's Game of Thrones watch party, because, you know, HBO…)
13. All the streets have more than one name
2222 has like four names, Loop 1 is Mopac, 15th is Enfield, 26th is both Manor and Dean Keeton, 71 is Ben White... you get the idea.
14. Everyone has three jobs
The typical Austinite's income stream includes one full time-ish job, one passion project for which they're greatly underpaid, and one clever niche service that gets them free stuff from local businesses.
15. We all know someone who reminds us of a Portlandia character
They generally display some combination of the following: dreadlocks, ownership of multiple chickens, organic soap they've made for the farmers market, obsessive use of the word "sustainability", and hosting chakra alignment workshops.
16. I-35 and Mopac are both nightmares
Sometimes during rush hour, it can take an hour to go a few miles. Someone might tell you that the guy who designed 35 later killed himself. That isn't true, but it remains truly awful.
17. Yes, there is a man who rides his bike around wearing only flesh-colored thong underwear
He seems nice.
18. Not all Austinites are hipsters. Or even remotely care about being hip.
Go to North Austin and you'll see.
19. We aren't in a hurry to get hitched
If the out-of-towners happen to be your parents, you will finally be able to prove that it's not that weird that you're 34, unmarried, and don't foresee kids in the immediate future, because many Austinites are happily in the same boat. "See?! It's not just me, Mom."
20. You won't see that many stray dogs
Austin has a successful no-kill program, which also means purchasing a pet will earn you disapproving looks from friends who proudly have a yard full of scruffy rescues. Unless you bought a fish. There isn't much of a rescue fish population. Yet!
21. You will see lots of dogs, though
Even when you're dropping a bill or two at a nice restaurant, if you are on a patio, you are dining with dogs. (Could be worse... they could have toddlers on a leash.)
22. We don't talk or text during movies
If you do, expect similar glances to those found in #20.
23. It's packed with transplants
Which means people are forced to forge new friendships and solidify those friendships with dorky theme parties. Time-travel, Mad Men, '90s, Buffy the Vampire Slayer, LoTR, the dreaded ugly sweater… they're everywhere.
24. Our weather is not reliable
"I know I told you on the phone that you were coming at a perfect time, I mean I swear it was like 75 and sunny and beautiful yesterday! I had no idea there would be sleet today."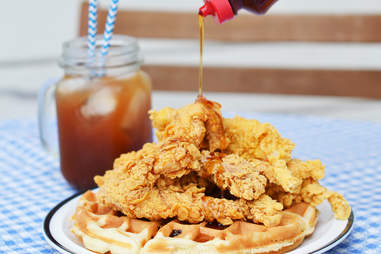 Natalie Paramore
25. We live for brunch
Migas, eggs Benedict, Bloody Marys… funny thing is that we know that having six mimosas while it's daylight is going to send us to a bad place, but we do it anyway. They just go down SO EASILY.
26. Topo Chico Mineral Water is a religion
Don't ask why, just drink some.