A dine-in movie theater in Four Points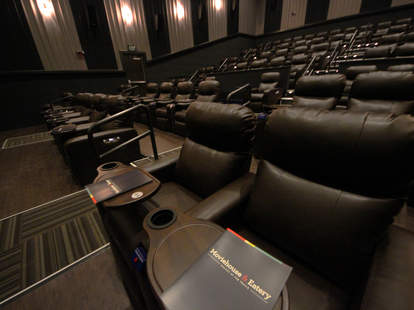 A Galaxy far, far away has launched the Moviehouse & Eatery. The cornerstone of the Trails at Four Points, this 11-screen, first-run, dine-in theater boasts top-of-the-line technology and a serious menu devised by a pair of Drafthouse alums that the Alamo will never forget.
The theaters run the gamut from normal screens, to a massive three-story DFX (Dark Fan X... or a screen that's larger than most IMAXes), to the physical "4D" experience of the D-BOX: seats that shake and flow with the action on the screen, making for an interesting experience if the action involves D in a BOX.
For the elite/hungry, four smaller Director's Choice rooms offer reclining leather seats and food servers who arrive at the push of a button bearing eats like the espresso-rubbed roast beef French Press sandwich, the Big Jake Burger (pepper jack, bacon, horseradish aioli, red pepper relish, Bourbon BBQ sauce), and deep-fried Lollipop Chicken -- just c-c-call them and they can make it juicy for ya.
They've also got a standalone lounge that'll be crucial once the host shopping center is in full swing, pouring TX taps (512 Pecan Porter, Real Ale Devil's Backbone), wine by the glass, and cocktails ranging from M&E Moonshine (strawberry-infused corn 'shine, lemonade) to Mexican Martinis -- saving you from having to travel a galaxy away to Trudy's.