One might find it odd to invoke "Austin" and "underrated" in the same sentence, since the city's undeniable greatness is constantly drawing folks in from all over. But with SO much great stuff happening here, a bunch of it can fly under the radar while still being undeniably fantastic. Here are 10 aspects of Austin that don't always get their due, but are very much worth your time.

Venues all over Austin
The first weekend in January kicks off a generous TWO weeks' worth of Austin Free Week. Think of SXSW, but on a much smaller scale with local bands and no blast of corporate sponsored parties (and far fewer of these people). There might not be much for free booze, but the concerts are excellent and the lack of overwhelming traffic and tourists is even better.
Recommended Video
Make This Sushi Burrito at Home, Become a Snack Legend
East Austin
Austin is full of Tex-Mex restaurants, and to be quite honest, plenty of them leave quite a bit to be desired. Joe's Bakery & Coffee Shop, despite lacking a quintessentially Tex-Mex sounding name, is not one of those places. The food is consistently on point and the portions are beyond generous. The $2 tacos are better than plenty of other tacos from spots around the city that charge you more. If you're really hungry, go for the loaded Joey Rocha Plate and get some pan dulce (Mexican sweet breads) to go.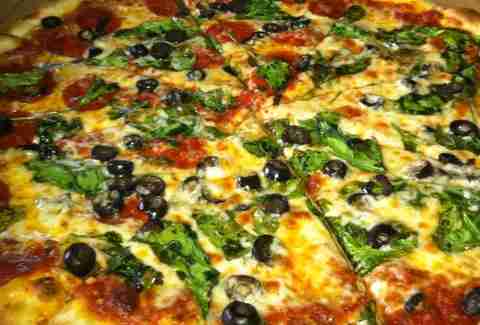 West Austin/South Lamar
There's really not such thing as BAD pizza, but the Austin 'za scene runs the gamut from late-night joints that cater mostly to partying college students for a reason, to much-hyped spots that'll have you waiting an hour for a table. Somewhere in the deliciously cheesy middle ground is 360 Pizza, with fresh dough and even fresher cheese, plus tasty toppings from imported Italian meats to homemade meatballs.
Downtown
If your ideal art-viewing experience typically involves names like Picasso and Monet, this might not be your kind of place. The graffiti park at Castle Hill is an old structure that was never quite completed. Local graffiti artists have turned this into an ever-evolving outdoor museum. Obey's own Shepard Fairey has left his mark on the concrete walls. The only downside is when some of the best work ends up being covered by taggers with no real talent -- but then, there's always hope (!) something better will come along.
East Austin
From the outside, this looks like your usual cheap corner gas station, but inside they have a deep craft selection that'll keep any beer geek busy for quite some time. Located along Chicon and East Cesar Chavez, you wouldn't expect to find this kind of selection in these parts, but their buyer knows what he's doing and it shows.
Clarksville
Brunch in Austin is a way of life. That also means the best spots are often quite busy. When it comes to getting your brunch fix while avoiding the day-drinking hoards, hit Tacos and Tequila. For only $19.95 you get a buffet spread (migas, omelet bar, brisket station...) and two mimosas. Don't worry -- extra mimosas are only $1 and they have a DJ spinning to keep the party vibe going. If you're struggling to get up for whatever reason, fear not: they go until 3pm on both Saturday and Sunday.
Underrated Tradition: Christmas Tree Bombing
Roadside Christmas trees all over Austin
Christmas tree bombing has been going on for some time now, and basically it's the best. Unknown participants wrap and decorate trees along the roadside, giving commuters a sense of Christmas cheer. We all know the traffic here sucks, but seeing a decked out Christmas tree on the side of the road somehow makes it slightly more tolerable. Even better, many of the crafty bombers return to their tree after Christmas to remove the decorations -- so if you plan on decking out a tree, please don't litter and be sure to clean up your mess.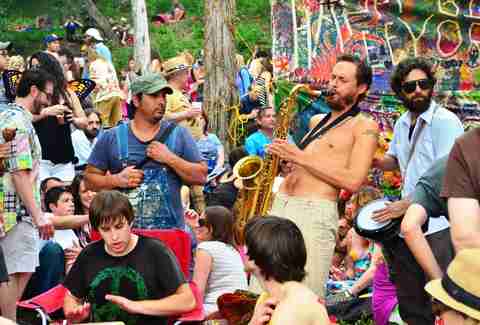 Pease District Park, West Austin
It's no doubt that Austinites like to party. We have festivals of all types, but no event truly represents the "Keep Austin Weird" mantra more truly than Eeyore's Birthday party. "That sad donkey from Winnie the Pooh?", you ask. Yep, he's celebrated every April and it's a rollicking party filled with questionable nudity, hippie drum circles, and just general madness. Bizarre costumes are not uncommon, so let your freak flag fly. Or just come normal and enjoy the people watching.
Underrated Sporting Event: Roller Derby
Convention Center, Dowtown
UT sports are a lifestyle. On game day, it seems like the whole city goes orange. The roller derby doesn't quite get the same fan dedication, but the competition can be even more fun, what with the badass lady competitors and high-speed collisions. Even if you don't totally understand what's happening, you're probably going to be glad you showed up.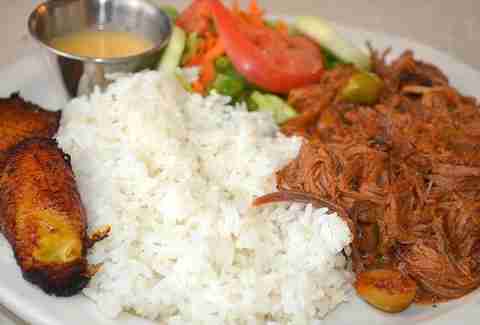 East Austin
In an undeniably Tex-Mex town, other Latin cuisines can become somewhat marginalized, but the subtle South American flavors at Casa Colombia are well worth your time. You won't find quite the spice payload you might be accustomed to if Mexican food is your mainstay. What you will find is rich, balanced tastes, impeccable empanadas, and an epic meal known as a Bandeja Paisa (flatiron steak, rice, beans, plantains, fried egg, avocado, and chicharrones) that'll keep you going all day.