What if Your Favorite TV Shows Were Set in Austin?
The Walking Dead

| AMC
The Walking Dead

| AMC
Whether you're a diehard cable devotee or just wanna Netflix and Chill, as a TV lover and Austin dweller, we're sure you've thought about what would happen if your favorite television shows were set in the ATX. (No? Well, we bet you are now!) And we're not just talking Real World: Austin, here -- though that totally rocked our worlds in 2005. We've reimagined a dozen of the best and most popular programs on TV, past and present, and set them in Austin. The same killer plotlines and same-ish characters, but, let's be real, a way, way cooler setting. Now someone get HBO on the line. Let's make some magic happen.
If The Walking Dead were set in Austin...
This week's episode: After a particularly rowdy night, a young Rick Grimes -- who's just moved to Austin -- wakes up on the toilet of a Downtown bar on Friday at 1:30am, disoriented and unsure how long he's been out. Head pounding, he shuffles out of the bar and finds himself on Dirty Sixth: Slack-jawed and blurry-eyed figures prowl the block, slurring their words... being occasionally violent... stumbling. There's a mystery substance crusted around their lips that resembles brains... but, you know, is probably just puke. After finding a group of Austin transplants who are equally lost and also tipsy, Rick becomes their leader. In a land of drink specials, really persuasive bachelorettes yelling "shotzzzzzz" and absolutely no Uber, they must find a way to escape to safety before they ingest any more alcohol and become *gulp* one of them.
You kind of feel bad for them… but hey, that's what they get for moving to Austin.
If Bachelor in Paradise were set in Austin...
This week's episode: This season takes place in Austin, where the cast is set to spend a wet and wild season on Lake Travis (which isn't a tropical paradise in the traditional sense, but ABC has been doing this whole Bachelor thing since 2002 and they really just don't care anymore). A couple of the Kellys, a Brian or two, a Travis (there was definitely a Travis) and an unidentifiable blonde chick who claims she made out with Juan Pablo at some point drink a few too many margaritas and head to Hippie Hollow. They shed their clothes, and while the FCC prohibits... um, "adult content," suggestive camera angles and the strategic usage of a couple R. Kelly songs strongly indicate that an orgy goes down. One of the cast members cries, a couple of them fight, and we as audience members all die a little inside (but can't wait for next week).
If Friday Night Lights were set in Austin...
This week's episode: Let's call it Saturday Night Lights. The boys should be mentally prepping for the OU Game, but when they show up to practice hungover, Coach Taylor -- now a coach at UT, whose best friend is obviously Matthew McConaughey -- realizes that the Yellow Rose isn't just any restaurant... and the boys weren't there just for the $10 prime rib. After Coach lays down some tough love and wisdom (and makes them run a shit ton of wind sprints), the boys learn what it means to be men -- on and off the field.
*Now cue that Explosions in the Sky theme song while we all pretend we're not crying and it's just allergies that are making our eyes water like that, OK*
If Seinfeld were set in Austin...
This week's episode: During a recent "Master of Your Domain" rematch, which was initiated from the booth at Magnolia Cafe where 90% of the season takes place, Elaine had decided to trade the bullet vibrator for the Magic Bullet and, as a result, developed a serious smoothie habit. When it conks out one day, she drags Jerry, George, and Kramer with her to a crowded JuiceLand so she can get her fix. There, Jerry contemplates whether yoga pants are actually pants; Elaine falls for a strong, silent juicer with a sleeve of tattoos; Kramer is pulled behind the counter to fill in when a staff member calls in sick ("I'm not convinced you even know how to work a blender"... "My friend Bob Sacamano, he INVENTED the smoothie, Jerry!"); and George gets into an altercation with the employee behind the counter after finding out that spirulina costs an extra 50 cents. The result, yes, "NO JUICE FOR YOU!"
If House of Cards were set in Austin...
This week's episode: The series finale coincides with the end of the Governor of Texas's (Becky with the Good... maybe fake... hair) term. While the highlights of the circa 15 seasons involved highlights like jogging with a pistol and post-mugshot ice cream cones, there's no beating the cliffhanger ending, which indicates our main character is moving onto even bigger and better things, like a possible Senate run... or maybe just Dancing with the Stars.
Most of Austin is incredibly thankful the series isn't getting renewed.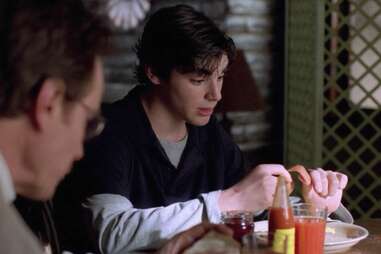 If Breaking Bad were set in Austin...
This week's episode: Stoked on a particularly dank weed harvest -- which Walter is using to pay for his super-expensive Valtrex prescription -- our protagonist and his partner Jesse go out to celebrate. When they return to Walter's beat-down bungalow in he somehow-still-ungentrified area of the East Side, they realize that the weed is gone -- as is Walter's Craigslist roommate. With his supply running low and clients calling and demanding the weed they paid for upfront, Walter and Jesse set out to find the thief and make him pay. But just in the literal sense. They're not violent -- they're stoners. Relax.
If Friends were set in Austin...
This week's episode: Upon getting back together... sort of... again... Ross and Rachel have a massive fight Downtown one night when some bro on West Sixth recognizes Rachel from Tinder -- even though, obviously, THEY WERE ON A BREAK. Meanwhile, Joey tries to look younger when auditioning for the hot new Richard Linklater film about 19-year-olds who like to party, Monica contemplates leaving her chef job at Paul Qui's restaurant to open up a gluten-free food truck, and Phoebe -- who doubles as a yoga teacher, because why wouldn't she -- serenades passing Fourth St patrons who, of course, all assume Chandler's gay.
If Million Dollar Listing were set in Austin...
This week's episode: In a push to sell new properties, Josh and Josh attempt to capitalize on the influx of Californians by promising potential buyers that there "totally won't be loud-as-hell punk music emanating from the six music venues within a block of your condo" and that "your commute will only be, like, 10 minutes tops!" Meanwhile, Madison works with an eccentric hippie in Hyde Park who will only sell her house to someone with "good vibes."
If Sons of Anarchy were set in Austin...
This week's episode: The gang -- a gaggle of scooter-riding, vegan-leather-vest-wearing hipsters who are all members of a weekly brunch club that's funded by their underground kombucha ring -- is hanging out at their clubhouse (the rooftop at Whole Foods), when they hear that a rival scooter gang ALSO specializing in kombucha is planning to roll through Austin for the highly anticipated Texas VegFest. Fortunately, the gang is coming from Brooklyn and their scooters top out at like 35mph, so they've got plenty of time to formulate a plan to stop them.
The same badassery you'd expect from Sons of Anarchy -- but with way better MPG.
If Portlandia were set in Austin...
This week's episode: Fred Armisen and Carrie Brownstein transition from PNW parody to Southern satire, capitalizing on and making fun of Austin archetypes, issues, and eccentricities so, uh, put a taco on it?
If Law & Order were set in Austin...
This week's episode: Public intoxication, noise ordinance violations... college kids with fake IDs -- it's a tough beat for detectives assigned to the mean streets of Austin, TX. This episode centers around a group of neighbors complaining about loud music. A team of officers is dispatched to a massive house in West Campus where Greek letters are prominently displayed in an overgrown front yard littered with crushed Lone Star cans and broken dreams. There they find a horrific scene: 18-year-olds... DRINKING! Even some... SMOKING DOPE! Intent on setting a precedent, the cops make a mass arrest, dragging half of Chi Kappa Alpha Omega Whatever to the station. The precinct has never seen so much man thigh.
(Note: The second half of this episode is actually pretty boring because everyone's parents just come pick them up in the morning and then take them to brunch and all the cases end up being settled outside of court for a small fine. #privilege.)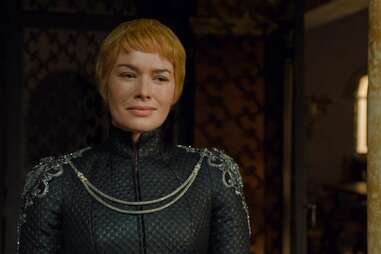 If Game of Thrones were set in Austin...
This Week's Episode: Author's note: I've never seen Game of Thrones. The comments section is below... rip me a new one as you see fit. Summer is coming?
Sign up here for our daily Austin email and be the first to get all the food/drink/fun in town.
Sam Sumpter is a writer who should obviously get started writing a pilot ASAP. Follow her personal
Broad City
-esque adventures in Austin and Brooklyn @Sam_Sumpta