Local Musicians Pick Your Austin Summer Playlist
Courtesy of WHISKEY SHIVERS
Courtesy of WHISKEY SHIVERS
To help you start your summer off on the right note (sorry), we asked a dozen local acts to provide us with song picks featuring Austin talent. The result? An eclectic, genre-spanning 12-track playlist of great musicians backed by other great musicians. So hit 'play' and settle in for 40 minutes of killer tunes from artists straight outta Austin. Find a few you love and it probably won't be hard to catch them live.
A local band of boys with praise from national press, Whiskey Shivers crank out legitimate washboard-and-banjo bluegrass infused with rough-and-tumble party vibes. (Listen now!)
Whiskey Shivers' pick:"Hatchet" by Otis the Destroyer
It seems wrong to be listening to a recorded version of "Hatchet," as the (definitely NSFW) song is best experienced, well while jumping and bumping around in a sea of beer-soaked strangers. When listening to this at home, parts of the song will likely still have you reflexively dodging imaginary elbows to the face, but between those moments are interludes that are slightly more controlled. "It's as if Nirvana and The Black Keys had a baby birthed in The Bubble [Recording Studio]," says Whiskey Shivers banjoist James Bookert. "The crazy guitars and creepy drums really set it off."
Whether you're catching Otis live or listening in your living room, be sure to jump up and down and spill your drink on whoever happens to be next to you. It's that kind of music.
The quartet released two new tracks of self-described "billwave" music this February, and their frenetic live show -- what Pop Press International dubbed the best they saw at SXSW -- is one you can often catch at Austin events with names like Punk Rock Prom. (Listen now!)
Big Bill's pick:"Peter Venkman" by Basketball Shorts
We could try and describe the band Basketball Shorts and this specific track, but Big Bill -- who put out a 12-track split with the band in 2014 -- does a pretty excellent job breaking down the song's real meaning and why it demands a spot on your summer playlist:
"It's a song about being so drunk you imagine you're hanging out with Bill Murray. It features the line 'I'm on a booze vacation / with the guy from Lost in Translation,' plus surf guitar accents that sound like staring at a sunrise through an aquarium in Pauly Shore's condo. In the hands of lesser bands, this song would be a gimmicky throwaway. But Basketball Shorts have layers! This song is the ideal soundtrack for driving around in Austin with the A/C on, the windows down, and a bittersweet longing for a night that (maybe) never even happened."
After hitting the internet a couple years ago with their inventive 4-Track Cinemat -- filmed and recorded obscure locations including trees and tattoo parlors -- the three-piece outfit released their fun, dance-y debut album, Relationshapes, this January and is playing Float Fest in July. (Listen now!)
BUHU's pick:"Spectrolite" by Bayonne
Bayonne is the moniker under which Roger Sellers produces his more electronically geared music, like "Spectrolite" -- a track off of Primitives, released in March. You can catch Bayonne at ACL (weekend one) this fall, and in the meantime, start your summer off with this pick. "There's no better song to play soundtrack to late-night summer drives," promises BUHU guitarist/vocalist Jeremy Rogers. "This song sounds and feels like the entire movie Coraline." As for what sound, exactly, you can expect from Bayonne, Rogers sums it up succinctly: "Miracle Fortress meets Bibio meets Lindsey Buckingham. Genius."
This "avant folk" outfit, a Utopiafest favorite, names Norah Jones and Sufjan Stevens as influences, and their album, Tempest & Rapture, just dropped this May. (Listen now!)
The Deer's pick:"Understood" by Abram Shook
You might recognize Abram Shook from Shearwater -- an Austin act with Okkervil River roots -- but his eponymous endeavor is just as enjoyable -- or more. Particularly good vibes abound in this, well... dreamy... track off of 2015's Landscape Dream, the pick from The Deer. "Abram Shook sounds like Prince and David Byrne had a love child," the band says, "vibrational and expressive, yet goes down smooth."
And as a bonus, The Deer's Grace Park sings background vocals on this track. We call that a two-for-one deal.
This soulful singer-songwriter released her EP, Lessons, this May, and you're likely to catch her and her band at intimate Austin venues like The Gallery, One-2-One Bar, and more. (Listen now!)
Drew Davis's pick:"What's On Your Mind" by Greyhounds
This track, what Drew Davis describes as a "sexy-ass jam" could basically be described as baby-making music that your grandparents would also totally dig. "I love this whole album and shake my butt to this song in particular on the reg," Davis says. "Greyhounds or some version of them play at The Gallery every Wednesday night, and from time to time I like to go drink tequila sodas and shout out requests and never introduce myself like a creepy, obsessive super fan."
Your summer to-do list: score this album, do some serious right-swiping and maybe take your date and join Davis at the Gallery. When it comes to setting the mood, Greyhounds have got your covered.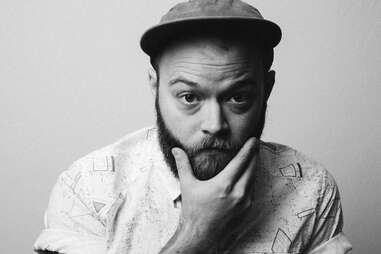 A new-ish endeavor from Dean Stafford of established Austin band Pompeii, Early Internet specializes in "quiet pop gems." Expect an EP later this year. (Listen now!)
Early Internet's pick:"The Fool" by The Eastern Sea
"While this song may not sound traditionally summer-ish, I can see its reflective nature being conducive to listening while drinking / floating a river or chilling on a porch swing," Dean Stafford (aka Early Internet) says. And that's an apt description. You can almost hear the breeze in "The Fool," and the tune's mellow nature belies the more serious, contemplative lyrics. "Its slow-burn hits hard," Stafford says, "and I love the lyrics in the chorus: 'Don't say you didn't see it / if you hear the truth, but don't believe it / if you lose your mind and can't retrieve it.'
This may not be the kind of song you're pounding shots to on a summer Saturday, but it's a beautiful song, and vocalist Matt Hines' voice is one that's sure to stick with you.
If Lisa Frank made electronic music, the resulting live show would probably be similar to that of Holiday Mountain, an insanely energetic duo producing serious beats you can't help but shake your ass to. (Listen now!)
Holiday Mountain's pick:"Attack Attack Attack" by The Ghost Wolves
Is it possible to throw your neck out? When listening to this fast-paced track by duo The Ghost Wolves, well... probably. The track would play perfectly at a tiny, packed punk venue, at a sweaty house party, or, if we're honest, while smashing some of your ex's stuff, and it's one that Holiday Mountain's frontwoman Laura Patino -- a wild, uninhibited performer herself -- recommends. "It's supa sick because it's just so raw and punk," says Patino. "I like that Carley sounds like a badass cartoon character."
If you need a jolt of rowdy, you've found it.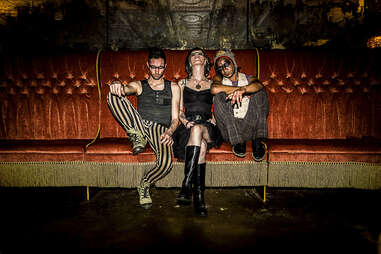 The trio's experimental sound -- a combination of haunting vocals, electronic elements, drums, and heavy keys -- captivates, and it's one they've been showing off live, accompanied by arresting visuals, at shows around Austin all spring. (Listen now!)
Obsolete Machines' pick:"Pocahaunted" by Technicolor Hearts
Technicolor Hearts produces what they call "dream pop noir," and the duo -- the Best Avant Garde/Experimental Band via the annual Austin Chronicle's Austin Music Awards -- actually describes themselves as an art project, which fits right in with the description Obsolete Machines provided. "Joseph Salazar and Naomi Cherie are very beautiful, avant garde and talented multimedia artists," the band says. "They are playful and open-minded, childlike and imaginative." And what better time to let your imagination run wild than summer?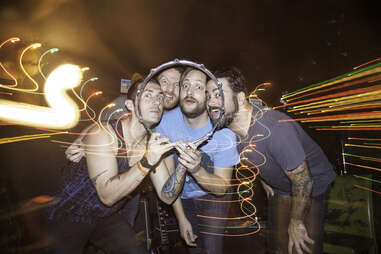 Otis the Destroyer's EP Belushi dropped in March and features the kind of raucous rock that's best enjoyed...well, as mentioned above: while jumping and bumping around in a sea of beer-soaked strangers. (Listen now!)
Otis the Destroyer's pick:"Axe Me If I Care" by Annabelle Chairlegs
This song -- found, quite fittingly for this circumstance, on an album called Watermelon Summer -- could be considered a standout purely due to the undeniably lovely vocals of Lindsey Mackin, who leads the band. As Otis the Destroyer's Taylor Wilkins puts it, this is "sikey surf rock vibes with a voice that will tear your heart out, black out the skies, and give you all the feels." This song deserves to be listened to by the beach. Make it happen.
A husband-wife duo, Riders Against the Storm -- two-time Austin Music Awards 'Band of the Year' honorees -- bring stage-conquering and crowd-commanding hip hop to every venue, and have opened for acts like Wu-Tang Clan. (Listen now!)
Riders Against the Storm's pick:"Solo" by Mobley
"Mobley is probably our favorite artist out of Austin right now," the group says, essentially echoing our own feelings on the artist. Given his killer voice, undeniable charisma, and ability to transition effortlessly between instruments, when you're watching Mobley perform at an Austin venue, it's just as easy to imagine him killing it onstage at the Grammys. (And when we blink, hell, he'll probably be there.) The artist's EP, Some Other Country, dropped in April, and RAS picked one standout track. "'Solo has a catchy pop vibe that builds and sticks with you afterwards," the couple says.
It seems indie-folk favorites Wild Child are always on the move, and this summer you can catch them here in Austin as well as at festivals like Free Press Summer Fest and Lollapalooza. (Listen now!)
Wild Child's pick:"Every Night" by Walker Lukens
"An uber-talented musician with even better dance moves, Walker Lukens is definitely one of my favorite Austin musicians," declares Alexander Beggins of Wild Child, who shares history and a hometown (Houston) with Lukens and has seen his music progress since their teenage years. "Every Night" in particular is a 2015 single from Lukens that begins with delightfully old-school doo-wops and consistently maintains a pleasant retro kick throughout. As an extra Austin-y bonus, the track was produced by Spoon's Jim Eno, and there's no disputing Beggins' assessment of the partnership: "They meshed together incredibly well."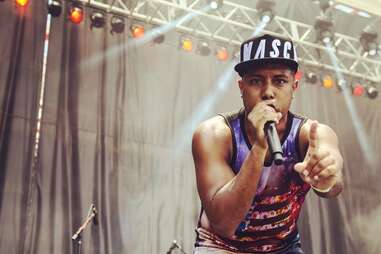 If you asked someone to name an Austin rapper, 9 times out of 10 it would likely be Zeale, who's gotten love from the likes of Esquire and The New York Times and has toured with AWOLNATION and Imagine Dragons. (Listen now!)
ZEALE's pick:"Dominator" by The Feels ft. Slooom
Break out the strobe light and spend your summer nights enveloped in the sound of this duo's dark disco. Slooom utilizes the phrase "to be half asleep :// to move or wander slowly or silently" on their profile, and it's an apt description given the almost otherworldly feel of their art. Zeale explained his pick succinctly: "The music pushes the envelope in the standard Austin music scene. I think Slooom is a standout." Consider "Dominator"—on which they're simply featured—sort of Slooom-on-crack, and afterwards check out what's perhaps a more true-to-form song in the form of "Honey" the (award-winning!) music video for which Zeale says "complements the experience with a provocative and artistic approach that is as startling as much as it is compelling."


Sign up here for our daily Austin email and be the first to get all the food/drink/fun in town.
Sam Sumpter is an Austin-based writer, semi-professional air drummer and wannabe roadie. (Seriously -- she even lifts, bros.) To see what music she's obsessing over this summer, check out blurry concert recaps on Instagram @Sam_Sumpta and follow her on Spotify.