12 Berlin Secrets You Didn't Know Existed
It's no secret that Berlin has, over the decades, been the home to a great many secrets. It does tend to explain why Germans hate state secrets so much (hello NSA intern probably reading this!), but in recent years, the city has gone through an era of unveiling -- from a new wave of urban exploration to underground bunkers being opened to the public. Here's what we've found...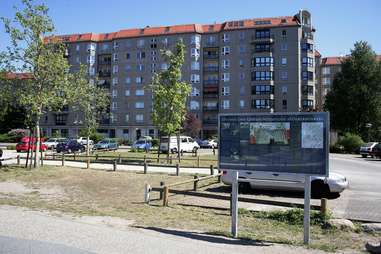 1. Hitler's bunker is right behind the Holocaust Memorial
The underground bunker where Hitler committed suicide is still around. The government has tried unsuccessfully to remove it through excavation and explosion, but settled on filling in the entrances. What was once the Führerbunker's former emergency exit is now a parking lot. Ironically, it's only steps away from the Holocaust Memorial where, in 1998, Goebbels' bunker was also discovered during construction.
2. In fact, there's an entire underground city beneath Berlin
Hitler's vision for Germania, the capital of the world, thankfully never came to fruition, but some of its initial infrastructure still lies underground. An organization called Berliner Unterwelt preserves the city's subterranean architecture, including cemeteries, air raid shelters, and even an aircraft factory.
3. You can swim naked at Stadtbad Neukölln
Germans are all about the FKK (Freikörperkultur) or as we call it in English, nudism. On Saturdays and Sundays from 5pm until closing (10pm), you can hang out au naturale in this candlelit Neo-Classical bathhouse.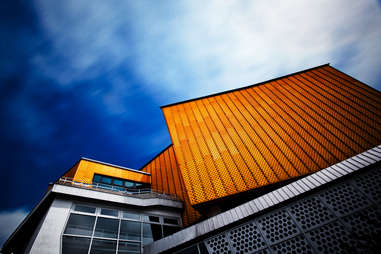 4. There are free orchestra concerts every Tuesday
Once a week, the Berliner Philharmonie holds a free 40-minute lunch program in its chamber foyer starting at 1pm. There are always a limited number of seats, so come early.
5. You can stay in a hotel room with mirrored walls, and sleep in a coffin or levitating bed
It doesn't get more weird (and possibly) kinky than the Propeller Island City Lodge art hotel. Every room has an over-the-top, themed interior design; for example "Two Lions," which features a birdcage for sleeping and a toilet on top of a tower, or the "Flying Bed" (see above).
6. The (second) highest point in Berlin is made of World War II rubble
Teufelsberg is an artificial hill built almost entirely from bombed-up debris, but what's beneath and on top of it is also interesting -- it covers a Nazi military college that was never completed and in 1963, construction began for an NSA listening station. Only in the last couple years did "Devil's Mountain" become open to the public.
7. There's a hiking trail that passes castles, Cold War remnants, and Einstein's birthplace
Totally off the beaten track is the 66 Lakes Trail, a 416km path that circumvents the outskirts of Berlin. While the hike itself isn't strenuous, it's a major challenge considering 66 Lakes is so clandestine and there isn't much about it in English. There are lots of awesome gems along the route, from serene forests to old aircraft hangers and rifle ranges.
8. You can learn German for free
Almost every evening, there are free German classes at Zátopek bar in Neukölln. The lessons range from beginner to expert, including worksheets and conversation practice. Check out the organization Deutsch Für Dich for more details.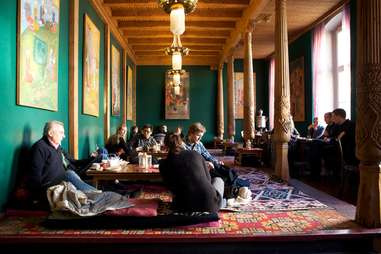 9. There's a Tajik tearoom from the DDR, and it's kind of a time warp
The Tadschikische Teestube opened in 1974 in the former East Germany, and although the location has changed, the hand-carved sandalwood pillars and dramatic murals remain the same. You can sip exotic teas on pleasantly worn-out pillows from Tajikistan, back when it was still in the Soviet Republic.
10. There are a ton of crazy artifacts around Tempelhof Airport
These days, Tempelhofer Field is known more as a place for flying kites and post-clubbing lounging, but Tempelhof Airport itself has a dark past from WW2. The premises still contain old air raid shelters, and a film bunker where the Third Reich stored video (pictured above). Archaeologists believe there's still an abundance of historical artifacts underground, particularly where a worker's camp once stood.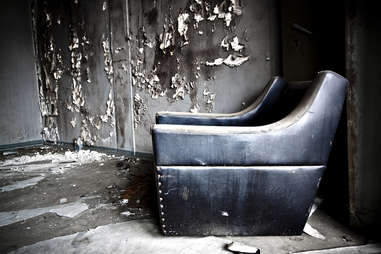 11. The Iraqi embassy has been abandoned for 20 years
In January 1991, staff was suddenly told to leave this former diplomatic embassy, during the height of the Gulf War. Today, its remains include moldy Arabic paperwork and the smashed bits of typewriters. The building's story, however, is seriously intriguing, including suspicions that weapons and explosives were covertly stockpiled here in the '80s...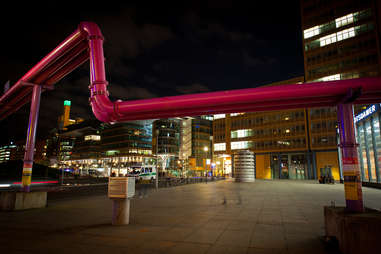 12. Berlin is built on a swamp, and these pipes are there to deal with it
These hideous magenta pipes around the city are no hipster art installation, but actually crucial to pumping water from marshland beneath Berlin. You can thank a psychologist for the color; it was recommended to the piping company 20 years ago as a shade that kids would enjoy.