In a city so full of suds, any amateur can go on a bar crawl through Berlin -- it takes someone special to do that bar crawl and engage in an awesome competitive game at every outpost… so naturally we put one together. Be warned however, this is not a quick journey. If you want to engage in this epic (yes, we are using that word appropriately) tour, you must reserve an entire day for it…
1. Underground Lasergame
Start off at Potsdamer Platz for some blood-pumping hand-to-hand combat (sort of) by playing laser tag in an abandoned WWII bunker. They don't have a bar on site, but you can reward yourself afterwards w/ a beer stein at the nearby Lindenbräu.
2. Spielbank
You'll see shady hole-in-the-wall casinos all over the city, but the big kahuna is just around the corner. Release some of your battle energy and continue day-drinking at this massive casino, then make excellent and well-informed decisions in either the basement poker room, or the above-ground slots & card games.
3. Berlin Kart
When your wallet's satisfyingly heavier, take the U8 to Neukölln's Boddinstrasse to the city's biggest go-kart track. Strap into one of their cars, which can hit between 4.5 and 6.5 horsepower, and build up a thirst for an ice-cold beer from their bar afterwards.
4. Schwarzlicht Minigolf Berlin
Now head up to Kreuzberg on the U8, getting off at Kotbusser Tor. A few blocks away, you can bring the competitive edge back to the day (& put your black light T back on) w/ a rousing game of sci-fi-themed, black light mini golf. Lowest score buys lunch, and the next round of beers, at the next-door Restaurant Edelweiss.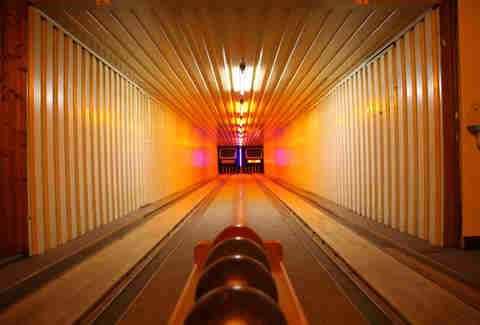 5. Tante Lisbeth
Now roll around the corner, and into this Kreuzberg bar, which embraces the neighborhood's love of vintage kitsch w/ tons of retro furniture, cheap booze & a '70s-era bowling alley in the basement. Two separate alley areas are rentable for groups by the hour; not surprisingly, it's popular, so book in advance.
6. East Side Bowling
Next, head over the Spree River into Friedrichshain to this massive gaming hall. There's more bowling, but we suggest saving your competitive edge for the darts, pinball machines, foosball tables, and air hockey. The resto serves draft beer & pub food, if that mental workout has worked up an appetite.
7. Spielwiese
Walk a few blocks towards Warschauer Strasse and you'll run into this gaming café with a strict "no wedgie-ing" policy. The décor might look elementary school w/ its bright-colored chairs, but the board game competition is hardcore & many are in English. They serve mostly organic food & drinks incl. some from a local co-op; try the locally produced Quartiermeister Beer.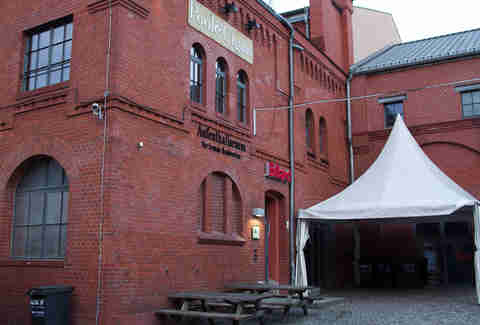 8. Pool & Cigars
From Spielwiese, the M10 tram will swing you around Danziger Strasse, dropping you off just a block away from the Kulturbrauerei, a former brewery turned entertainment hub. On the first floor, you'll find the American-style saloon Pool & Cigars, w/ 15 Brunswick pool tables, a menu heavy on whiskey drinks & cigars, big screen TVs & direct access to the next-door club, Soda.
9. Dr. Pong
Finish off the night just around the corner on Eberswalde Strasse at Dr. Pong, a hole-in-the-wall clubhouse bar. There's a foosball table, but the main event here is table tennis, played the European, round-table style (called Rundlauf in Deutsch). There's only one table, but plenty of beer & a few cocktails to keep you busy while you wait for your turn to paddle it out.