Despite having a little less wall-space to work with, Berlin's street art scene has totally exploded in the last few years. With the official title "City of Design," Berlin is covered in graffiti -- you'll literally see some awesome mural or tagged VW van on nearly ever corner -- and the subculture's spawned everything from Berlin-based magazines and alternative art tours to a Twitter account that posts photos of the city's latest tags. Freaking awesome right? Here's some of the coolest stuff to check out.
Kreuzberg's astronaut/cosmonaut
In 2003, old-school French artist Victor Ash tagged this massive spaceman -- one of the largest stencils in the world -- near Kreuzberg's Skalitzer Strasse. It's now one of the city's most recognizable images, visible from blocks away, and only accessible via a giant leap.
Linda's Ex
Street artist/graphic designer Roland Brueckner started tagging pictures all over the place in 2002, going all emo over his breakup with a gal named Linda. Some had the guy crying, some had him angry & some Berliners really got into the story, even calling the local press to try to convince "Linda" to return to her ex. Brueckner eventually gave up the gag & admitted the whole thing was a hoax.
BLU Surreal Images
Italian artist BLU lives in Bologna, but has works all over the city, in the shape of odd, futuristic-like cartoons, and often-scary-looking figures. The most well-known is this giant, building-tall man, who's actually made up of a lot of smaller, naked, pink humans. Yep, cree-eepy.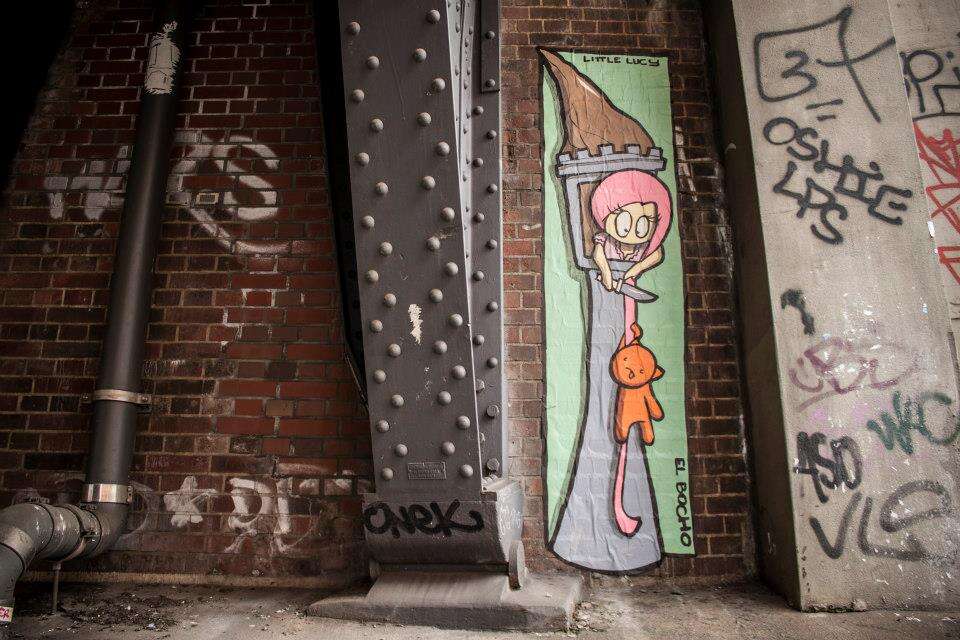 El Bocho
Although this artist does a variety of street pieces and professional exhibitions, he's most well known for his character Little Lucy who has a bit of a sadistic streak when it comes to her cat. You can find the animal drowning, bleeding, and generally being tortured in corners of Berlin.
Robi the Dog
Using a combination of styles & techniques, this Swiss artist creates colorful multi-layered paste-ups. It's unclear whether or not he is an actual dog, but his images tend to be slightly absurd, like a Wonderland-esque man-ape w/ a gun, or this casually cool, lounging zebra.
XOOOOX
Keep an eye out and you'll see these black-and-white stencils all over Berlin -- created from fashion mags like Harper's & Vogue – along with thought bubble xoxoxos calling out as the artist's signature.
MTO
Mick Jagger, Jack Nicholson, Hendrix: this guy's done them all in large-scale, black-and-white, and completely awesome murals.
Os Gemeos
Graffiti artists can actually make some decent change: these Brazilian twins -- known for their cartoon-like figures which often splatter across the sides of skyscrapers -- earned $20000 for their Deitch Projects piece in New York City. They graced Berlin w/ a five-story-high yellow man on Kreuzberg's Oppelner Strasse.
Herr-von-Bias
This guy started writing (that's street for graffiti-ing) in the '90s and has since graduated to illustrations and characters -- many of which look they should be in some drug-fueled, pastel version of Aaahh!!! Real Monsters. He's part of a Berlin-based artist collection called "The Weird", and yep, that sounds about right.
JR
In 2013, French artist JR brought his iconic works to Berlin with the "Wrinkles of the City" project, pasting 15 massive black-and-white portraits of older Berliners onto buildings throughout the city. With their wrinkled hands & old eyes peering out, it's kind of like Grandpa's shaking his head at all this drinking, smoking & partying going on. Geeze.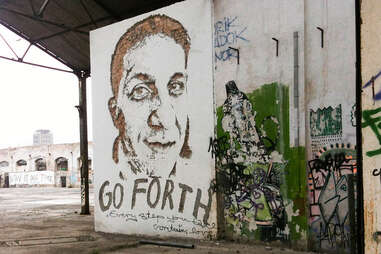 Vhils
Using materials like wheat paste & explosives, artist Alexandre Farto (hahaha!), aka Vhils, creates multi-textured and layered pieces on walls and billboards all over the globe. He hit Berlin in 2011 and left four pieces behind -- including a portrait of one of Berghain's legendary bouncers.
East Side Gallery
The longest remaining stretch of the Berlin Wall (at 0.8 miles), the East Side Gallery is one of the city's biggest draws thanks to the colorful artwork done by 118 different International artists. But the backside of the Gallery, facing the Spree River, is just as enticing -- taken over by the city's graffiti artists and splattered in plenty of great street art.