Berlin's not exactly all romance like Paris, or Prague, or the cool bits of Amsterdam. We've got dirty graffiti walls, communist paint jobs, ugly pink pipes -- yes, the German capital is proudly grubby, but don't let it fool you. There are actually a lot of killer options for date nights all around town. Just take a look:
Ballroom dancing
Clärchen's Ballhaus (address and info)
Mitte
No joke, Clärchen's has been a solid date-night venue since 1913. And it's that old-school charm that still makes it a Berlin institution today. The evening can start off with candlelit dinner in the Spiegelsaal, a 19th-century "mirror room," or clinking a couple of glasses in the outdoor beer garden. The dance hall offers cha-cha, swing, and salsa classes depending on the night.
Karaoke
Monster Ronson's Ichiban Karaoke (address and info)
Friedrichshain
With kitschy-cool karaoke booths and a song list that's seemingly infinite, Monster Ronson's always makes for a top-notch date night. Every first Thursday of the month is open mic night -- think karaoke but with real musicians.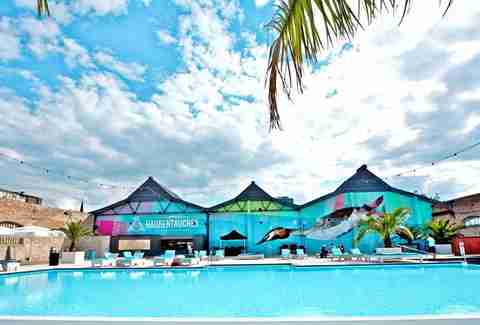 Jacuzzi movie date
Whirlpool Cinema (address and info)
Friedrichshain
Berlin's open-air kinos are getting one-upped this summer with the opening of a new open-air jacuzzi cinema. Kick back in either a massive swimming pool or one of 30 whirlpools to watch classics like Pulp Fiction, Inception, and Hot Tub Time Machine (fitting, right?). Yes, cocktails and snacks are both on offer.
Beer tasting
Berlin Bier Shop (address and info)
Moabit
Bonding over beer? Superb idea! Bier Shop offers regular tastings, usually with 10 microbrews from around Europe ranging from light to dark and heavy. With a hearty stew or ragout dinner on the side, it's €30 a person well spent. Check its blog for upcoming programs.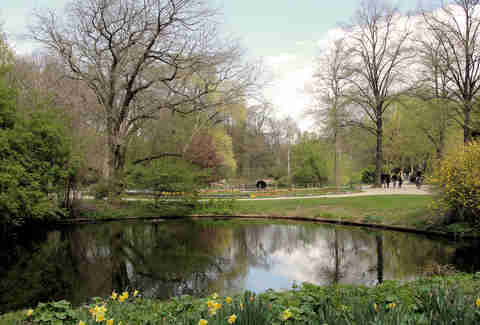 Picnic
Tiergarten (address and info)
Tiergarten 
There's no better afternoon date than packing up wine and cheese (bless Germany's cheap supermarkets) and heading down to the sprawling greenery of Tiergarten park. This former hunting ground has plenty of scenic spots to tuck away, and some of the most-romantic views are at Rousseau Island and Neuen See.
Dinner and a show... in the dark
Nocti Vagus (address and info)
Prenzlauer Berg
Some say "dine-in-the-darks" are omnipresent (and overrated) these days, but Nocti Vagus is bringing the pitch-black game. Its program ranges from freaky horror shows to crime mysteries and erotic literature readings, always with a four-course gourmet menu.
Swimming in the Spree (sort of)
Badeschiff (address and info)
Kreuzberg
The Spree River may be too polluted for a dive, but this is the next best thing: the Badeschiff's open-air pool located right on the water. It makes for a perfectly laid-back summer hangout, with DJs spinning daytime parties and even a sandy dance floor.
Farmers market
Winterfeldtplatz (address and info)
Schöneberg
Berlin's got no shortage of farmers markets and Winterfeldtplatz is one of the most beloved by locals. Throughout the week there's a diverse throng of vendors here, from Brazilian imbiss to gooey cheese raclette baguettes and homemade marmalade and chocolate. Leaving without being gorged on snacks is impossible!
A cooking class, for a good cause
Über den Tellerrand kochen (address and info)
Kreuzberg
This cooking class, headed up by a German chef, always features a special "guest chef" -- a refugee sharing their stories and their recipes. For €45, the experience is totally worth it, and €10 always goes towards the refugee cause.
Ping-Pong
Dr. Pong (address and info)
Prenzlauer Berg
Competition is indeed a fine aphrodisiac, and this paddle-friendly dive bar in Prenzlauer Berg proves just that. Dr. Pong's warehouse space may be dark and dingy, but that's exactly what makes it a good time (and there's foosball too!). The cheap beer doesn't hurt either.
 
Dinner at home
Ernst (info)
Your place
What could be better than a fine-dining restaurant that comes right to you? Ernst is a new team of young, hip chefs doing intimate home dinners around Berlin. For €100 per person, you can enjoy a five-star, three-hour menu sourced locally and prepared right in your own kitchen. Ernst also does beer and wine pairings from regional breweries and vineyards.
 
Sign up here for our daily Berlin email and be the first to get all the food/drink/fun in town.