How to relive the days of East Berlin (without it sucking)
Reliving the days of East Germany is easy -- all you have to do is bug your own apartment, throw out the better half of your stuff, then call the cops and tell them your neighbor is making jokes about East Germany. Or to save on your phone bill, you could sate your Ostalgie (the very real nostalgia for certain aspects of life under the East regime) by doing this cool stuff...
Walk along the Wall
Although most of the more than 100-mile Berlin Wall was torn down in 1989, there are still remnants scattered throughout the city left as a memorial. For a historic look, head to P'Berg's Bernauer Strasse & check out exactly how terrifying the border fortifications were. The longest intact stretch of the wall is the East Side Gallery, which was painted in 1990 by numerous international artists & the ultimate hunk David Hasselhoff has become an honorary mascot for it. It's a (disturbingly) popular #selfie spot even without a Hoff-spotting.
AMPELMANN GmbH
Spot the green man
Take a second look at the crosswalks in Berlin. While locals tend to favor the old-school Monopoly man style of the East Ampelmann, many of the traffic lights are being replaced with way more boring, way less hilariously phallic-looking Western versions. Catch a glimpse and pick up souvenirs w/ the old man at a Mitte shop in Hackesche Höfe, which slaps him on everything from bags to shirts to ice-cube trays, and, unlike most things in Germany, is open on Sundays.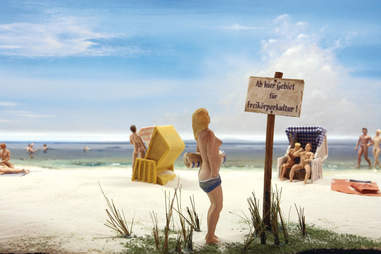 DDR Museum, Berlin 2013
Live like an East Berliner
Get a peek at what life looked like when the city was divided w/ a walk through Alexanderplatz, where many of the buildings feature GDR architecture and murals. The DDR Museum houses extensive artifacts on former Eastern life, from toys to potty training figurines to models of nude beaches, b/c the State controlled when babies peed and what you wore for an afternoon swim. And at the Ostel Hostel you can bunk in commie style w/ ultra retro furnishings and hidden cameras.
Drive a Trabi
Drive into the past w/ the Cold War-era Trabant, aka the Trabi, aka the death trap, which very often lacked brake lights or turn signals. Rent a tricked out version from Trabi Safari -- convertible or leopard print -- and get your own Trabi license, giving you real GDR street cred.
DDR Museum, Berlin 2013
GDR treats
Take a strangely nourishing & flavorful bite out of the East at one of the city's cult Ossi restaurants. Osseria serves up dishes like the spicy sour soup Soljanka and Jägerschnitzel, while DDR-Restaurant Domklause is headed by a former GDR chef who sticks to traditional hearty Eastern recipes. At Bei Muttern/Ostalgie you'll find home cooking at its finest & Café Sibylle is both an ice cream parlor and an exhibit of GDR memorabilia.
East drinks
No trip down East German memory lane is complete without a healthy prost! to the State. Pick up a few bottles of GDR-style schnapps at the Dr. Kochan Schnapskultur liquor store, or relax at VErkehrsBeruhigte OstZone, where Eastern relics cover every inch of space. Mauerblümchen -- decorated w/ portraits of commie leaders & settings -- even has a beer garden in the back & does brunch on the weekends.
Pick up some East duds & housewares
Although those living under the state's tight control were denied the glossy products of the West, today, for some reason, there is still demand for some of "Made in the GDR" stamped goods. For a trippy shopping experience, check out shops like Dederon Design, Ostpaket & Ostkost, where you'll find shelves stocked w/ everything from cosmetics and wine to chocolate bars.