Welcome to Torstraße: a Central-Berlin street which, in the last few years, has ambitiously shaken off its asphalt boundaries and transformed into a sub-neighborhood unto itself. It even has its own festival now (crazily named The Torstraßen Festival), taking place this very weekend to seduce your ears with the sweet sounds of La Femme and Robots Don't Speak… but while you're not rocking out to bands with blatantly-not-true names, you'll want to know what else this awesome stretch of tarmac has to offer, so we took a deep-dive into its finest offerings…
Where to get your grub on:

3 Minutes Sur Mer Torstraße 167; +49.030.67302052
The little sister of Berlin's beloved Bandol Sur Mer, this French bistro serves up plenty of comfort food options (coq au vin, veal w/ sunchokes, etc.) in a chic dining room, but sadly is not three minutes to the sea.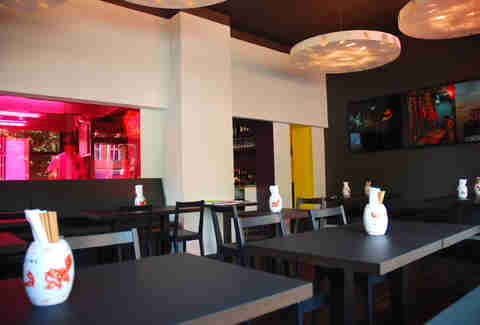 Yumcha Heroes Weinbergsweg 8; +49.030.76213035
This modern Chinese dumpling-slinger is a popular spot for people-watching nearby Rosenthaler Platz and does pretty delicious fresh juices, which can be spiked with vodka depending on whether you want to cure, or create a hangover.
Hartweizen Torstraße 96; +49.030.28493877
Italian classics come via the Pulgian chef who's been running this neighborhood favorite since 2011 and who, in another Italian move, also offers a killer wine list of 60+ bottles.
Yam Yam Alte Schönhauser Straße 6; +49.030.24632485
Just around the corner from several Torstraßen Festival locations, the locals love this Korean outpost for the big bowls of kimchi ramen and bibimbap. The coveted outdoor tables fill up fast, but there's plenty of room inside for spillover crowds.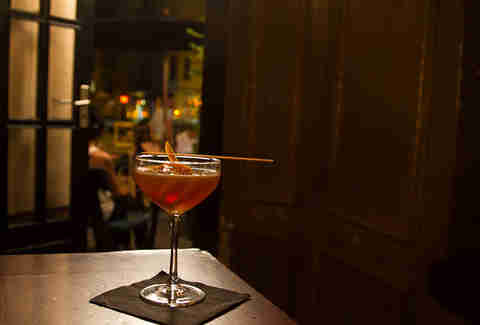 Wash it all down with some drinks:

Neue Odessa Torstraße 89; +49.030.1718398991
Popular with gallery-goers and Berlin's creative scene, the vintage style of this bar could easily fit into Williamsburg (or, actually more like Bushwick). The regulars go for their heavy-handed Moscow Mule, but you'll find plenty of boozy options to choose from.

Muschi Obermaier Torstraße 151; +49.030.01774360977
Literally 3min from 3 Minutes Sur Mer, this divey corner bar draws inspiration from the drug-laced wild parties of the 1960s. The smoke-filled, red-lit room and party-esque black-and-white portraits help trigger the mind-altered state.

Kitty Cheng Bar Torstraße 99; +49.030.92368975
Cheap drinks, hip-hop DJs, and a central location around the corner from the U8 at Rosenthaler Platz make this bar a scene-y location for general boozing and dancing till the wee hours.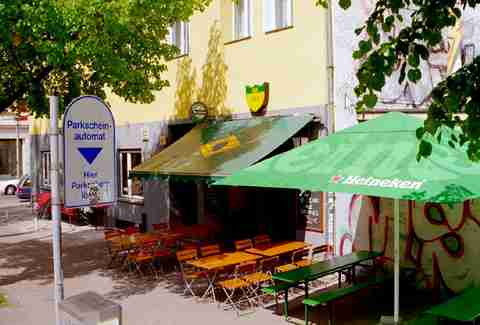 BR101 Torstraße 69; +49.030.44043871
Craving the hangover only a sugar-packed, cachaca-laced cocktail can give? Then head to this Brazilian bar, which draws a crowd thanks to 3€ happy hour drinks. A short menu of sandos aims to help provide belly ballast.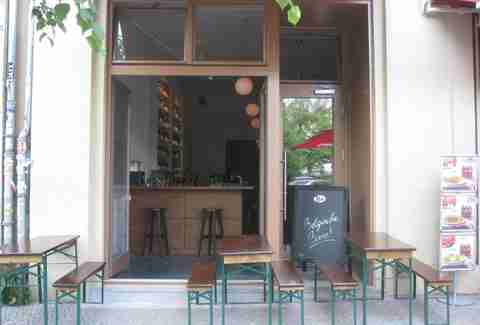 Herman Schönhauser Allee 173; +49.030.44312854
Although Germans are fiercely loyal to their country's brews, this little bar is a treasure trove of another country's decidedly better beers (yep, we said it). Inside Herman you'll find an awesome assortment of Belgian suds (100+ bottles alone), with a friendly owner who's always willing to help you pick out a pour.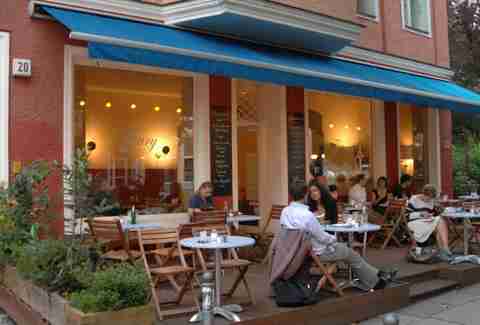 Where to go for a caffeine pick-me-up:

Café Fleury Weinbergsweg 20; +49.030.44034144
This extremely French café offers great coffee, a menu of bistro classics and baked goods, a sprawling outdoor deck, a selection of French pantry goods to take away, and not one mime.
St. Oberholz Rosenthaler Straße 72a; +49.030.21461311
Schmooze with hipsters and start-up networkers looking for free WiFi at this handsome café, where, like most of Berlin's coffee shops, they have draught beer (and coffee).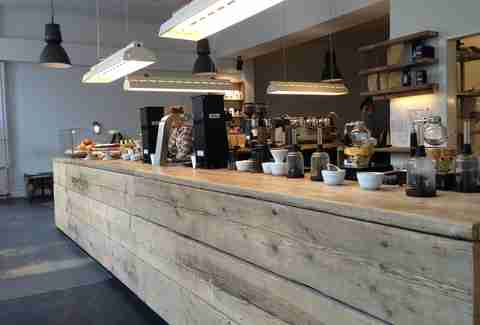 The Barn Roastery Schönhauser Allee 8
This coffee shop gained infamy in Berlin for banning baby strollers and sugar in coffee -- along with their awesome blunt policies, they feature slow brews, which means you aren't going to get that burned chain java here. Instead, expect chem lab-style V60 drips, AeroPresses, and Syphons, all inside a minimalist shop that features reclaimed wood and other hipster aesthetic. Also? No baby strollers!
Get some sweet duds:

DC4 Torstraße 95; +49.01706769201
So this place is basically all denim, and all Japanese -- you'll find awesome (and extremely well-made) brands like Samurai, Iron Heart, and Pure Blue Japan, with shirts, boots, and accessories.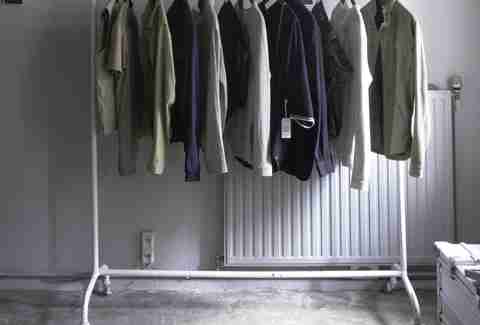 A.D. Deertz Torstraße 110; +49.030.91206630
If you're looking for something hand-made and completely unique, this shop is your place. Designer Wibke Deertz picks up fabric and ideas from her travels throughout the world -- Bangkok, Portugal, Buenos Aires -- creating a collection of limited edition pieces, and probably making people super-jealous at the same time.
Civilist Brunnenstraße 13; +49.030.85610715
Is skater-style more your look? This shop has everything you need to go all Tony Hawk, including items from Nike, Vans, Thrasher, and HUF. Pick up your duds, then head to nearby Weinbergsweg to immediately scuff them at the skate park.
SOTO Torstraße 72; +49.030.25762070
For the guy who says menswear with a straight face, SOTO offers some serious style for the dudes of Berlin. Along with their house label, Le Berlinois, the shop includes a mix of American, European, and Asian designers, and you'll find a wide range of accessories, shoes, and clothes to ponder over inside.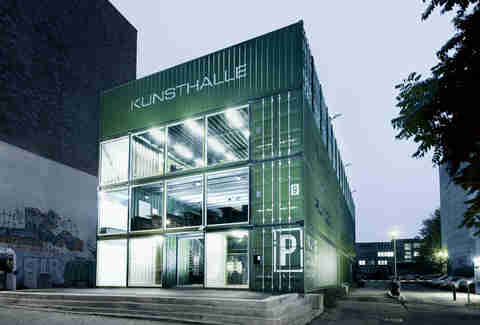 And some other distractions:

Platoon Kunsthalle Schönhauser Allee 9; +49.030.28882160
Although these cargo containers seem a bit odd sitting on Schönhauser Allee, the art gallery and event space is actually a pretty cool place to party. Just up the street from Torstraßen Festival's venue White Trash Fast Food, they're playing host to Berlin Dress on the 31st, with 100 Berlin designers offering their collections for sale.

Volkspark am Weinbergsweg Veteranenstraße 9
This hillside park is the area's best offering to stretch out on a sunny afternoon. There's a much-loved café at the top, but locals generally pick up a bottle or two from the corner kiosk and enjoy the weather picnic-style.

Kino Babylon Rosa-Luxembourg-Straße 30; +49.030.2425969
Across the street from Torstraßen Festival's Volksbühne locale, this 1920s-era theater offers a more chill option for your evening with a regular line-up of indie flicks, silent films, readings, and concerts.