Life. You only get to do it once, and if you know what you're doing, you'll spend a fair chunk of it in Berlin. Of course, while you're there, you'll want to squeeze every last drop of wondrousness out of the city, which is why we've drawn up this convenient bucket list -- a lineup of all the cool stuff you'll need to do in the German capital while you still can.
1. Check out the Reichstag's glass dome... from the inside
You'll need to book far in advance, but it is free.
Because there's nothing quite like conquering three minutes of fame in Mauerpark.
3. Go out to a lake
From Müggelsee to Schlachtensee, there's much beauty in Berlin's outback.
4. Join a demonstration
Live concerts, marches, and impromptu slam poetry prove that in Berlin, slaying apathy is a good time.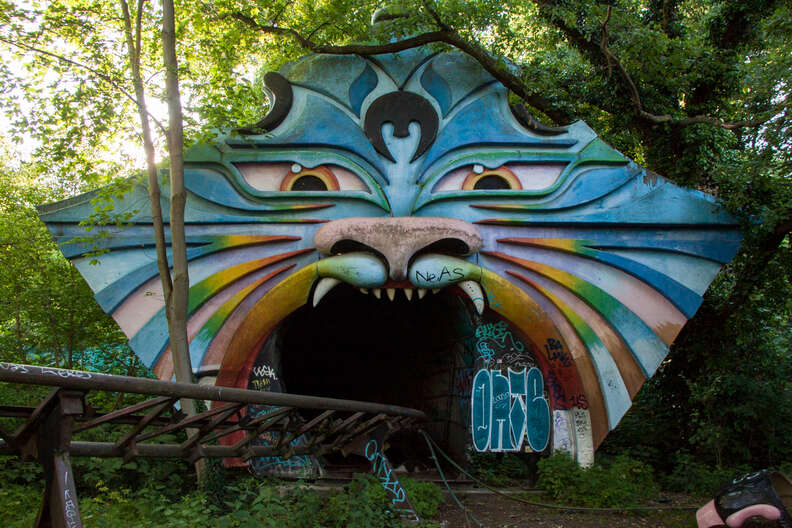 5. Sneak into Spreepark
At your own risk of angry German security guards, trespassing fines, and the weight of your own conscience, of course.
6. Go to a summer festival
Berlin Festival, splash!, Melt!. Lineups and after-parties are consistently on point here.
7. Take a river cruise on the Spree
You'll see the city's arches and architecture from a different (and fantastic) perspective.
Because out of everything on Museum Island, the Pergamon Altar and Ishtar Gate will especially blow your mind.
9. Have a picnic in the park
All you need is a few beers from the Späti, speakers, and a green space -- it helps that there are 2,500 of them.
So much pistachio, walnut, and phyllo sugary satisfaction.
11. Party on May Day
It's basically your civic duty.
12. Rummage at a flea market
Don't even just go to Mauerpark. Berlin's got so many more.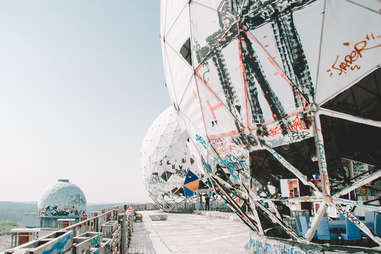 Climb up to this former spy station, and literally be the one who sees everything.
So you won't be able to afford anything, but it's still the classiest of mega-malls (don't miss the gourmet food hall).
15. Hang out at Tempelhofer Feld
Flying kites, biking, exploring an abandoned airplane -- it's all possible here.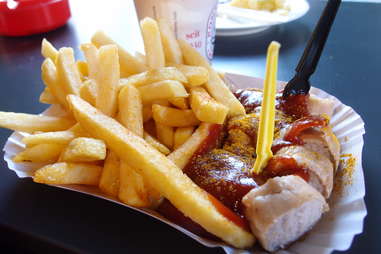 16. Eat currywurst at Konnopke's Imbiss
It may be an imbiss, but it's a century-old Berlin institution.
17. Go to the Berlinale
Skip the red carpet and find some of the more cool independent showings.
18. Light some fireworks on New Year's
Again, it's your civic duty.
19. Stop in at Berghain on Sunday afternoon
It's just way better after a big German breakfast.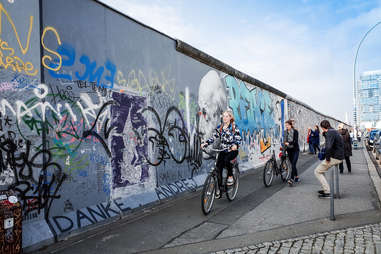 20. Walk along the East Side Gallery
Tourists or not, it's an amazing piece of history.
And we wish you the best of luck. We don't know how it's done either. Take us with you!
See the same old tourist attractions in... another light!
23. Visit Gendarmenmarkt
Christmas is best served with glühwein, homemade marzipan, and steak buns.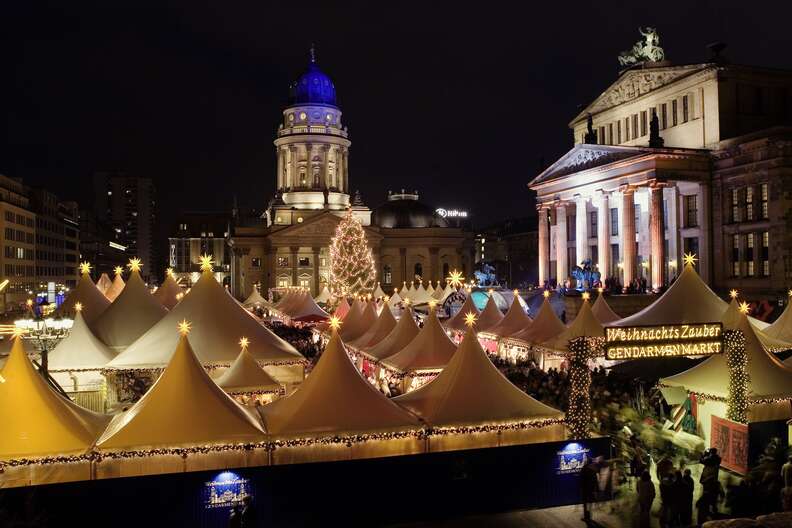 Because holidays in Germany are nothing without glühwein and smoked sausage.
At first it'll be weird. Then you'll just let it all hang. Then nothing will be weird anymore.
26. Check out the Maybachufer Turkish Market
And don't miss the buskers who play near the end during summertime.
You'll find them in parks, and even nightclub gardens!
28. Spend the entire summer in Berlin
Trust us. There's honestly nothing better.
29. Go to an outdoor music festival
From Fusion to Feel, there's just something about techno plus sunshine.
The stalls at Markthalle Neun keep getting better and better.
31. Or check out some other street festival
Karneval der Kulturen and Christopher Street Day will do the trick for sure.
It's the perfect dose of Berlin's warm and fuzzy yet alternative heart.
It's the closest you'll ever get to a dip in that dirty Spree.
It truly is a slice of Thailand in Germany.
Because it's Berlin's best rooftop. Extra points if you make it for a sunset jazz sesh.
36. Watch German soccer in a beer garden
Nothing will make you feel more like being a real Berliner.
Sign up here for our daily Berlin email and be the first to get all the food/drink/fun in town.
Barbara Woolsey is a writer who remains flabbergasted at how her personal Berlin bucket list just keeps on growing. Follow her on Twitter and Facebook.