Which TV Streaming System Should You Buy?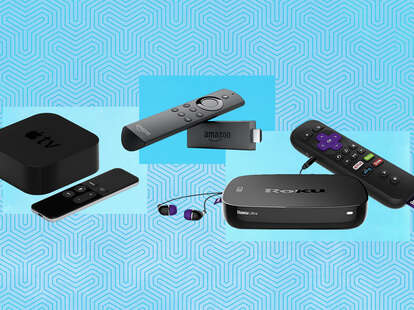 Between the stratospheric costs of cable packages and the fact that more and more of the best movies and TV shows are available exclusively on Netflix, Hulu, and other streaming services, pretty much everyone is looking for ways to cut the cord for good. And despite how easy it is to watch everything on your phone or computer, set-top boxes are still considered the gold standard for online content streaming.
Luckily, the consumer market has been spoiled with options, all optimized to mirror your favorite on-demand services onto any HDTV. Since shopping for one can be tricky, we took the liberty of helping you make a decision by breaking down all the best models out right now.
Roku Ultra
Price:$110
Why it's worth it: It's super-fast, has a voice-search-enabled remote, and supports both HDR video and Dolby audio. It also offers the most features of any Roku device.
Who it's for: Anyone with a top-of-the-line TV and audio system who values picture and sound quality over everything else.
What's so great about it? The Ultra is the embodiment of why Roku is more popular than any other streaming media console brand on the market. It's packed with features, an easy-to-navigate interface, and can access more TV and movies in 4K and HDR than pretty much any other device out there -- a level of quality many streaming services and TVs aren't even capable of... yet (consider it an investment in future-proof-for-a-while technology). The remote also features a headphone jack, which enables you to privately listen to whatever's on the screen (perfect for watching late at night without waking other people up).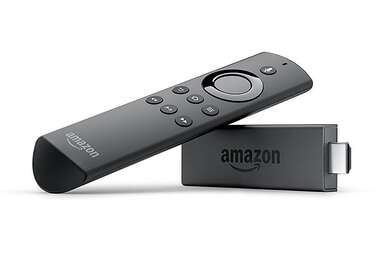 Amazon Fire TV Stick w/ Alexa Voice Search
Price:$40
Why it's worth it: It's fast, easy to navigate, and comes packed with Alexa's smarts.
Who it's for: Budget-conscious content streamers who want to dip their toe into the Alexa-verse.
What's so great about it? The Fire TV Stick packs quite a bit of power into a tiny package. It only supports up to 1080p resolution, but it's fast and offers dedicated apps for almost every popular streaming service out there. The bonus here is having Alexa built in to its voice-search-enabled remote. When your TV and Fire Stick are turned on, you can tap the button on the remote and hit Alexa with the same sorts of questions and commands you might via an Echo (or simply ask her to queue up your favorite show on Netflix, HBO, Hulu, or Prime Video).
Google Chromecast
Price:$35
Why it's worth it: It's fast, super-affordable, and easy to use.
Who it's for: Budget-conscious entry-level streamers who want to cast content to their TV from their phones or computers.
What's so great about it? Google's streaming device has been updated a couple times since its debut, yet it's still wonderfully simple. Unlike other tiny streaming dongles on here that come with a remote and built-in software, Chromecast is essentially just a conduit by which to "cast" content from another device connected to the same Wi-Fi network. That doesn't mean it's not as good (it is), but you'll have to use your phone/tablet/laptop to pull up your content of choice on the Netflix, HBO, Amazon, Hulu, or whatever streaming service app you desire, then mirror/cast it to the Chromecast.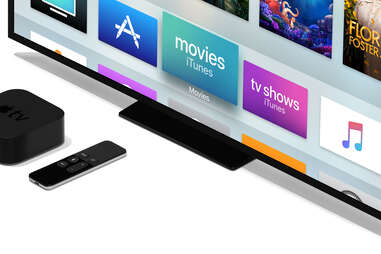 Apple TV
Price:$150
Why it's worth it: An old standby with a sleek interface, fun features, and plenty of apps for a custom experience.
Who it's for: Apple fanatics looking to add a big screen to their ecosystem of devices.
What's so great about it? It might be the oldest player in the game, but like a washed-rind cheese, Apple TV continues to age well thanks in part to its 1080p content and seamless iOS integration. The fourth generation of Apple TV not only comes with a touch and voice-search-enabled remote, but the ability to download thousands upon thousands of apps and games. It features arguably the smoothest interface of any device out there, and its "TV" app makes it incredibly simple to search for content across multiple streaming services simultaneously. It also offers a stock of hi-def screen savers to transform your TV into a mesmerizing piece of art while you're not using it.
NVIDIA Shield
Price:$200
Why it's worth it: Access to Google Play, high-quality streaming, and a large selection of playable games.
Who it's for: Gamers who want to play on the big screen.
What's so great about it? While the NVIDIA is an exceptional high-end streaming device that supports 4K and HDR quality and most any streaming app you'd want to use, at its core, it's designed with gamers in mind. It comes with its own controller, can easily stream games from your PC so you can play on a bigger screen, and gives you exclusive access to a number of games. It's also integrated with Google Assistant, meaning it can perform as many handy functions as an always-on Google Home can.
Roku Streaming Stick
Price:$50
Why it's worth it: Packs a lot of power in a small package, and is arguably the best value if you're just looking to make your dumb TV a little smarter.
Who it's for: People who need a basic streaming setup and don't want to spend a lot.
What's so great about it? Roku's updated streaming stick is its most powerful and fastest yet, allowing you to browse through over 1,500 streaming channels via its easy-to-navigate interface (which includes a universal search function) and watch content in 1080p resolution. Unlike the Ultra, the remote doesn't have a headphone jack, but if you download the Roku app to your phone or tablet you can listen privately via that device.
Sign up here for our daily Thrillist email and subscribe here for our YouTube channel to get your fix of the best in food/drink/fun.
Alex Bracetti is a contributor to Thrillist, Complex, HOOP, Man of Many, and several other popular lifestyle outlets. Follow him on Twitter @AlexBracetti.