Presented By
In addition to to-go cocktails, QR code menus, and a newfound passion for sourdough bread, the past year has seen dramatic developments within the realm of outdoor adventure—namely, a renaissance in all things camp-related (the roughing it in the great outdoors kind, not the 2019 Met Gala kind).
While social distancing and mask-wearing should still take top priority, the gradual rollout of vaccines offers new opportunities that were largely unavailable throughout 2020, ranging from freshly-reopened campsites to relaxed restrictions on travel between New England's six states. Whether you're a seasoned glamper with a sophisticated rig or simply itching to lie beneath the stars in a worn-out sleeping bag, the northeast holds a treasure trove of options for adventure-seekers of all kinds.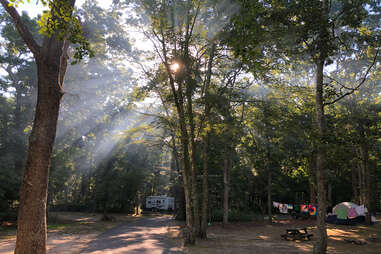 Visitors to Rhode Island from any of the states listed here must have proof of a negative Covid-19 test administered within the past 72 hours, or quarantine for ten days.

Burlingame State Park
Charlestown
In spite of its small stature, the Ocean State is home to a surprisingly large number of native New England creatures, many of which can be encountered at Burlingame State Park. From deer and otters to over 80 different bird species, the bulk of Burlingame's wildlife tends to congregate around Watchaug Pond, an idyllic reservoir that's one of Charlestown's hottest destinations for fishing, canoeing, and swimming. And unlike some of the region's other campgrounds, there's no need to stress about limited availability around here—the spacious park is outfitted with over 700 individual campsites along with 20 cabins.
George Washington State Campground
Glocester
While Rhode Island is known for its stunning coastline, don't miss out on the lush forests and glistening lakes in the oft-ignored northernwestern reaches of the state. With 45 individual sites up for grabs, this campground is the perfect jumping off point for exploring the surrounding George Washington Management Area, a haven for native flora and fauna. There's ample opportunity for fishing, hiking, and canoeing along nearby Bowdish Lake, but don't expect much in terms of infrastructure—there are no electrical hookups or showers to be found anywhere on the property.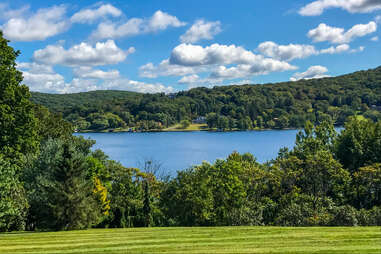 Rocky Neck State Park
East Lyme
While there's no shortage of fascinating destinations perched along the Connecticut coast, Rocky Neck State Park earns extra points thanks to its abundant natural beauty, with over 700 acres of lush woodland and sandy shoreline waiting right outside your tent. Hiking and swimming are two particularly popular activities for visitors, but don't miss your chance to get to know some of the park's non-human campers as well—from soaring wild ospreys to tiny slithering salamanders, there's a wealth of fellow New Englanders to befriend during your visit.
Lake Waramaug State Park
Kent
Fresh off the heels of its 100th anniversary, Lake Waramaug State Park is ready to party with the best of them, with 70 campsites and six cabins arranged in neat rows across the park. As you may assume from the name, watersports reign supreme around here during the summer season. Spend your day fishing, swimming, or cruising around on a rental kayak, but make sure to also check out the attractions resting along the perimeter of the lake, with nearby Hopkins Vineyard standing out as a top destination for sampling crisp Chardonnay and decadent ice wine.
Mohawk Trail State Forest
Charlemont
Home to both verdant old-growth forest and the largest land-dwelling beasts found in New England, Mohawk Trail State Forest is a veritable paradise for nature lovers planning their next foray into the Berkshires. Though cabin rentals are on hold indefinitely, you'll find more than 50 woodland sites tailor made for primitive-style camping. Black bears and white-tailed deer abound, but one of the region's most sought-after residents is much smaller in stature—namely, trout. If your idea of a perfect day involves spending hours on the river with a reel in hand, Mohawk Trail has you covered.
Shawme-Crowell State Forest
Sandwich
If you're dying to check out Cape Cod but find the sand a little too coarse, rough, and irritating to deal with, pay a visit to the vibrant woodlands of Shawme-Crowell State Forest instead. There are over 280 different campsites fit for trailers and tents here, but for a more unique experience, consider renting one of the park's yurts, which come equipped with electricity, bunk beds, and access to nearby public restrooms. While hikers and horseback riders have over 15 miles of forest trail to explore, don't head home without a trip to the idyllic seaside town of Sandwich, which can be found just a few miles northeast of the grounds.
Matagamon Wilderness Campground
Patten
Deep in the heart of America's most heavily-forested state, Matagamon Wilderness Campground is the ideal destination for ditching the endless email threads and basking in the restorative power of nature. Whether you're planning to rough it in a tent, haul in your own RV or trailer, or live large in one of the property's fully-furnished cabins, there's plenty of spaces to call your own here. During your stay, keep your eyes peeled for some of the region's most iconic native creatures, including white-tailed deer, moose, and black bears.
Wolfe's Neck Oceanfront Camping
Freeport
This acclaimed campground is one of your best options for experiencing the spectacular coastal beauty of the Pine Tree State, with over 600 acres of oceanfront property to serve as your personal playground. Lodging options range from remote tent-only sites in Quiet Cove to cozy full kitchen-clad cabins stationed along the rocky banks of the Atlantic Ocean. Far more than simply a campground, Wolfe's Neck is a local leader in sustainability as well, with a bounty of on-property barns and gardens open for exploration.
As of April 9th, 2021, unvaccinated visitors to Vermont must have proof of a negative PCR test administered within the past 72 hours.
Townshend State Park
Townshend
The Green Mountain State is chock full of natural beauty, and Townshend State Park is no slouch in that particular department. Immediately upon arrival you'll be treated to the gentle babble of streams surrounding your campsite, but the preserve's real crown jewel lurks just a few miles away. Located at the end of a roughly 1.5-mile hiking trail, Bald Mountain offers a gorgeous view of the surrounding area while the path itself is just as picturesque, boasting pint-sized waterfalls and limpid ponds throughout.
Brighton State Park
Brighton
Lean-tos, tent sites, and cozy cabins complete with real-deal electricity are ripe for the picking at Brighton State Park, a pastoral sanctuary stashed away inside of the nation's first international railway hubs. While Brighton's industrial heyday hit its peak roughly one and a half centuries ago, the surrounding community traded train tracks for hiking paths and the whole shebang bloomed into a thriving hotspot for outdoor recreation. If you're planning on taking a leisurely stroll in search of wildlife, Spectacle Pond is equipped with a few woodland nature trails snaking along its shores, while its larger sibling Island Pond is a popular destination for boating, with kayaks, canoes, and pedal boats available for rent.
Pillsbury State Park
Washington/Goshen
If you're yearning to ditch the office and immerse yourself in the laptop-free serenity of the natural world, Pillsbury State Park is poised to make your wildest wilderness dreams come true. With 35 separate campsites scattered along May Pond, you can fish, hike, and kayak to your heart's content before heading back to the simple comfort of your tent for a night full of stargazing. Glampers beware: Pillsbury State Park is best suited for primitive camping, as there are no electrical hookups available.
Umbagog Lake State Park
Errol
This blissful sanctuary is nestled within Umbagog National Wildlife Refuge, making it the ideal place to channel your inner Steve Irwin—though, admittedly, with far fewer crocodiles. While the lake's southern edge is home to a campground decked out with water and electrical hookups, those wishing to truly venture off the grid can choose from over 30 remote sites scattered all across the area, many of which can only be accessed by boat. For a truly memorable experience, bring your own kayak (rentals are currently unavailable) and set off in search of a star-studded roster of cuddly locals including bald eagles, river otters, bobcats, and even the occasional moose.
Jared Ranahan is a contributor for Thrillist.