The Most Secluded Camping Spots in New England
Because sometimes you just want to pack up and head for the woods.
Suddenly, everyone and their socially distanced cousin has become a camping enthusiast. And it makes sense! When life deals you a global pandemic, you find new ways to cope -- even if it means campfires and peeing in the woods. (We know it's what Thoreau would do.) Thankfully, the natural wonders of New England are within easy reach, and you don't even need to refurbish an Airstream to make it happen.
We've got the scoop on the best and safest spots to commune with nature -- specifically, two of the best under-the-radar campsites from each New England state (save Rhode Island, which on August 7 will be removed from the Department of Public Health's lower risk state list for Massachusetts' new travel order). Just stay flexible: Not only do the usual COVID-19 caveats apply, especially in Maine and Vermont, but some of these spots are first-come, first-serve.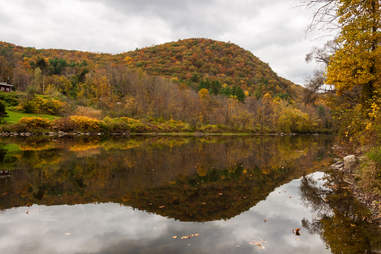 Cornwall Bridge

| Flickr/phoca2004
Connecticut
Silver Hill Campsite
Cornwall Bridge
Along the Appalachian Trail
near Cornwall Bridge, the
secluded Silver Hill Campsite
provides great sunrise views of the Housatonic River, proximity to trails and other sights (St. John's Ledges), and definitely some peace and quiet. And it's like a rustic Ritz with plenty of room for tents, multiple picnic tables, an overlook platform, a pump-well for water, a top-notch privy, a wooden swing, and a small covered pavilion for hanging out. As with many backcountry AT sites, it's first-come, first-served, so plan accordingly.
Riga Lean-to Campsite
Salisbury
It's only a short, leisurely hike from Mt. Washington Road to Riga, but it feels like a different world once you're there. Located high on a ridge, the shady grove opens up to valley vistas that hypnotize you at first glance. Beyond the prime real estate, Riga's solid list of extras includes a sturdy lean-to (sleeps six), two water sources, and a relatively new outhouse courtesy of the Appalachian Mountain Club. (Speaking of mountains, this locale makes a great base of operations for hiking nearby
Bear Mountain
.) Similar to Silver Hill, they it doesn't take reservations, and it definitely won't take your Diners Club card.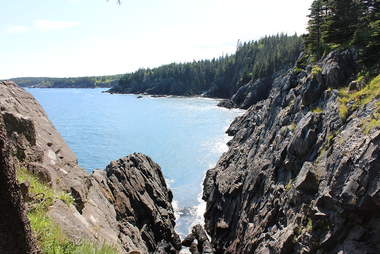 Cutler Coast Public Reserved Land

| btwashburn/Flickr
Maine
Massachusetts residents can only travel to Maine if they have received a negative COVID-19 test in the last 72 hours. Although, quarantining for 14 days in the woods doesn't sound so bad.
Cutler Coast Public Reserved Land
Cutler
Solitude seekers and social-distance extremists need look no further than Cutler Coast's three permitted sites. They are totally worth the four- to five-mile hike (there's also one more site each at Black Point Cove and Long Point Cove). Near Fairy Head, along the Coastal Trail, the camps overlook the "Bold Coast" cliffs, Grand Mahan Island, and the Bay of Fundy. And much, much more: 12,234 acres of blueberry barrens, woodlands, and peatlands; 10 miles of trails; more than 200 species of birds (2020 is totally The Year of Birding); and the occasional seal, dolphin, or humpback visible from shore. No big deal. The only bummer is that no campfires are allowed. It's first-come first-serve, and you won't know if a site's available until you check the log-in book at the trailhead.
Swan Island
Richmond
Not to be confused with Swans Island, also in Maine, this spot sits at the head of Merrymeeting Bay in the middle of the mighty Kennebec River. After a five-minute ferry ride (though some choose to canoe), a zippy tour truck takes you to your camp nestled on pristine land that's remained mostly unchanged since 1607. What they have added since the early 17th century: 10 Adirondack shelters, one group site, drinking water, modern restrooms, and a utility/dish room. Beyond the helpful infrastructure, there's a wildlife-viewing tower, seven miles of hiking, 4.5 miles of biking, and a picnic shelter. Reservations are required and only one family is allowed per site. Visitors are also asked to wear masks in all high-contact areas, such as the parking lot, ferry landings, ferry, and in restrooms.
Massachusetts
Shawme-Crowell State Forest
Sandwich
It's not too late to get down to the Cape this summer -- and camping is far and away the least expensive. There are 285 stunning wooded sites at Shawme-Crowell, and you really can't go wrong with any of them. Surrounded by endless pines, the spots are quiet and with enough room between them -- good for COVID, and also good for relative silence. Explore the 15 miles of roads and trails, or bring your horse and enjoy equestrian access to over 700 acres (you know, because you totally have a horse at home.) The park connects to the Cape Cod Canal bike trails, and you can get to both downtown Sandwich and the ocean pretty quickly. Either a plus or minus, depending on your perspective: Shawme-Crowell is a bit less "wilderness-y" than other camps and is equipped with showers and restrooms. That said, cell phone reception is pretty spotty, so you're still getting the full, disconnected experience.
October Mountain State Forest
Lee
The largest state forest in Massachusetts is an easy spot to keep calm and socially distant. We're talking 16,000 acres in the always picturesque Berkshires, perfect for hiking and mountain-biking. Of course, October Mountain is the star here. Hike the seven-mile October Loop and you'll even pass a lake perfect for a restorative dip. Alas, the campground's yurts are closed for the 2020 season, but there are still 43 bucolic, bare-boned sites to choose from -- just be sure to
reserve a spot online
before you go.
Pillsbury State Park

| ferrisnox/Flickr
New Hampshire
For the 2020 season, reservations are required at all state parks that are still open, including the below. Visit this site to check availability and to book a spot.
Pillsbury State Park
Washington
A vital link in the Monadnock-Sunapee Greenway, Pillsbury State Park features dense forests, multiple ponds, wetlands, 18th-century farm and lumbering relics, and diverse critters like moose and loons. It has 35 sites, and the blue-chip locations are on the water (for the most isolation, sites 1 and 1A share tiny Vickery Pond, while 26 and 40 remain tucked away on Mill Pond and May Pond). For tranquil coves and wildflower-bedazzled inlets, bring a canoe or kayak and explore, or just do some fishing. The park balances rustic with refined and provides pit toilets, drinking water, and a recycling station (additional portable bathrooms are on site this season). Plus it's pet-friendly, which means you don't have to stress about boarding.

Umbagog Lake State Park
Errol/Cambridge
Bordering Maine in Northern New Hampshire, Umbagog Lake State Park was rated as one of the best kayaking venues in New England due to its über-scenic lake shores. Alas, no boat rentals this year due to you-know-what, so now's the time to splurge on that canoe or rowboat you've had your eye on. Wildlife abounds, and there's a good chance you'll see moose, birds, deer, et al chillaxing by the lake.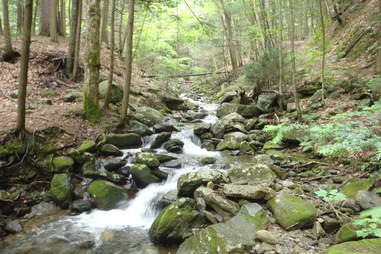 Townshend State Park

| s-bahn/Flickr
Vermont
Anyone traveling from Massachusetts must commit to a seven-day quarantine even after receiving a negative COVID-19 test. Masks are also required throughout Vermont in areas where social distancing is not possible.
Townshend State Park
Townshend
Built by the Civilian Conservation Corps during the Great Depression, Townshend State Park is where the past meets the present -- and it hasn't changed much since the 1930s. This handy interactive park map has pictures of each camp for informed decision-making. The main attraction here is direct access to Bald Mountain, where the trails lead you past waterfalls, pools, and chutes as you ascend to a sweet, 270-degree view. Other campground comforts include restrooms, showers, and a picnic shelter with a fireplace.

Woods Island State Park
Swanton
This is the type of place to really get away from it all and relax. Only one-mile long and a quarter-mile wide, Woods Island in Lake Champlain has five secluded campsites spaced evenly around the two-mile shoreline. (Again, this cool map helps with the choosing.) Spend your day in the water, on the water, or just looking at the water -- no matter what, you're guaranteed some of that needed relaxation. Facilities are minimal, but there are privies and fire rings at each site. Also, there is no ferry service, so guests must make their own travel arrangements. Fun fact: the earth berms on the cross-island trail were once part of an airplane runway.
Sign up here for our daily Boston email and be the first to get all the food/drink/fun the Hub has to offer.
If Meaghan Agnew is camping this summer, you know the world has gone haywire. See how she fares up in the woods of Maine in a couple of weeks by following her on Instagram.