They say you can't buy love, but you also can't sit at home watching Netflix every night and expect to meet your Cindy Mancini -- even if you do have $1,000 saved up from mowing lawns all summer. Unfortunately, wining and dining everybody you meet on OkCupid can get expensive, and nobody wants to plunk down mad cash every time they go out. Dating in Boston is hard enough already... why make it hard on your wallet, too?
These 18 dates will impress that special someone without busting your budget.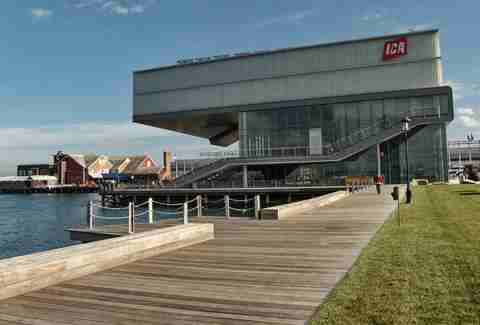 1. Soak up some culture at a free museum night
Each of Boston's many museums offers free or reduced admission at least one night a week. Plan accordingly and you'll have cash left for drinks and dinner afterward. Try the MFA on a Wednesday from 4-9:45pm or the ICA on a Thursday between 5-9pm. If you'd prefer a more playful experience and a) aren't bothered by parents giving you the evil eye; or b) worried that you might be sending the wrong signal about moving too fast, the Boston Children's Museum is only $1 on Fridays from 5-9pm.

2. Hunt down the food trucks
There's a reason Bostonians put up with the New England winter, and it's called the New England summer. It's glorious. And there's no better place to enjoy it than outside, tracking down one of Boston's best meals on wheels. Stroll through Tech Square, the Greenway Carousel, the Arsenal Project, or the quad outside Harvard Science Center to see what trucks are vending that day.

3. Take advantage of Free Fun Fridays
The Highland Street Foundation is offering free access to over 70 museums and other cultural venues each Friday for 10 weeks this summer. There is no excuse not to visit SOMETHING.
4. Attend a wine tasting
Get your grape on for ZERO dollars at one of the Hub's many free tasting nights. Ball Square Fine Wines, Coolidge Corner Wine and Spirits, and Central Bottle host some of the most popular ones.

5. Live it up at oyster happy hour
Massachusetts blue laws prohibit discounts on booze [insert crying face emoji here], so restaurateurs discount the next best thing: seafood. If a romantic oyster/Champagne combo normally seems out of your price range, hit up a happy hour to score a fresh dozen for yourself and that new someone you met in Clerys' basement on Saturday night. You never know where things could go.

6. Ride the Swan Boats
Nauseatingly romantic and only $3.50 per person. Get on it.
7. Walk the Boston Harbor
The Boston Harborwalk offers a free, downloadable audio tour that will take you along the water and scenic areas downtown. Follow along with your date, or smartly do it a few days in advance and impress her with your extensive knowledge of the Hub's seafaring history. There are also a handful of pay-what-you-like walking tours available from Free Tours by Foot that cover various neighborhoods around town.

8. See Shakespeare on the Common
Each year since 1996, the Commonwealth Shakespeare Company has presented full Shakespeare plays completely free of charge at Parkman Bandstand. Grab a blanket, a couple of burgers from jm Curley, and a Thermos filled with "water," and enjoy the show.

9. Go to a burlesque show
You might think of striptease as an outdated and slightly skeevy form of entertainment, but in Boston, that's far from true. The city's many burlesque troupes (including several nationally recognized groups like Rogue Burlesque, Sirlesque, and The Lipstick Criminals) have amped up the art form to include some of the East Coast's best comedians, dancers, and variety artists. For less than $20 a ticket, you can see some talented performers rock out with their... you get the idea.

10. Take a night dip at the Colonnade rooftop pool
The Colonnade is home to the city's only outdoor rooftop pool, which sits 12 stories over Back Bay and costs $20 or less every day after 5pm. It's one of the only places you can swim while gazing at the Boston skyline, and you won't break the bank if you go at night.
11. Tour the Taza Chocolate factory
For just $6 apiece, you and the only other single person in your BCAE ballroom dancing class can learn how Somerville's renowned chocolate factory makes its traditional stone-ground Mexican chocolate (and of course, snack on samples). Just no box-stepping through the chocolate river.

12. Find a free or discount film
On select nights every summer, you can catch a free outdoor movie as part of Coolidge Corner's Greenway film series. If you're feeling particularly cinematic, skip out of work early -- most area theaters charge less than $10 for classics, matinees, midnight movies, and Tuesday showings of big blockbusters.

13. Jam out to live music
Kick it at Toad, Cambridge's popular cover-free music venue, for great bands every night. Or, if listening to live bands whilst sitting outdoors is more your style, head to one of the many free concerts at the Hatch Shell this summer.

14. Go star-gazing
BU's Coit Observatory is free to the public every Wednesday night starting at 8:30pm in spring and summer and 7:30pm in fall and winter. For a more guided experience, head to the Charles Hayden Planetarium at the Museum of Science ($10).
15. Rent a Hubway bike
If you don't have a ride of your own, $6 will get you 24-hour use of one of Hubway's shared bicycles. Bring your date down Memorial Drive in Cambridge on a Sunday (it's closed to car traffic), or pedal out to Jamaica Plain for a spin around the Arnold Arboretum followed by a trip to the original J.P. Licks.

16. See stars at Stage
With free general admission before 10:30pm and a celebrity host every Friday, Boston's newest nightlife experience is your best option for cool clubbing on a budget. Stop by to dance, drink, and watch a rotating cast of characters (including impersonators, circus performers, breakdancers, and graffiti artists) turn the dance floor into a carnival.

17. Explore the Lawn on D
This quirky outdoor venue hosts all sorts of free and cheap events throughout the year. From huge LED sculpture installations to interactive puzzle mazes, get ready for a larger-than-life adventure.

18. Take a drop-in class
Working out together is hot, right? Of course it is. So for some hot, off-the-beaten-path workout action, check out Boston Boxing and Fitness (which offers a free trial class on Mondays) or Boston Hoop Troop ($15 drop-in hula-hooping lessons). And yes, we just recommended a hula-hoop class. Because it's a date, and you should try new things.

Alright, that's enough to get you started. If you need more ideas, check out our Boston bucket list!
Sign up here for our daily Boston email and be the first to get all the food/drink/fun the Hub has to offer.