One of the world's most well-known summer vacation spots, Cape Cod is famous for its beautiful beaches, laid-back lifestyle, and connection to the Kennedys. Also, sharks!
But for as much as everybody knows (or thinks they know) about our popular, flexed-arm spit of sand, there remain a number of preconceptions and misconceptions about good old Cape Cod. Allow us to clear up a few of them.
1. People really DO live here year-round
Roughly 216,000 of them, according to the last census. Of course, our population -- along with our road rage -- triples in the summer.
2. Our potato chips are tasty, but they aren't the only game in town
Not by a long shot. Cape Cod Potato Chips are definitely worthy of national attention, but we're also home base to Salty Oats cookies, Nobska Farms hot sauce, and wholesomely decadent Chequessett Chocolate.
3. The Mayflower landed on the Cape first
Suck it, Plymouth. Sorry, Plimoth. That's right, the Pilgrims disembarked in Provincetown before continuing on to Plimoth, and they first encountered Native Americans in Eastham. Come on, it's not called First Encounter Beach for nothing. Also, just so you know, it's a prime spot to catch an amazing sunset.
4. We are ice cream aficionados
We're not gonna throw around any hard data or anything, but the Cape likely has more ice cream shops per square mile than anywhere else ON EARTH. Probably. Quite possibly. It does seems like we have a lot. From the iconic Four Seas Ice Cream (the third-oldest ice creamery in New England) to the less traditional Local Scoop, there's tasty ice cream around every corner.

5. It's on the Cape, not in the Cape
Say "in" and it's pretty clear you're visiting from New Jersey.
6. Sun, sand... and yep, surf
Despite what your third cousin from Laguna Beach says about the waves, there is great surf -- and the requisite surf culture -- on the Lower Cape, especially when a nor'easter rolls in. So wax your board and head to Whitecrest Beach in South Wellfleet, that's your go-to spot.

7. Jaws was NOT a true story, but...
... we have seen more Great White sharks in our waters over the past few years, largely due to the growing seal population. Also, Jaws is celebrating its 40th anniversary this summer, for what it's worth.

8. No, everybody does not know everybody
Separated from mainland Mass by a man-made canal, Cape Cod is a 77-mile-long spit of land made up of 15 towns and split into four major sections: the Upper Cape, Mid-Cape, Lower Cape, and Outer Cape. There is a village of Barnstable in a town of Barnstable in the county of Barnstable (That includes all 15 Cape towns, FYI. Martha's Vineyard and Nantucket are their own counties.) So, no, we probably don't know the admin assistant in your office from Orleans. Then again, maybe we do, what's his name, again?
9. We're bike people... until we're not
While Cape roads aren't super bike friendly (ride single file with the traffic to stay safe and avoid verbal abuse from locals), we have both the Cape Cod Rail Trail and the beautiful Shining Sea Bike Path, which runs through the north side of Falmouth along marshes, through woodlands, and beside the ocean.

10. Drinking is encouraged, especially if it's a local brew
Home to two breweries (Cape Cod Beer and Devil's Purse Brewing) and three wineries (First Crush in Harwich, Truro Vineyards in Truro, and Cape Cod Winery in East Falmouth), the Cape boasts a small, but formidable, booze scene. And Farmer Willie's Alcoholic Ginger Beer is its newest star.

11. Yeah, we're kind of a big deal in marine biology
Woods Hole, a village in Falmouth, is one of the world's epicenters for marine, biomedical, and environmental science. It's home to the Marine Biological Laboratory and the Woods Hole Oceanographic Institution, two large private science labs, as well as two federal government facilities, the National Marine Fisheries Service and the US Geological Survey.
12. The rainbow flag flies high...
Located at the tip of the Cape, Provincetown (or P-Town to pretty much everybody in Massachusetts) is known to many as the No. 1 gay community in the US. Sorry, Key West. The town hosts themed weekends throughout the year, as well as Carnival, one of the largest outdoor celebrations in the Commonwealth.

13. ... as do the Stars and Stripes
We've also seen our share of military commissions and are now the home to Joint Base Cape Cod (formerly Otis Air National Guard Base) -- five military commands training for missions at home and overseas. The first fighter jets to respond to reports of hijacked planes on 9/11 were based here.
14. Ironically, most of the cod eaten on Cape Cod is not from the Cape
Yea, Atlantic cod is actually overfished in local waters, so most of what we eat is imported. That said, local organizations like the Cape Cod Commercial Fishermen's Alliance are dedicated to keeping the small fishing trade alive, as well as throwing one of the best local parties of the summer -- the Hookers Ball.

15. We have more to offer culturally than lighthouse souvenirs...
... or Cape Cod sweatshirts. Or, salt water taffy (that was most likely made in New Jersey). Although those things are all great. Yeah, the Cape attracts incredible artists and you can nod approvingly at their work when you visit our many galleries, art museums, playhouses, theaters, and stages.

16. Not to get too hokey, but this place inspires
Okay, so that still sounds pretty hokey, but whatever; Henry David Thoreau didn't exactly write a book about the beauty he encountered on his summer trips to Lowell.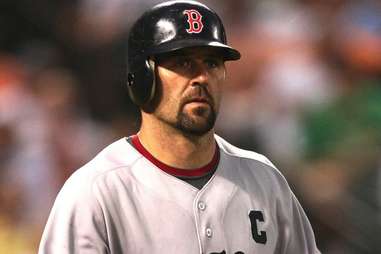 17. You may meet a future Major League Baseball star
Many future baseball stars (think Mo Vaughn, Nomar Garciaparra, Jason Varitek, Mike Lowell) start out playing in the summer Cape Cod Baseball League. You know, the one that served as the setting for the 2001 Hollywood hit (no?) Summer Catch, starring Freddie Prinze Jr. and Jessica Biel. Wait, you didn't see it?!?!

18. No, we don't all have a Boston accent
But we reserve the right to pull it out at the right moment.

19. Yes, we do see the Kennedys from time to time
And no one is overly impressed. So be cool.
Sign up here for our daily Boston email and be the first to get all the food/drink/fun the Hub has to offer.
Amanda Converse, Jen Villa, and Kate Sheehan are the co-founders of LoveLiveLocal, a year-round source for what's up and where to get down on Cape Cod. Their ultimate goal is to support and promote local businesses, makers, and artisans and strengthen the local economy. Check them out online, or follow them on Facebook and Instagram at @lovelivelocal.