The 5 best Halloween parties in Boston this weekend
You know how some years Halloween falls on a Tuesday, and it's kind of awkward going out on the weekend even though you know it isn't "real" Halloween? Well, don't worry about that this year, because Halloween is Friday! Here's how to make the most of it:
Thursday, October 30th: The undead get their second chance at high school (still awkward) with '80s Zombie Prom at The Beehive (or is it The Boohive?). Head over at 5:30pm for dinner specials from Chef Marc Orfaly, and enjoy some festive themed cocktails to loosen you up for the forthcoming cover band. No cover, and prizes for best costumes.
Friday, October 31st: Grafton Street goes meta for All Hallows' Eve with a food and beverage themed costume party starting at 5pm. Dress as a sexy hamburger or your favorite beer (or both) for a chance to win a Grafton Group gift card. Bar manager Morgan Carney will be mixing up crazy concoctions like the "Max Cady" (Tito's vodka, Cointreau, black cherry Simple, blood orange soda, Peychaud's) while you enjoy Bamboo-impaled chicken hearts and Bloody Mary linguine (with Duxbury clams and spicy tomato-vodka sauce). Another bonus: no cover here, either!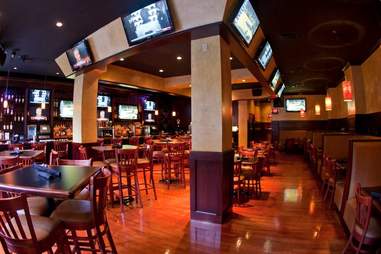 mm/c
Friday, October 31st: From 9pm-1am, the freaks will be out in FiDi at Battery Park's Halloween bash. Tickets are $20 and include two glasses of beer or wine, passed apps like BP's signature Philly cheesesteak egg rolls and boneless buffalo tenders, and a swag bag when the night is over. They're also going old school with that all-but-forgotten Halloween party game Bobbing for Apples. (Wait... those aren't apples…).
Friday, October 31st: M.J. O'Connor's (Back Bay) invites you to their 10th annual BOOnanza Halloween party (8pm) -- a scary-fun night to help out The Italian Home for Children. There will be a costume contest, prizes, raffles, treats, surprises, and dancing (also scary). Tickets are $10 with costume, $20 without.
Saturday, November 1st: In the spirit of giving and... umm... spirits, Back Bay Harry's hosts a Game of Thrones Halloween Party (7pm) to benefit Rosie's Place. Emceed by NECN Meteorologist Nelly Carreño (because, hey... winter IS coming), the night includes GOT-inspired cocktails, pitchers of Grog, passed apps, and a silent auction. Dress as your favorite Stark or Lannister for a chance at some unique prizes (we'll give you mad props if you go as a Direwolf.) Get your tickets ($25) to Westeros here.
Sign up here for our daily Boston email and be the first to get all the food/drink/fun the Hub has to offer.