Like sitting in first class on a flight to Frankfurt, but with a giantic Sony Digital 4K projection screen in front of you instead of a nasal-y German dude asking if you listen to Rammstein, Showcase SuperLux's a six-theater luxury cinema complete with leather recliners, in-seat dining, its own bar/cocktail lounge, and even a connected restaurant for grabbing a bite before or after watching The Purge. So... maybe after.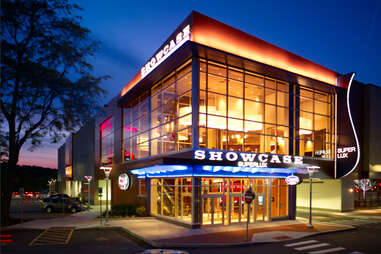 "Wait a minute, is this a red-carpet Hollywood premiere? Is George Clooney going to be here? Or even better, Ed Begley, Jr.?!? How do I look in this Red Sox Nation t-shirt?" That's your date speaking, by the way, as you pull up to the new Chestnut Hill Showcase SuperLux.
Assuming you missed your reservation at The Cheesecake Factory, grab a table instead at Davio's Cucina, a full-on, stand-alone restaurant located inside the theater complex that boasts...
... a 100-seat dining room, open kitchen, and an elegant, 28-seat, wooden bar.
Prefer to leave room for the complimentary popcorn and/or something from the in-theater menu? Then keep it shareable with smaller plates like spicy ricotta w/ crostini, chicken parm spring rolls, or one of their tasty pizzas like this fresh artichoke & mushroom number with garlic oil and mozzarella cheese.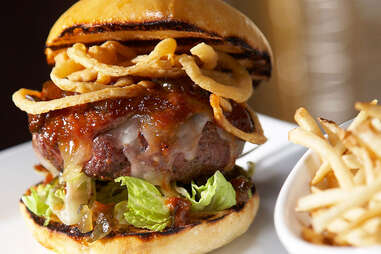 As there is a full kitchen, though, heartier entrees include everything from center-cut filet mignon and wild striped bass, to an 18oz veal porterhouse chop and this River Rock Burger on a soft roll w/ truffle cheese and crispy onion rings.
Weren't feeling like Davio's before the movie? No worries, simply keep walking until you hit the theater's full cocktail bar and lounge (which boasts its own not-Davio's SuperLux & LuxLite menus), then relax before the show with...
... a martini, an Old Fashioned, or this handsome Manhattan. And now, the fun really begins.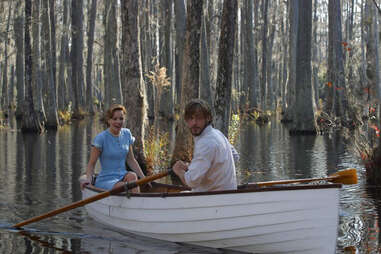 Wait a minute, they're showing The Notebook?!?! Noooooo!!! That can't be right. How'd that slide get in there? That's not the fun we were talking about.
Theaters come equipped with pre-reserved, fully-reclining, leather armchairs (see picture at top) so you can show up late and/or catch a nap, in-seat call buttons/dining service before and throughout the movie, and even iPads at each chair for ordering/playing Fruit Ninja.
And finally, as you no doubt had to drink moderately to get through The Notebook, even though The Notebook totally wasn't playing, simply stop at the concierge desk in the middle of the lounge on your way out to have someone call you a cab.