Just when you thought the obstacle race craze had run its course, enter Urban RAID: a rugged, 10-barrier, rain-or-shine 5K in which you don't have to trek all the way to Marshfield... or Amesbury... or Vermont... actually "run, crawl, jump, climb, and scramble" your way around Downtown Boston (!!).
Billed as the "next generation of obstacle racing" (so don't expect it to regale you with harrowing tales about storming the beaches at Normandy), the 3.1mi loop kicks off and finishes at Faneuil Hall, with racers organized in waves by age and gender.
Score an early look at the course, which includes stretches through Government Center Plaza, Christopher Columbus Park, and Long Wharf.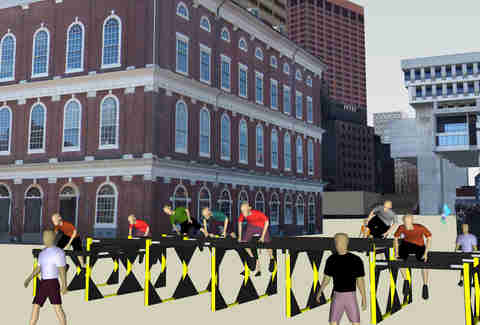 Pretend you're leaping over a family of European tourists as you jump over these handsomely rendered, 5ft-high Marine hurdles. Can't do it? Well, that'll cost you a 10-burpee penalty.
Look at this dude glide through the monkey bars. Seriously, it's like he's exerting zero effort. He's practically laughing. Very smooth.
Demonstrate the same quickness afoot that landed you a walk-on spot on the Trinity men's soccer roster as you deftly maneuver the tire field. Bonus: More renderings!!
Get some early practice scaling up to the VIP section of the next Boston Calling Music Fest as you tackle this 20-plus-foot cargo net climb.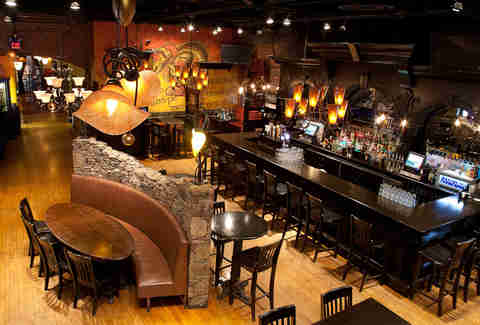 Finally, turn in your chip timer, buy yourself a souvenir RAID tee, and roll up to the after-party at Ned Devine's for gratis suds from Portland's Shipyard Brewing.

And now, do you enjoy short promotional videos designed to get you fired up about running a race just like this? Yes? Well, consider this your day.