Where to Go on a Date in Boston This Summer
Get back out there.
It seems that we might finally be returning to the old-school comforts of face-to-face socializing. Which begs the question—how does one go about this strange phenomenon called dating? Believe it or not, Boston can still surprise with its couple-friendly excursions. We've rounded up 16 stellar ideas for you and your paramour to enjoy all day or all night long this summer, whether you're dipping a toe back in the matchmaking pool or simply looking to spice things up with the lucky person you've been trapped indoors with for the last 16 months.
Take in some gratis Shakespeare
Boston Common
Wethinks 'tis far nobler to experience the Bard in a lawn chair on the Boston Common with a closed container of a little something something. This summer, the Commonwealth Shakespeare Company is back, putting on a complimentary production of The Tempest, a erudite but low-risk date night if there ever was one.
Pedal along the Minuteman Bikeway or Memorial Drive
Lexington/Cambridge
Enough with the remote Peloton dates already. The Minuteman is a well-paced, well-paved trail that takes you through charming parts of Arlington and Somerville, and Memorial Drive will once again shut down to motorized traffic on Sundays during the summer.
Tune into the library's YouTube page… for music
Back Bay
Here's a little known fact: In the summer, the main branch of the Boston Public Library hosts free one-hour concerts in its stunning central courtyard—sometimes during lunch, sometimes in the evening. And we're not just talking classical; jazz, blues, and folk have also appeared on the menu. As expected, the 2020 season was entirely remote. As for Summer 2021, there's a decent chance that small groups might be allowed in the courtyard at some point but for now, we say roll out a picnic blanket and enjoy from a safe distance.
See a drive-in movie
Mendon
If there's a silver lining to this pandemic, it's that we've all learned to embrace life's simple pleasures. Exhibit A: Double features at the drive-in. Mendon Twin Drive-In shows both first-run flicks and some throwback favorites. Add in a snack bar and a beer garden, and it's a throwback date for the ages.
450 Harrison Avenue
Every first Friday of the month, the SoWa arts district goes public. Artists once more are flinging open their studio doors, with vibrant galleries staying open late so you can pretend to understand what you're looking at for hours on end.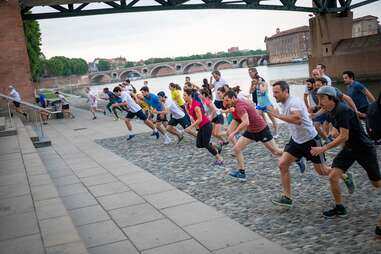 Sweat together (for less)
Various
PG-rated heavy breathing on the first date? It's a good way to find out if you're fitness compatible. One option is the November Project, hosting early-morning, large-scale group workouts. Elsewhere, Boston hosts plenty of free workouts throughout its parks during the summer including Zumba, yoga, and pilates. Go forth and flex.
Duxbury
Care for a few al fresco bivalves with your bubbly? Sounds like the ideal day date to us. Island Creek Oyster Farm has reopened its seasonal outdoor bar and hangout spot in Duxbury, which overlooks the water and dishes out beer, wine, canned cocktails, tinned fish, and of course, hand-shucked oysters galore (with the occasional lobster roll pop-up). Plus, leashed dogs are not only welcome but practically de rigeur.
Take a walking tour of the city
Various locations
There's two ways to go: Download any number of the city's self-guided tours, from the two-and-a-half hour Freedom Trail tour to the lesser sung Black Heritage Trail or Women's Heritage Trail, and take them on together or just harness your inner cartographer and wing it without any recorded guidance. Either way, it's free, it's educational, it's outdoors, and it's great nerdy fun.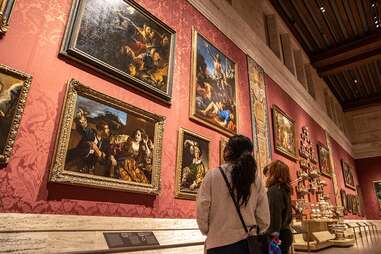 Spend an afternoon at the Museum of Fine Arts
Fenway
Now open Wednesday through Sunday from 10 am to 5 pm, the Museum of Fine Arts is back in action helping refined Bostonians lose themselves in the world famous exhibits. Tickets will cost you $25 per person without a membership but only $5 on Wednesday from 3 to 4 pm. (Heads up, you'll have to get your tickets online to foster limited capacity browsing.)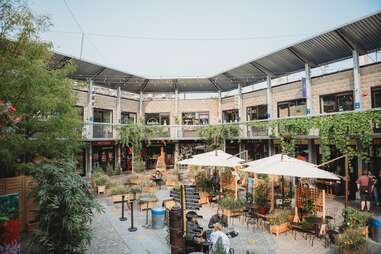 Load up on shops and snacks at Union Market
Union Square
A quaint courtyard in the heart of Union Square, Bow Market has just about everything you need for a fulfilling first date, including outdoor dining, a brewery, and top quality window shopping. With social distancing guidelines in place, you can safely peruse the outdoor market and grab small bites and brews for you and your plus one.
Stroll through Boston's prettiest streets
Beacon Hill
Sometimes simply ambling around one of our favorite Boston neighborhoods does the trick. Explore Beacon Hill (at night for extra ambiance) and take in the stunning brownstones for an easy going but surprisingly charming time. Judging from all the little shops and restaurants stashed along Charles Street, you'll find a new conversation-starter around every bend.
Catch a screening of a cult classic
Coolidge Corner
The iconic Coolidge Corner Theater is finally back open for business, which means you can once again enjoy first runs and midnight screenings in person. And by showing your support now, you can ensure a future filled with cozy date nights and buttery popcorn.
Swing by the seals
Financial District/Waterfront
While you're out and about downtown, enjoy one of the city's greatest simple pleasures: the New England Aquarium's outdoor harbor seal exhibit. If you'd like to get a closer look at aquatic life, the aquarium itself is again open to visitors, but you'll still have to purchase tickets ahead of time to limit capacity.
Take a cooking class without leaving the comforts of home
Homestead
You love the idea of "trying new things," but there are also times you're fine with staying put, especially now that you've become so good at it. Thankfully, Cozymeal lets you book virtual cooking lessons with some of the city's most celebrated emerging chefs—no fancy new duds required.
Pick a fresh bouquet of flowers
Weston
On a local farm kick? Land's Sake in Weston has pick-your-own-flowers, vegetables, and herbs perfect for your summer activities list. While you're there, you can also stock up oh goodies from the farmstand including honey as well as fruit and other produce.