There's a bit of pressure that can come with an original date idea. Dinner and drinks are always a safe bet, but sometimes it's worth taking a bit of risk. In a city like Boston, the options are endless despite its questionable dating pool. So when you do land a great catch, or you're just looking to spice up a date night, we've rounded up ideas for you and your special someone to enjoy all day or night long.
Have a goals-worthy night
TD Garden
For some nonstop action, consider taking your plus one out on the town and over to TD Garden for a Bruins game. You can hit up a few of the bars on Union Street (like the beloved Bell in Hand) to avoid paying an arm and a leg for gametime beers.
Dive into Boston's best pies
Davis Square
Satisfy your sweet tooth with a visit to Rosebud American Kitchen & Bar right in Davis Square. This re-invented diner serves up delicious brunch, dinner and, of course, its world famous pies. Take your pick from slices of Cookie Dough Brownie, Banana Bourbon Cream, or Peanut Butter Fudge -- or treat yourself and your date to one of everything. 
Ice skating at Frog Pond
Boston Common
What better way to bond with someone than to take a couple laps around an ice rink hand-in-hand. Yes, the potential of falling is inevitable but make sure you're geared up appropriately for the evening. With the snow (sadly) creeping its way into the forecast, this is a go-to for quality romance and trust building. 
Explore the many shops and food stops in Union Market
Union Square
A quaint courtyard in the heart of Union Square, Bow Market has just about everything you need for a fulfilling first date -- small bites, a brewery, live music, wine and more. If you're looking for a special event (and to save some cash), on Saturday, November 9, Bow Market's ringing in its 1 year anniversary, with food and shopping specials from 12pm - 8pm.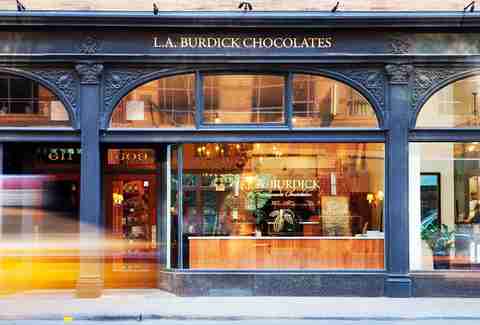 Pick up rounds of hot chocolate to go
Copley and Harvard Square
A magical spot lined with endless treats, L.A. Burdick is a memorable destination and go-to for a quality cup of hot chocolate. Located right in the heart of Copley and Harvard Square, this spot is known steaming mugs of hot drinks (and handmade chocolates), which you can grab before a walk around town.
Indulge in burgers and beers at Bukowski Tavern
Back Bay & Cambridge
This gritty and no-nonsense tavern has a long list of draft beers to mull over and and an even tougher food menu to choose from -- with some attitude, too. With "Fried AF Chicken," "Love is a Hot Dog from Hell" and "Some People Eat Salad" up for grabs, you'll be sure to leave with stories from this poetic-inspired gem.  
Tickets to a Broadway show
Theater District
If you're looking to plan an extravagant itinerary, tickets to a show in the Theater District can be pricey, but well worth it. Pair the tickets with a lavish meal from Teatro for the bougiest and best of times.
Get some guaranteed laughs at Boston's favorite comedy club
North End
You could practice punchlines or if you'd like to alleviate yourself from additional pressure, suggest seeing a comedy show at Improv Asylum. With shows every day of the week, you'll have your pick for an impromptu afterwork activity or a highly anticipated weekend plan.
Feel out the relationship with some rhythm
Harvard Square
Quality music and the freedom to lose a little bit of control can add spice to your night out. The Sinclair, a beloved concert venue in Cambridge, has a variety of established acts and up-and-coming artists to help break out the moves early on in the relationship.
Take a stroll through the city's famous streets
Beacon Hill
Sometimes a simple walk in one of Boston's favorite neighborhoods does the trick. Bundle up and explore Beacon Hill (at night for extra ambiance) and take a peep at the brownstones for an easy going but surprisingly charming time. With little shops and restaurants along Charles Street, like The Sevens Ale House and No. 9 Park, this 'hood is about as romantic as it comes.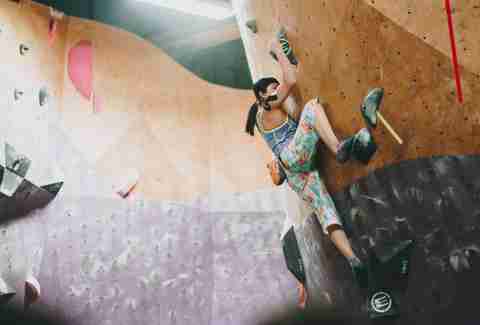 Climb some walls (and fall gracefully)
Somerville
You matched thanks to your shared sporty interests, so cut to the chase with a vertical date on the climbing walls of Brooklyn Boulders (just $36 for a day pass). Afterwards you can head next door for beers and live music at Aeronaut Brewing Company.
Bond over good old fashioned board games
Coolidge Corner and Somerville
Knight Moves Cafe calls itself "your living room away from home," which translates to a den of G-rated pleasures: fair-trade coffee, hot chocolate, and above all, a colossal board game library. (The Brookline location also offers hot dogs and cheese plates.) If you want to take it up a notch, BYO for a nominal corkage fee. 
Break the ice with drinks and Skeeball
Central Square
A4cade is all about the simple pleasures: '80s arcade classics (Galaga, Ms. Pacman), grilled cheese and soft serve from the adjoining Roxy's Grilled Cheese, and potent cocktails to help get the conversation flowing more freely.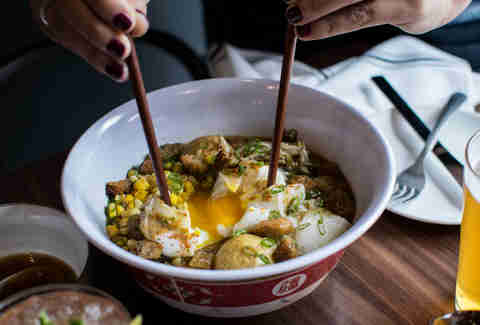 Discover the city's best ramen
Porter Square
Looking for the next best hole-in-the-wall spot to show off underground taste? Yume Wo Katare serves up hefty ramen choices, with a side of entertainment. The staff shouts "we have a perfect!" if you successfully finish your entire (enormous) bowl of pork ramen (although maybe save that achievement for a later date). The inevitable outside wait just allows more "get to know you" time. For other great ramen joints, check out our updated guide.
Slurp one-buck shucks
Multiple locations
Are they aphrodisiacs? No, not so much. But the placebo effect has to be worth something, especially when so many spots around town offer $1 bivalves, from La Brasa to Juliet to Waypoint to The Red House (50 cents an oyster for the first dozen!) to Boston Public Market to Marliave to Bastille Kitchen to seriously the list goes on and on.
Gaze over the city skyline
Prudential Center
Even if you're both longtime residents, chances are decent you've never hit the touristy-but-cool Skywalk Observatory at The Prudential Center and taken in the city's best views. Feel free to window shop before or after your memorable gaze, and maybe top off the night with a get-to-know-you cocktail at the Top of the Hub around sunset.
Catch a midnight screening of a cult classic
Coolidge Corner
For a different take on your run-of-the-mill movie date, check out the Coolidge Corner Theatre in Brookline. On Friday nights at 11:59pm, the shows B horror movies and other showpieces that, if nothing else, will spark spirited convos afterwards.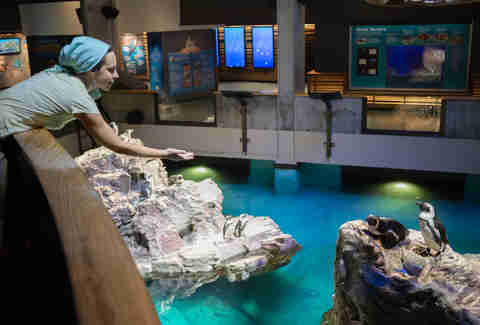 Swing by the seals
Financial District/Waterfront
While you're out and about downtown, enjoy one of the city's greatest simple pleasures: the outdoor harbor seal exhibit outside the New England Aquarium. If you can't bear the cold, you can actually book a private, behind-the-scenes tour with the little guys, which more likely than not will include some belly rubs (for them, not you). It's pretty much the perfect way to impress a fellow animal lover and just anyone in general. 
Observe the unusual at the Museum of Bad Art
Davis Square
The work may not get as much love from traditional institutions, but the MoBA knows how to celebrate each one -- collecting and exhibiting artwork just the way it comes. Bond over the unconventional artwork, then head upstairs to catch a show at Somerville Theatre (yes, the museum is in the theater's basement, and admission to it is free with the price of a movie or show ticket).
Take a ferry to the South Shore
Hingham
Did you know our public transportation system includes boat service to both the North and South Shores? Hop aboard Kate and Leo–style and head to the Hingham Shipyard for intimate waterfront views and drinks at Alma Nove (named after the Wahlberg's family matriarch, Alma).
Pick your own star together
Boston University 
Every Wednesday night, winter or summer, the BU Coit Observatory opens up its facilities to the common folk so they can get a far more magnified glimpse of the sky. Name your sun, then return at a later date to see if you can identify it again. Admission is free, but it's a good idea to reserve your spots ahead of time.
Catch disco fever
Harvard Square
The Donkey Show at Oberon has to be experienced to be believed: It's a show full of mirrored balls and feather boas and roller skates and disco tunes galore, all inspired, incongruously enough, by A Midsummer's Night Dream. The dance party continues long after the show ends; take a spin on the floor and then take all that energy home with you. Tickets are $25 ($15 for student rush).
Eat a delicious speakeasy steak
Downtown
Because by now you know they're worth it. Behind a red velvet curtain inside cocktail bar JM Curley is the most clandestine of chophouses: Bogie's Place, where dinner begins with caviar tray service and moves on to your choice of steak cuts burnished with bone marrow and foie gras butter. It's not cheap, but it's worth it.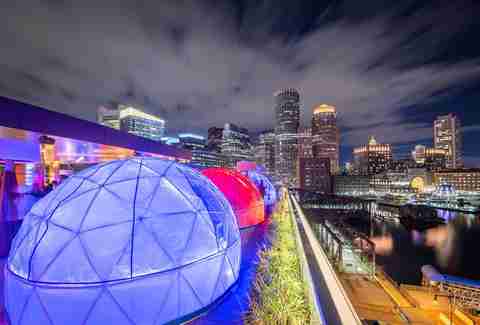 Cozy up in an igloo
Seaport 
If you're disappointed rooftop season is over, you're in luck. The Envoy Hotel's popular Lookout Rooftop offers up heated igloos paired with its signature Seaport views and cocktails. The igloos seat eight to ten people comfortably so if your date has already met your friends, this could be the next happy family (hopefully) activity.
Take a cooking class without leaving the comforts of home
Homestead
Oh sure, you love the idea of "trying new things," but there are also times you're fine with staying put. Cozymeal lets you book an in-home cooking lesson with some of our great emerging chefs -- no changing out of sweatpants required.
Sign up here for our daily Boston email and be the first to get all the food/drink/fun the Hub has to offer.