The Best Date Ideas in Boston This Spring
Pickleball, festivals, and more fun date ideas in Boston.
It's never easy coming up with a great date idea—or matching with a good candidate for that matter. But after you've swiped right on a potential love interest, it's time to find some fun activities and destinations that'll help break those awkward silences.
For your next romantic link in Boston, we've got all the details on everything from playing a game of pickleball to concerts, scenic strolls, and go-to ice cream shops. Here are the best date ideas in Boston this spring.
South Boston
If you're behind on the pickleball trend, it's about time you found out what all the hype is about—and what better way to give it a shot than with your real-life partner. PKL Boston in South Boston is a premiere pickleball parlor with courts available to reserve online ranging between $50 and $150 per hour. And after you've given it your all on the court, you can relax with a post-pickleball cocktail, inspired by pop culture icons from Harry Styles to Jennifer Coolidge.
Seaport
There's nothing quite like meeting your match and sharing the same taste in music. And in a city like Boston, the date ideas are endless with concert venues from The Sinclair in Cambridge to House of Blues in Fenway. However, with warmer weather upon us, prepare for this year's lineup at the city's premiere waterfront concert venue, Leader Bank Pavilion. Shows kickoff in early June through the end of September featuring headliners including Charlie Puth, Young the Giant, Tori Amos, Hozier, and more. Tickets can be purchased online.
Jamaica Plain
The Arnold Arboretum is a go-to date destination year-round, especially come spring time. With an array of flowers in bloom during the April and May months, it's easy to get lost in the beautiful garden displays sprinkled throughout the Arboretum. But to really make it a memorable stroll, head to the grounds starting in May to see the most premiere lilac collection in the country at its peak. On May 14, from 10 am to 3 pm, you and your date can even join in on the celebration of Lilac Sunday, with guided tours available to help relieve some pressure.
Bike down Memorial Drive
Cambridge
Grab your bikes and hit Memorial Drive for a scenic ride along the Charles River as car traffic closures return Sundays from 11 am to 7 pm from April 30 through November 12. Although there is some current drama about returning to a pre-pandemic schedule, with traffic closures now limited to one day a week, you'll both still have the opportunity to enjoy the open roads for a different take on a lazy Sunday.
Dorchester
No one does it quite like Shakespeare when it comes to romance. And to get in on the action, in addition to the free summer production of Macbeth coming to the Common in July, this spring, the Commonwealth Shakespeare Company's Stage2 will present a science fiction take on Romeo & Juliet on Friday, May 12 at 7:30 pm and Saturday, May 13 at 2 pm at The Strand Theatre in Dorchester. Tickets are available online starting at $12.50 per person.
Somerville
Once in a while, an event comes around that makes for a perfectly pleasant and effortless time. So to fill you in on one of the city's favorites, on Saturday, May 13, Somerville's PorchFest is back. Explore the city's span of neighborhoods and hop from street to street with live music kicking off at noon. Unless you'd prefer to go with the flow, you can start mapping out your route by checking out the Somerville Art Council's map online.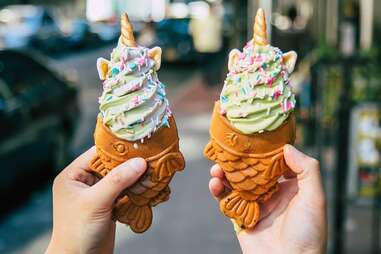 Various places
Whether you're wandering the city or exploring the suburbs, there are plenty of ice cream shops within close range to close out a perfect date. Choose from J.P. Licks quite literally in every neighborhood in Boston, Toscanini's in Cambridge, Tipping Cow in Somerville, Emack & Bolio's in Charlestown or on Newbury Street (there are also locations on the Cape), or Taiyaki in Seaport. For even more options and inspo, check out our list of the best ice cream shops in Massachusetts.