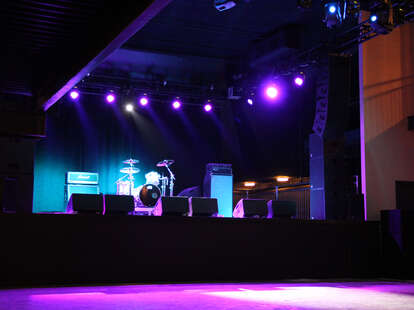 Now rocking out in Harvard, the music promo dudes at The Bowery have overhauled the former Phatt Boys (Seriously. There actually was a night club named Phatt Boys) into a 500-plus capacity, industrial-aesthetic'd concert venue/rustic bar & kitchen. Assuming you were lucky enough to snag Concrete Blonde tickets, expect your evening to progress something like
The bar is... now open. Grab one of the communal steel & oak six-tops or stool at the 11-seat bar and partake of snacks and libations like the Four Roses bourbon & pineapple cinnamon gomme Kentucky Luau.
From there, head towards the bass and -- after grabbing a pint of Full Sail Bourbon Barrel Aged Imperial Porter at one of the three bars inside the concrete-column & subway-tiled space -- imagine you're drinking on an abandoned T platform. But not in the sad, lonely way you usually do.
Once you've properly imbibed so you don't feel self conscious singing all of the words to Concrete Blonde, eschew the mosh pit in favor of a rail on the wrap-around mezzanine, or grab a prime spot on the stage-fronting tiered platform.