Just in case your New Years resolution was to "make out a ton and play aggressive amounts of skeeball", the dudes at SkeeBOSTON can at least help with the latter now that they've added a second location at Crossroads Irish Pub, kicking off Season One of their eight-week, three-to-a-team Wednesday night league with a free 1v1 tourney next week in which the winner nabs a pair of Cs tickets.
Recommended Video
This Beer Pong Table Floats in Your Pool
Previous Venue
Next Venue
Venue Description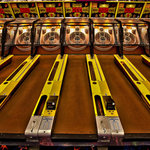 1. Crossroads Irish Pub
495 Beacon St, Boston, MA 02215
The once-shuttered Crossroads has returned from the brink thanks to new owners who thankfully didn't change a single thing. A favorite of earthy locals, nerdy MIT frat guys, and Man U maniacs, this plucky Irish dive has two grizzled, dimly lit floors of taps and distractions including darts, board games, and skee-basketball (as awesome as it sounds). The whole operation is low-key and easy on the wallet. Be sure to stop by on Hump Day for a free cheese pizza with every pitcher.