Catch up on all of your fave rags from 1987, naturally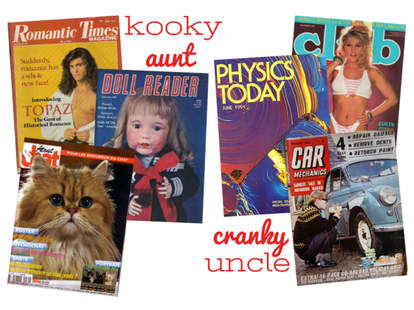 The brainchild of an artsy Boston chick (now living on the left coast) who teaches zine-making classes and has her own late-night monthly talk show, Pen Pop Press is a monthly subscription service that sends you one vintage or obscure magazine dated from the current month, but from a bygone year. And because you're probably like, "why would I want a vintage or obscure magazine when I'm currently satisfied just getting Seventeen and Redbook?!?", here are some damn compelling reasons:
Magazines come with an "envelope of ephemera", meaning a package chock-full of related vintage postcards, photos, and other weird things you can give to your hipster friends, who will then feel compelled to invite you to their artisanal pickle brining parties.
You find The Economist "too current".
You get to choose themes like "Cranky Uncle" (translation: mags featuring old detective stories, cars, and subtle p*rnography) or "Kooky Aunt" (translation: mags featuring romance stor--you know what? Just get the "Cranky Uncle" one).
You think The Economist is just some dude who is an accountant, but, like, for the whole world.
If an old burglar breaks into your apt, maybe he'll see one of your subtly p*rnographic Club magazines strewn about, forget what he's doing, and peruse it, while you call the authorities!
You don't want people to know you just read Redbooks.