The Coolest Massachusetts Swimming Holes You Need to Visit This Summer
Come on in, the water's fine.
With travel restrictions still in order, making plans outside of Massachusetts may be a bit difficult. However, sticking around the state doesn't mean that you have to miss out this summer. We've rounded five of the best (and open) natural swimming holes to venture to before September rolls around, featuring dreamworthy sights and refreshing dips. As always, don't forget to pack your mask.
Amherst, Massachusetts
Open with limited capacity, Puffer's Pond is a refreshing getaway if you're looking to take a dip not too far from the city. For added adventure, you can visit Puffer's Pond's waterfall or hike along one of the local trails, where you'll set out deep into the forest, catching views of the Mill River and encountering the area's wildlife.
Greenfield, Massachusetts
This family-friendly swim spot has reduced hours for the 2020 season, but you can still soak up some sun on the sandy beach and enjoy the town's in-stream swimming pool for only $8 per person (non-residents). If you'd like to keep an eye out on the latest updates, including opening and closing times, check out the recreation area's Facebook page for more.
Monterey, Massachusetts
Nestled in the Berkshires, Beartown State Forest is a sanctuary for those looking to find remote relaxation and stunning landscapes. For $8 a person, you can enter the forest and venture out on the winding hiking trails which lead to Benedict Pond, ideal for swimming or fishing.
Nahant, Massachusetts
Open year round, Lynn Shore & Nahant Beach Reservation stretch for miles, offering visitors room to gather and beautiful sights to see. If you escape off the beaten path, you'll find a secluded pocked -- 40 Steps Beach, laden with rocks to climb up and jump off. For something more kid-friendly, try the tide pools at Red Rock Park, which are filled with colorful marine plants and animals. Heads up, parking will cost you $10.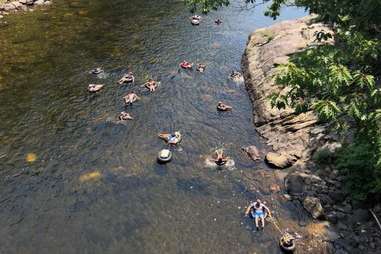 Conway, Massachusetts
If you're looking to pack up the cooler and enjoy a leisure activity that involves little to no movement, check out Deerfield River Portage. As the go-to lazy river in the area, the family-owned and operated DRP offers two to three hours of tubing, where you'll float 3.5 miles up the Deerfield River. You'll have to make a reservation online ($65 per person), but you're in luck since there are plenty of time slots available. Added bonuses include waterfalls and a few deep swimming holes.
Sign up here for our daily Boston email and be the first to get all the food/drink/fun the Hub has to offer.