If you like secret lakes and islands, you'll love our top 5 swimming holes around Boston
The Heat is on, friends, and this time, we aren't even referring to that movie with Al Pacino. So, to help you keep cool, we've ranked our five favorite local swimming spots, from roof deck pools, to ponds in the woods, to beaches with rocks you will jump off of and, in doing so, inevitably hurt your ankles.
5. Colonnade Hotel
120 Huntington Ave; Back Bay; 617.424.7000
One of the City's only outdoor roof deck pools, this swank hotel swimming spot is open to the public during the week and boasts more than just stellar views, including a solid poolside bar, food service from their bistro, Brasserie Jo, and concerts throughout the Summer (who wants to see Sister Hazel?!?!). It'd be ranked higher if not for Sister Hazel the $50 daily price tag and "No Weekend" policy for the public.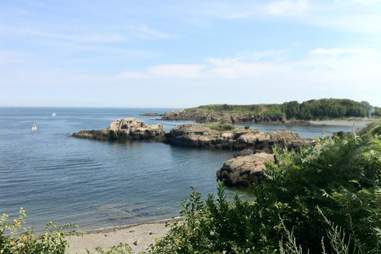 Dave Baldwin
4. 40 Steps Beach
40 Steps Ln, Nahant, MD
Already one of the nicer city beaches with $3 parking, warmer water (comparatively), and an extended stretch of hypodermic-needle-free, soft, white sand, Nahant also boasts a more secluded pocket -- 40 Steps Beach, laden with rocks to climb up, jump off, and then exaggerate the height of said jump in YouTube videos like this one.
3. Deerfield River Portage
220 Stillwater Road, Deerfield, MA; 413.282.PORT
Because few things are more fun than drinking beer and tubing down a lazy river on a hot Summer's day, it's worth making the two-hour drive to Western Mass to hit DRP, a local outfitter that essentially rents you tubes (actually, sells them and buys them back at the end) for both yourself and your cooler, as well as drops you off 3.5mi up the Deerfield River. Added bonuses: rope swings, mild rapids, waterfalls, and a few deep swimming holes.
2. Lovells Island
Boston Harbor
A hidden gem a mere 7mi from Long Wharf by ferry, this scenic Harbor island offers sweet skyline views, eight campsites, an old fort in which to explore and/or play nighttime laser tag, and, of course, the whole point of this story: a solid swimming beach on which you can also build fires at night. Oh, added bonus -- unlike some of the other Harbor Islands… there's no poison ivy!!!
1. Goose Pond
Off of Queen Anne Rd, Chatham, MA
Assuming you prefer to scissor-stroke in seclusion and/or aren't quite ready for everyone at the beach to nod approvingly at your Borat speedo, this relatively secret, wooded, kettle hole pond on the Cape -- whose entrance can be "difficult to spot" -- rocks warm transparent water and, like Kate Upton on an SI swimsuit shoot, a sandy bottom. The best part: if you get tired of swimming, you can break out your old fishing pole. That's not even a euphemism for anything, 'cause, really, the pond is stocked… with fish.