Because not everyone visiting the Hub wants to watch Alakazam "The Human Knot" do comic contortionism outside Faneuil Hall, make sure your out-of-your-wheelhouse out-of-town guests see cool stuff that they're actually interested in with this handy pocket guide guaranteed to help you entertain those troublesome visitors you can't take to Clerys' basement. THE GUEST: YOUR SISTER AND HER THREE-YEAR-OLD KID As your sister is likely to frown upon you using her first-born to help pick up women on the Common, here are a few more appropriate kid-friendly activities for their next visit. Puppet Showplace Theater, 32 Station St; Brookline; 617.731.6400 Honestly, can you really go wrong with puppets? For kids, that is. Short answer: No. Which is why this Brookline Village theater, which's been around since 1974, is a home run, offering shows like Sir George and the Dragon, Pinocchio, and even a weekly interactive "Puppet Playtime for Toddlers and Tiny Tots".
Boston Common Frog Pond & Carousel, Boston Common; 617.635.2120
A can't-miss straight out of the gate, kids go absolutely apesh*t at this spray pool in the Summer/ice rink in the Winter located right in the heart of the city. Plus, there's a classic 19th-century carousel and a cafe for when they start screaming for food, and when everyone's finished frolicking in the warm, don't-think-about-pee water, you can stroll over to the Public Gardens and enjoy a relaxing swan boat ride.

The Boston Children's Museum, 308 Congress St; Ft. Point; 617.426.6500
No, this place does not feature re-creations of children from centuries past, but it does have a slew of fun, hands-on exhibits where young tikes can finger paint, co-pilot a plane, and even operate a hopefully-kid-friendly jackhammer. And if you're still itching for some Triceratops fossils, hit up the Museum of Science.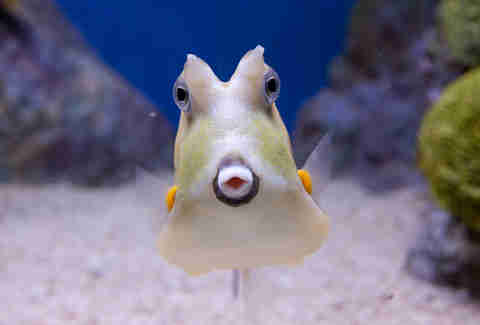 New England Aquarium, 1 Central Wharf; Waterfront; 617.973.5200
As you're no doubt going to stop here anyway to watch the seals in their 42,000gal outdoor aquarium, best go inside and be blown away by the 2000 animals (plus coral reef) in the giant ocean tank, the giant Pacific octopus, and the 30ft long anacondas in the Amazon rainforest exhibit.

Taza Chocolate Factory, 561 Windsor St; Somerville; 617.623.0804
Sure, Charlie was a few years older when he took his first tour, but what kid doesn't enjoy a chocolate factory? Ok, three may be a bit young to fully appreciate the insanely delicious Mexican-style chocolate coming out of this Somerville shop, but your sister will offer a heart-felt thank you.


THE GUEST: YOUR GRANDPARENTS
Just because Grandma insists it's "cool" for her to ride the Policy Pond Log Flume at Canobie Lake doesn't mean you should listen to her. Remember, she's old. And she just wants you to have fun. Best to spend your time together enjoying enlightening activities that won't aggravate her artificial hip, instead.

Boston Duck Tours, 4 Copley Pl #4155; Back Bay; 617.267.3825
Not to disparage the no-doubt spry health of your young-at-heart grandfolks, but they may prefer to see the City's sites from the comfort of a moving military vehicle rather than slogging along a red brick road The Freedom Trail. Just throwing it out there.
Isabella Stewart Gardner Museum, 280 The Fenway; Fenway; 617.278.5156
If ever there was a museum that would most remind your grandparents of their own mismatched and cluttered home, but in a gorgeous building designed to look like a 15th-century Venetian palace and full amazing works of art that aren't supposed to be altered by decree of the late Mrs. Gardner, this is it. It's also the site of the infamous 1990 art heist that has recently found itself back in the news.

John F. Kennedy Presidential Library and Museum, 220 William T Morrissey Blvd; South Boston; 617.514.1600
Unless your grandparents grew up in lower Alabama, volunteered on the 1960 Nixon campaign, and/or don't really like Catholics feared Kennedy was going to initiate a world-ending nuclear war, then they probably reflect fondly on the Era of Camelot, and, as such, will enjoy a historic stroll down memory lane at this South Boston Presidential museum.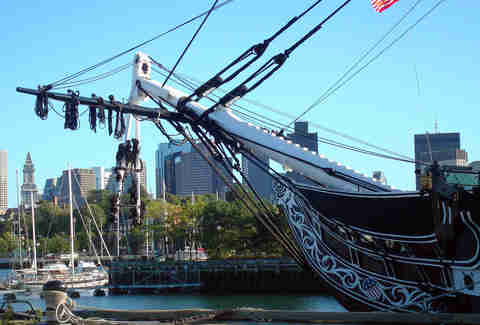 USS Constitution, Charlestown Navy Yard Building 22; Charlestown; 617.426.1812
As your grandfather did put up with a visit to the Isabella Stewart Museum, repay his patience with some military history and a visit aboard Old Ironsides, the 44-gun-heavy frigate built/launched in Boston in 1797 that took down five British warships in the War of 1812 and stands today as the oldest commissioned naval vessel in the world.

Symphony Hall, 301 Massachusetts Ave; Fenway/Back Bay; 888.266.1200
Without erroneously stereotyping all senior citizens as fans of classical music and/or your mom's dad as kind of an elitist brahmin who looks down on people from Lynn, we're still going to throw out this beautiful concert hall, and a lovely evening of music, as a top spot to hit when they're in town.


THE GUEST: YOUR FRAT BUDDY WHO CAN'T DRINK ANYMORE FOR VARIOUS REASONS
Support your buddy's decision to extend his Lent booze abstention by showing him that you don't need alcohol to have a good time in the Hub. Really, you don't. What's that? NO, YOU'RE THE ONE WHO'S JUMPY!! Anyway...

Boston Harbor Mini Speed Boats, India Wharf Marina; Waterfront; 617.725.0900
Sure, you could stroll the Harbor Walk and admire the water from safely on shore, but why do that when you could jump behind the wheel of your own St. Martin F-13 mini speed boat instead? If it's booked, but you still want to soak in the city sights from a nautical perspective, head over to the Charles and rent a kayak.
Boston Rock Gym & Metrorock; 78G Olympic Ave; Woburn; 781.569.6660 & 69 Norman St; Everett; 617.317.7625
Spend the afternoon learning to boulder and belay while making awkward small talk with earthy climber chicks who don't seem to be that into you at one of the area's two top climbing centers. Climb on. Climbing.

Boston Chops, 1375 Washington St; South End; 617.227.5011
Help your buddy make up for the fact that he can't partake of some of the Hub's finer craft suds by taking him for a massive steak at the South End's hottest new urban bistro Boston Chops.
Pawtucket Red Sox at McCoy Stadium, 1 Columbus Avenue; Pawtucket, RI; 401.724.7300
While the end of the home sell-out streak did make more tickets available, it, unfortunately, did not make the seats at Fenway any bigger. Which is why, after showing your friend the stadium from the outside (and/or taking the tour), you should make the 45min drive to Pawtucket, RI, to catch a Triple-A PawSox game at McCoy Stadium while making infinity Outside Providence references.

The Sports Museum, 100 Legends Way; West End; 617.624.1234
Finally, subtly remind your frat brother that you live in the country's greatest sports town while he's stuck cheering for the Royals by stopping at TD Garden, where, on the fifth & sixth levels, the TSM showcases sports memorabilia like Larry Bird's locker, the shoes Vinatieri wore when he kicked the winning field goal in Super Bowl XXXVI, and even one of first nose guards worn by early football players.