Southie has a reputation for being a rough part of town, but even with its gritty roots, it's a neighborhood with a lot of heart, rich in history and even richer in characters (only some of which have mob ties). From historical landmarks to having more beaches than any other neighborhood in Boston, here's a glimpse into why Southie is Southie.
1. We will undoubtedly save parking spots after a snowstorm
If you shovel your spot, you've earned the right to mark your territory with anything from a beach chair to safety cones to a statue of the Virgin Mary. Whatever you do, don't move our spot-savers, as retaliation comes in the form of street justice (or at least a very pissed off note). It's a time-honored tradition.
2. We know better than to hit Sully's Castle Island on weekends
That'd be a rookie mistake. Sure, Sully's has the best hot dogs and burgers around, but the lines on the weekend can get crazy long.

3. We love the ocean, even in the middle of winter
Ice and frigid waters be damned -- we've got the oldest polar-bear plungers in the country: the L Street Brownies. They've been taking a dip daily, 365 days a year, for over 100 years.
4. Our St. Patrick's parade is also a celebration of Evacuation Day
The day in 1776 that George Washington chased the Brits out of Dorchester Heights happens to fall on March 17. But of course there's enough room in one celebration to dress down in green and tie one on in the for the sake of Irish heritage.
5. You're not supposed to drink at the M St beach, but everyone does
Sure it's illegal to drink on a public beach, but don't let that stop you. Pouring your beer in a red Solo cup makes it practically invisible.
6. We've coined words like "spuckie" and "boss of tonic"
Spuckie is an old-school term for a sub sandwich and a boss of tonic is a 2L bottle of soda. Also what you call a good lunch.

7. We cringe when we hear the term "SoBo"
Yuck. This is nearly as egregious as when people reference a corner with the number before the letter street (it's always L and 8th -- never E 8th and L).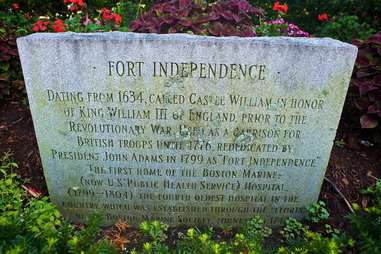 8. The first-ever Olympic gold medalist is from here
Southie native James Brendan Connolly was the first gold medalist in the modern Olympic Games. He won for the long jump in the 1896 Athens Olympics, and we've got a big ol' statue at Moakley Park to commemorate him.
9. South Boston and Fort Point are the same neighborhood
As much as Fort Point would like to "secede" from South Boston proper, we won't let it. Once you're part of South Boston, you're always part of South Boston.

10. We inspired one of Edgar Allen Poe's creepiest stories
The story goes that while stationed in the military at Fort Independence, Castle Island, Poe had the idea for The Cask of Amontillado after someone shared a true story of burying a man alive in a wall. (Hmm… wonder if that person was from Southie?)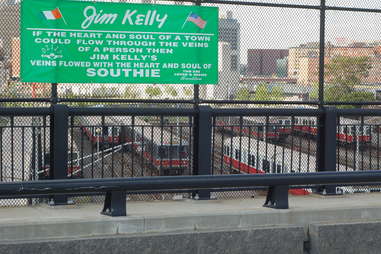 11. Southie takes veteran pride to another level
Southie is home of the first Vietnam memorial in the country; built in 1981, it predates the one in DC. It sits in Medal of Honor Park and is celebrated yearly with a rededication every September.

12. We take care of our own
Say your house burns down or a family member gets sick, we throw you a "time" -- basically a fundraiser with music and raffles -- and help support you with cash and a big party.
We realize it's illegal to double-park a car in the City of Boston, but Southie residents take the risk of the $25 ticket and do it anyway. You have to know what you're doing, though. If someone is double-parked on the right, don't double-park on the left. Common sense, right?
14. Good Will Hunting accurately depicts guys from Southie
Cute, scrappy, and devilishly charming, Will Huntings and Chuckie Sullivans abound in Southie. L Street Tavern was Will and Chuckie's hangout in the film, but locals know it as Striggie's because of its original name: Strigunas' L Street Tavern.

15. We were pretty sure the Feds wouldn't catch Whitey Bulger
We thought the notorious Southie mobster and former FBI fugitive was long gone up until he got arrested on June 22, 2011, in Santa Monica after being on the lam since 1995. The West Coast must've softened him up.
Sign up here for our daily Boston email and be the first to get all the food/drink/fun the Hub has to offer.
Maureen Dahill is the editor of Caught in Southie and a lifelong resident of South Boston sometimes mistaken for a yuppie. She is never leaving Southie, unless the "authorities" ask her to. Follow her @MaureenCaught.