The 11 Sexiest Things to Do Around Boston
There's no denying Boston's long history of un-sexiness. Whether you blame it on the Puritans, the blue laws, or Dane Cook (Arlington High School Drama Club rules!), we've had to catch up with the rest of America when it comes to frisky fun. Luckily there's no shortage of salacious entertainment if you know where to find it. So if you're tired of the strip clubs and are ready to take a lucky companion (or two!) on some new freaky adventures, here are a few ideas.
Play hard at Hubba Hubba
Harvard Square
If you're looking for a classy sex shop with staff who won't judge/tweet about your Rockport shoe fetish (and who isn't, really?), head to Hubba Hubba's new location on Ellery Street (halfway between Harvard and Central Squares). The popular alt clothing boutique and sex toy store has been in business for over 25 years so you know it's got the goods.
Get your swing on at Club Sinz
Salisbury, MA
And no, we're not talking about the dancing. With theme parties every few weeks and a discreet location in Salisbury, MA, Sinz is the closest full-time swingers club to Boston. Topless females are allowed but actual sex isn't, so couples and single ladies spend their time drinking, dancing, and getting to know prospective bedmates before taking them home.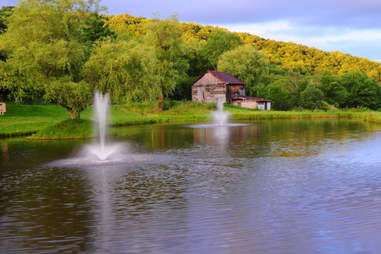 Berkshire Vista
Hancock, MA
While Massachusetts isn't known for its nude beaches, it does have a few clothing-optional resorts and campgrounds, among them the picturesque Berkshire Vista in Western MA. Who knew? The extensive property includes tennis courts (naked tennis!), a swimming pool (naked swimming!), hot tubs (naked soaks!), and free Wi-Fi (naked people who are probably more attractive than those playing tennis, swimming, or soaking at the resort!).
Study striptease at a burlesque class
Various locations
If you just saw the Magic Mike sequel and were like, "I have totally found my calling," you're in luck. Lady-types can learn how to bump, grind, and gyrate from bona fide performers at the Boston Academy of Burlesque Education (B.A.B.E.) or Rogue Burlesque's beginner classes, while menfolk are welcomed at Dale Stones' biannual boylesque classes.
Learn to work a pole at Boston Pole Fitness
Allston
Not at all a place where dudes named Stanisławski go to spin, BPF is more about scantily clad hot people straddling phallic objects. Pole dancing is an insane workout, and here, ladies and gentlemen are both welcome. So pretend you're on an episode of Blind Date (you know, where contestants always did something they didn't want to do in order to show that they were "totally up for whatever") and drop in on a class -- as long as you're both there to participate and not just to ogle. Apparently, pretending it's a strip club is not good protocol.
 
Laugh out loud at ImprovBoston's Naked Comedy
Central Square
Every first Thursday at 9:30pm, ImprovBoston exposes (see what I did there?) its stand-up roster to their adoring public. According to the organizers, "the best way to enjoy the show is to bring your friends, and don't tell them what it is."
Get hot and wet at Inman Oasis
Inman Square
If you want to convince a Bostonian to take his or her clothes off in the winter, starting with a private hot tub soak and a massage probably isn't the worst idea.
 
Watch a live drag show at Jacque's Cabaret
Theatre District
The wise-cracking queens at Jacque's Cabaret put on a different drag show every night of the week, featuring regulars, guest stars, and a whole lot of motor-boating. Prepare for Boston's biggest divas to get up close and personal.
 
Get 50 shades of kinky at The Society or The Steam Factory
Connecticut
The real BDSM world isn't anything like E.L. James' trainwreck of a novel. At New England's two most popular private BDSM play spaces (both in CT, but hey, Thrillist Hartford doesn't exist yet) you can explore the real deal at classes and events organized by experienced kink practitioners. The Steam Factory even provides adjustable suspension bondage points, a chain web, spanking benches, and a stockade.
Eat out at Sweet n' Nasty
Back Bay
Sweet n' Nasty advertises itself as "New England's premiere adult bakery," and it's been selling sex-themed cakes, cupcakes, and chocolates for more than 30 years; most of which are naughty enough that we can't use their photos here. The store is full of adult toys, gag gifts, and the requisite edible underwear (which we will never forgive you for buying).
Heat up the holidays at The Slutcracker
Davis Square
It's everyone's favorite ballet -- except it's chock-full of sex toys, bondage, and tassel-twirling. Who needs more wholesome family entertainment when there's a 10ft-tall candy-striped dildo and a troupe of tawdry strumpets just waiting to give you your holly jollies? The Slutcracker, put on at Somerville Theatre, runs throughout December, but get your tickets early -- they're bound to sell out.
Sign up here for our daily Boston email and be the first to get all the food/drink/fun the Hub has to offer.