The 5 most important beer events this weekend
Boston Spring is here! Technically, anyway. While you wait for the weather to catch up with the calendar, there's no better way to erase any and all memories of Winter than with these five beer events, from epic tap takeovers to first-time sour fests.
Thursday, March 27th: Head over to Cambridge Brewing Company's first ever Sour Fest from 5pm-11pm (no tickets, no cover). After years of serious scientific experimentation, CBC is ready to go primetime with their pucker-inducing creations (12 in all) such as Mr. Toad's Wild Ride (a Grätzer-smoked wheat beer with Lactobacillus), The Colonel (barrel-aged Colonial-style porter with roast and bright acid), and 3 Loco (tripel with Brettanomyces). The beers may be sour but the party will be sweet Continue Reading
Thursday, March 27th: If sour beers aren't your bag, then check out the dual tap takeover at Foundry on Elm featuring a Newburyport throwdown between RiverWalk Brewing Co and Newburyport Brewing Company (5:30pm). Owners/brewers from RiverWalk will pour the Gnomad, Uncle Bob Bitter, RiverWalk IPA, and an exclusive mystery pour, while the Newburyport crew will counter with Plum Island Belgian White, Green Head IPA, Newburyport Pale Ale, and a secret brew of their own. Choose wisely... and often


Thursday, March 27th - Saturday, March 29th: John Harvard's (Harvard Square) is in the midst of their cask beer week, but you still have plenty of time to enjoy the naturally conditioned, unfiltered real ales. Here's the daily lineup: Thursday: Dry Hopped Bitter (until it runs out) and Smoked Helles Lager; Friday: Provision Ale (until it runs out) and Arrow IPA; and Saturday: Provision Ale (also until it runs out) and Espresso Stout. That should keep you busy. Cask and you shall receive!
Friday, March 28th - Thursday, April 3rd: Since beer and pizza go together like... ummm... beer and pizza, Ducali Pizzeria & Bar is hosting a March Madness beer bracket with the top pick nabbing a permanent tap for the rest of 2014. This week Bear Republic Racer 5, 21st Amendment Pale Ale, Lagunitas IPA, and Great Divide Nomad square off in the West Bracket for a spot in the Final Four (April 11th-17th). Grab a pie (try the Margherita D.O.C. or Bistecca e Gorgonzola) and make your picks. Winner = you.


Tuesday, April 1st - Wednesday, April 30th: Olde Magoun's Saloon goes hops-crazy with their IPA tap takeover starting April 1st and keeping you happy (or hoppy) all month long. Ten dedicated taps will dispense as many small barrels of the country's best IPAs as possible (such as Maine Brewing Company's Lunch IPA and Green Flash's Double IPA), so clear your calendar for frequent visits. On Wednesdays in April there will be "Heat and Hops" dinners with scorching fare like Ring of Fire Shrimp & Grits, and Smokin' Death Bones (with ghost pepper BBQ sauce!!!). It hurts so good.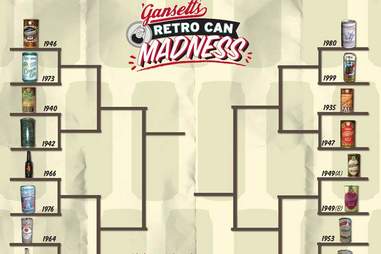 Marlo Marketing/Communications
Special March Madness Beer Bonus: Help out your favorite "uncle" (Narragansett Brewing Company) by voting on old-school vintage cans in 'Gansett's Retro Can Madness. From now until April 5th, 16 different celebrated designs from over the years (pre-Prohibition until the modern era) go head-to-head on the brewery's Facebook page, with the winning label serving as inspiration for the next-gen retro cans debuting in 2015. Looking good, Cinderella!