Since you won't be following the Sox through a triumphant October this year (we've gotten just a bit spoiled), you'll have plenty of time to take advantage of these 10 things you must do in the Hub this fall. Fear not, beer is involved.
When: September 5-7
Where: City Hall Plaza
In case you missed the City Hall extravaganza back in May (or you just want to go again), get ready for the sequel the first weekend in September. The amazing lineup includes The National, Lorde, Nas w/ The Roots, Spoon, The Replacements... look, there are a bunch, okay? This time around the festival absorbs the annual Sam Adams Octoberfest celebration, complete with seasonal beers, stein-hoisting competitions, and traditional German treats (e.g. pretzels and sausages). Put on your lederhosen and get your tickets here.

When: September 13
Where: DCR Memorial Hatch Shell
The good folks at Mix 104.1 are hosting their annual gratis jam-a-thon on the Esplanade for you and thousands of your closest pals. The winner of their 15 Seconds of Fame contest will open the show, followed by Christina Perri, Magic!, O.A.R., and Phillip Phillips. If you want to be a VIP (you do), enter to win a four-pack of special passes so you can ensure you're front and center.
When: September 26-28
Where: Seaport World Trade Center
Celebrate all things Irish at the debut of iFest with three days of food, drink, entertainment, and Emerald Isle culture at the World Trade Center. The festival showcases the best of Ireland with top chefs Darina Allen, Kevin Dundon, and Barbara Lynch leading the culinary charge, Paddy Moloney of The Chieftains hitting the stage, and Guinness -- plus sweet craft beers -- pouring from every tap. There will be plenty of whiskeys to sample, too... making it much easier for you to speak/understand Gaelic.
When: September 27-28
Where: Olde Magoun's Saloon
Munich is kinda far away, so Olde Magoun's Saloon will bring the oompah to you. Enjoy six flavors of Paulaner on tap from their impressive semi full of suds, plus 10 more festival-inspired drafts inside after you finish off that truck. Traditional fare like pretzels, sausages, and schnitzels will help you keep going strong.

When: September 27 and October 25
Where: Harvard Square (duh)
The Grafton Group has partnered with Harvardtour.com for an afternoon jammed with trivia, treats, and tromping the Yahd. Meander through Harvard Square, load your brain with fun facts, and snack on signature food and drink items at Grafton Street, Russell House Tavern, and PARK. Tickets are $79 and include a 10% discount on more grub at the restaurants after the tour. Bonus: download the recently launched Grafton Group app for more info.
When: October 5
Where: Legal Harborside (Seaport District)
Shell-heads rejoice! (Or is that half-shell-heads?) Legal Harborside invites you to their all-weather rooftop for a belly-busting bivalve bacchanalia. They'll be shucking eight types of oysters and passing around appropriately themed apps like oyster sliders, oyster sushi hand-rolls, baked oysters, and pickled oysters. Get your tickets ($55) before they're gone.

When: October 18-19
Where: Charles River (by the Harvard Boathouse)
The Head of the Charles (the world's largest two-day rowing competition) turns 50 this year, and it's sure to be a golden celebration. In addition to the usual extensive food fare and thrilling races, there will be a history exhibit near the Eliot Bridge, the premiere of the 50th anniversary documentary, and a special gala ($75) with drinks, dinner, and desserts for fans, rowers, and event alumni. You can also get a one- or two-day pass for the Eliot Bridge Enclosure so you can nosh and sip in style.
When: Events throughout the fall
Where: 420 D St (Seaport District)
The Lawn on D is Boston's first experimental outdoor interactive public space with ongoing programming and events located in the heart of the Innovation District (we have one of those?). Every Thursday, Friday, and Saturday, the Tent will be open, featuring your favorite food trucks and snack vendors as well as local beer and wine selections. Visit the ArtLAB (if you're artsy), play some complimentary lawn games (cornhole, bocce...), or just chill on the grass and listen to live music. Thanks, innovation!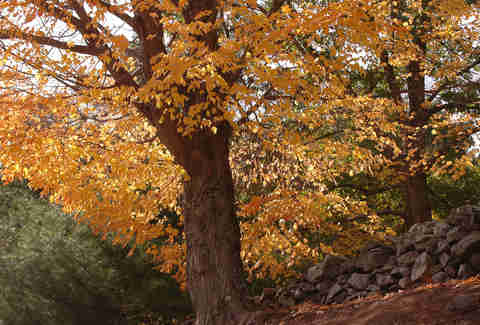 Drink craft beer and look at trees
When: Leaf peak
Where: Anywhere you want
You know you're obligated to spend some time driving around the New England wild as the fall foliage fireworks explode in oranges, yellows, and reds. Your real mission, if you choose to accept it, is to visit some craft breweries dotting the regional countryside for pints or growlers... or both. Like Banner Beer Company (Williamsburg, MA) for their Banner American Ale. Or Tree House Brewing (Monson, MA) for That's What She Said Milk Stout. Then there's Henniker Brewing Co. (Henniker, NH) for the Working Man's Porter. You get the idea.
When: November 21
Where: Moakley US Courthouse
Ok, ok... so this is very LATE fall, but the event sells out quickly so you should be pleased about the advanced notice. Help raise funds for the Boston Local Food Program and sample goodies from over 80 different New England breweries, cideries, meaderies, and eateries. Just don't get too crazy, because you're... already at the courthouse.
Sign up here for our daily Boston email and be the first to get all the food/drink/fun the Hub has to offer.