Summertime is coming soon, and once you're finished consulting with Will Smith on the most effective "frontin' and maxin'", you'll also find some really great weather outside. Probably. At some point. There's no excuse for wasting a moment of Summer in the Hub, and to make sure you don't, here are 12 things you must do, from BBQ fests to oyster tours to drinking all the beer.
What: Boston Calling Music Festival
When: May 23rd - 25th
Where: City Hall Plaza
The normally drab/unfriendly City Hall Plaza morphs into THE place to be on Memorial Day weekend as the three-day, two-stage music festival rocks old Scollay Square (think Lollapalooza… but cooler and sooner). There will be some major bands there just for you: Jack Johnson, Death Cab for Cutie, Modest Mouse, The Decemberists, Tegan & Sara, and so on. Yeah… you should go.
What: Island Creek Oyster Farm tours
When: Every Friday (1pm and 3pm), June through August
Where: Island Creek Oyster Farm (Duxbury)
Amp up your stay-cation with a short ride to Duxbury Bay to learn more about raising bivalves… properly (you will get to eat them properly, too). Reserve a spot on a skiff (up to six people, $20/person) and check out the nursery and Back River as well as harvesting and processing operations. And there's an Oysterplex (YES!!!). Bonus: BYOB is encouraged to pair with your post-tour snacks.
What: Saturday BBQs
When: Every Saturday through the Summer
Where: Formaggio Kitchen (Cambridge)
Treat yourself to a good old-fashioned sidewalk barbecue any Saturday this Summer at Formaggio Kitchen's flagship store in Cambridge. Let the experts do the grilling and enjoy Texas beef ribs, pulled pork, and spicy chicken sammies, plus various side dishes and a guaranteed nap a few hours later.
What: The Somerville Food Truck Festival
When: June 7th (11am – 4pm)
Where: Assembly Row (Somerville)
You won't have to chase down your favorite food trucks (hard to do in flip-flops) because they'll all be parked in one place for easier grazing. The participant list is growing and currently includes fan faves such as The Bacon Truck, Bon Me, Cameo Macaron, Captain Marden's Cod Squad, Gabi's Smoke Shack, Happy Taco, The Latin Spoon, and Roxy's Grilled Cheese… to name a few. There will be live music and a beer tent to round out the event/ you.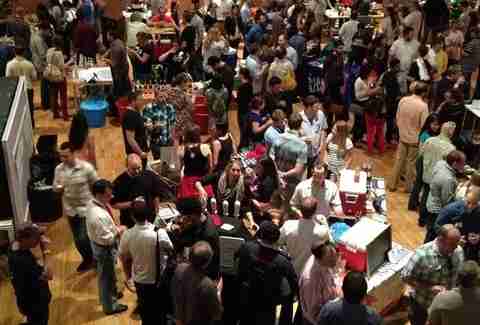 What: 3rd Annual Hyper-Local Craft Brewfest
When: June 13th - 14th
Where: Center for Arts at the Armory (Somerville)
Somerville? More like SUMMERville! Right?! Head to the Armory and taste suds, ciders, meads, and artisan beverages crafted by New England brewers with local ingredients. Hungry? They'll have home-spun goodies, too, from vendors like Valicenti Organico, Vermont Smoke and Cure, Taza Chocolate, and a whole lot more.
What: Phantom Gourmet BBQ & Music Festival
When: June 20th – 22nd
Where: City Hall Plaza
Award-winning pitmasters from across the globe will grill and smoke their way to your heart and stomach with sauced-up goodness. Salt-N-Pepa reunite to shoop and/or push it real good on Friday, and the Bosstones headline on Saturday to celebrate Dicky Barrett's birthday. You're invited. Bonus: there's a man-made beach.
What: Boston Harborfest
When: July 2nd - 6th
Where: Almost everywhere in the greater Boston area
Now in its 33rd year, Harborfest features more than 200 events and activities, so choose wisely, early, and often. Highlights include tall ship cruises, the super-impressive July 4th fireworks (10:30pm), and the annual Party on the Plaza (Saturday, July 5th starting at 12pm). Sport your itchy wool Colonial-period uniform for extra authenticity and discomfort.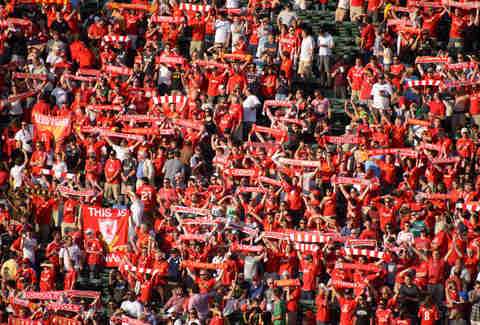 What: Liverpool vs. AS Roma pre-season soccer
When: July 23rd
Where: Fenway Park
Soccer fanatics UNITE (or scream at each other)! America's Most Beloved Ballpark hosts the two soccer powerhouses as they face off for a rematch from their last Fenway game in 2012. Wear your colors (or colours) and try not to get verbally or physically assaulted.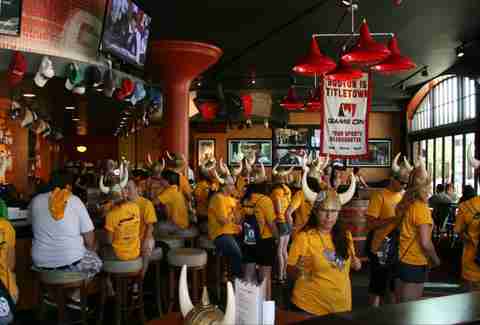 What: Boston Beer Marathon
When: July 26th (starting at 10am)
Where: 26 different bars
Don't worry… you won't have to run 26 miles, but you should try and hit all 26 bars on this epic Summertime boozy walkabout. There will be plenty of swag, deals, specials, koozies, prizes, and Viking hats.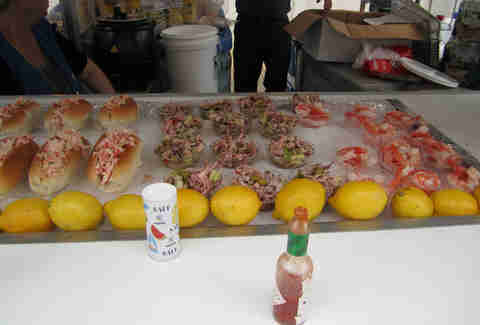 What: Fisherman's Feast
When: August 14th – 17th
Where: The North End
Celebrate seafood and Italy during the annual weekend-long street fair / North End love-fest. Stuff yourself with sausages, quahogs, cherrystones, pizza, cannoli, and gelato from neighborhood restaurants and shops while trying to knock down those three impossible-to-knock-down milk jugs at the carnival.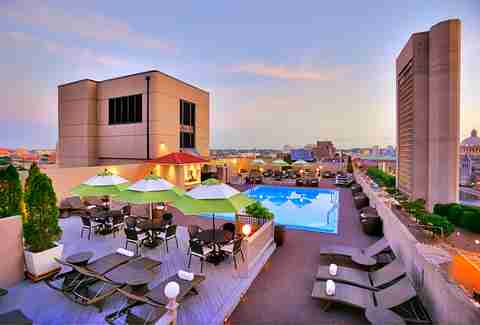 What: Get a tan at the newly renovated Colonnade Roof Top Pool
When: May through Labor Day
Where: The Colonnade
There aren't many (nice) public pools in the Boston area, but the rooftop at The Colonnade is one of them, even moreso after a fancy renovation. Food and beverage will be available for purchase. Be sure to check out the rules and regs before you go. Bonus: they'll have a concert series, too.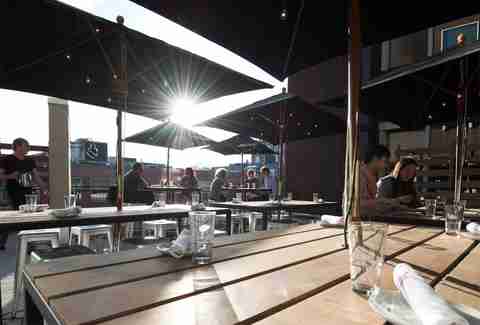 What: Hang out on Sinclair's patio
When: All Summer long
Where: The Sinclair
Soak up the afternoon sun in this urban oasis whilst enjoying food and drink specials, seasonal Patio Punches and snacks (like Jalapeño Rhubarb "Doritos") from Chef Matt Cunningham, and general good vibes. Themed parties will be happening, so stay tuned. Your Summertime Sunday Funday just got real.