5 Marathon charity events to make Boston Stronger
Boston This will be an emotional weekend for the Hub as we reflect on the tragic events surrounding the 2013 Boston Marathon. The healing process continues, and every day we are getting Boston Stronger, but individuals and families impacted by the tragedy still need our help. Show your ongoing support by checking out one (or all) of these Marathon charity fundraisers this weekend:
Thursday, April 17th -- Monday, April 21st: 5 Napkin Burger's hosting a "local brews only" tap takeover through Marathon Monday, featuring Sam 26.2, Jack's Abby Jabby Brau, Harpoon IPA, Slumbrew Happy Sol, and Pretty Things Jack D'or. Stop in for a pint (or five) and purchase a Boston Strong T-shirt ($10), with all proceeds (from said T-shirt) going to Boston Children's Hospital. Continue Reading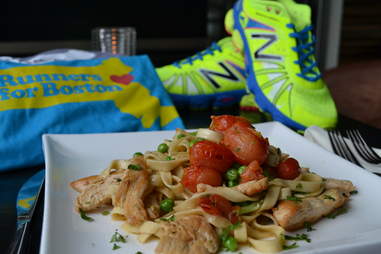 The Varano Group
Friday, April 18th -- Monday, April 21st: The Varano Group and New Balance have joined forces for a carbo-loaded special with 100% of proceeds benefitting The One Fund. Head to Strega Waterfront, Strega North End, Nico Ristorante, and/or Strega Prime and order the New Balance #LoveBoston Fettucine (sautéed chicken, English peas, plum tomato sauce) for a protein-packed boost. Cross the finish line and promptly take a nap.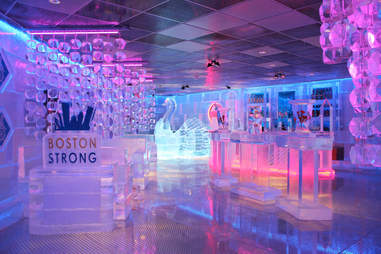 Dave Baldwin
Saturday, April 19th: Chill out at the Frost Ice Bar (and other neighboring venues) as they present the Froston Marathon Pub Crawl (12pm - 10pm) to raise money for The One Fund. Bacardi will offer two themed cocktails (The Rum Runner to Remember, Hearts of Gold) and participating bars will keep the good vibes going with drink specials and charity raffles from start to finish. Bonus: there's a contest for the best exercise gear costume or Boston Strong outfit... so wear your blue and gold! Tix are $25
Monday, April 21st: The Beehive invites you to the Gillian Reny Stepping Strong Fund Benefit from 3pm-12am with 100% of the profits being donated to the cause. Enjoy live jazz all day, tasty treats from Chef Marc Orfaly (like Artichoke Parmesan Lasagna, Roasted Blue Cod, Skirt Steak Frites), and craft libations such as The Queen Bee (SKYY Vodka, grapefruit juice, St. Germain, Champagne). For reservations, call 617.423.0069 or visit their website.


Monday, April 21st: Open at 8am (!), the Lansdowne Pub will go the distance along with The Next 26, a charitable organization trying to raise $10,000 for The One Fund. Hang out all day and partake in Lansdowne Pub's Irish fare and 57 beers, go wild (literally) for house-favorite cover band Bearfight, and donate generously to blast past that $10K benchmark. Everyone's a winner!