The Weekend Playbook: Wild-boar burritos and a late-night pizza throwdown
Event of the Week: ICOB Pizza ThrowdownGrab a siesta during lunch, because, tonight from 11p-1a at Island Creek Oyster Bar, Chef Jeremy Sewall and food photographer Michael Harlan Turkell are going toe-to-toe for charity and flipping creative pizza pies (smoked salmon, banh mi-zza, bacon & egg, etc.) alongside classic Italian vittles (breadsticks, antipasti, olive oil gelato) and ICOB staples like crab cake & lobster sliders and fried clams. You don't even need tickets, you just need to stay awake
Freebie of the Week: Boston Ski & Sports Club's Summer QuencherIf you enjoy dueling pianos, coed dodgeball, and/or free apps then hit Howl at the Moon on Wednesday night from 6-8p, where the BSSC will offer you all three -- not to mention prizes, drink specials, and discounted memberships. All to get you to play kickball. Sign up before heading over
Thursday, August 22ndAfter learning how to make the perfect pizza from Pastoral's Todd Winer, change into your finest business neon and/or formal attire and swing by the Good Life to celebrate the Hub debut of dating app Hinge at their Boston launch party, featuring The Knocks. If you meet your match, you'll even be rewarded with free drinks. RSVP now
Friday, August 23rdLet New York's bespoke clothiers, Proper Cloth, upgrade your Fall wardrobe at their three-day Liberty Hotel pop-up. Just don't forget to schedule your appointment first
Saturday, August 24thAssuming you're not in Provincetown at Barbara Lynch's Summer Send-Off Pool Party, then consider your Saturday afternoon planned. 3p: Hit Ft. Point's Tavern Road for $1 oysters and glasses of white wine at Second Glass's "Muscadet, Shuck Yeah: Pop Up Wine and Oyster Bar". 7p: Bring back fond memories of listening to the Loveline in your college dorm room as you hit the Wilbur for the Adam Carolla & Dr. Drew Reunion Tour.
Sunday, August 25th
After strolling around the North End's Saint Anthony's Feast and taking down $5 bar bites at Ducali, catch the cliff divers jumping off the ICA before rolling over to the deck at the Barking Crab to partake of their new streamlined menu and raw bar.
Tuesday, August 27th
Clear your calendar, because Tuesday night is part two of the Mick Dundee Challenge, an epic meat pie throwdown at Eastie's KO at the Shipyard, during which 12 area chefs (including Toro's Mike Stark, Nuno Alves of Tavolo, and Neptune Oyster Bar's Michael Serpa) go head-to-head under the big top to see who can make the tastiest pie of meat. Tickets snag you not one, not two, but TWELVE meat pies.
Wednesday, August 28th
Don't take a chance on next weekend's Fourth Annual Mass Brewers Fest -- which features 80-plus beers from over 30 Bay State breweries at the World Trade Center -- being sold out. Get your ticket now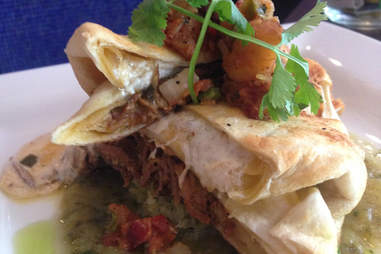 Poe's Kitchen at the Rattlesnake
Food of the Week: Wild-boar burritos
Finally, Chef Brian Poe's once again mixing things up at The Rattlesnake, this time unveiling the likes of seared salmon tacos w/ a creamy Sriracha and honey-lime slaw, grilled tuna torta with Veracruz seasoning, and this epic Mexican chili-braised wild-boar burrito complete w/ "Oaxaca cheese, IPA-infused refried beans, green chile pure verde rice, boar bacon, and plantain salsa".