Chili cook-offs and free pizza: Boston's best Super Bowl action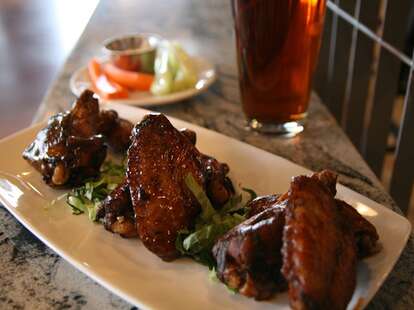 Boston The SKYBOKX 109 GastroSports (Natick) Super Bowl extravaganza will feature a pair of special game day burgers, with a bison burger repping the Broncos and a salmon number in honor of Seattle. Also: six flavors of wings (half-price from halftime until end-of-the-game), including bourbon-glazed and Thai peanut chili. To make you feel better about stuffing yourself, 20% of the day's food sales will benefit the Park family of Framingham who lost their home in a November fire.
Row 34 will have a freshly tapped cask of Domaine Dupont French Cider and some next-level snacks from Chef Millan like lobster roe popcorn, Old Bay onion rings, and crispy glazed fish collars (how formal!). Oh, and the raw bar will be in full effect. Get all the tasty details here Continue Reading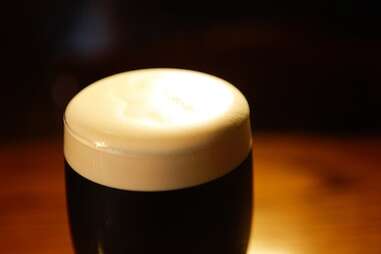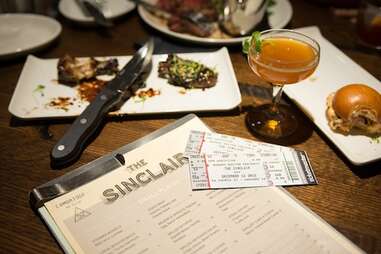 The Sinclair is offering up some not-your-average Super Bowl party fare: roasted peanuts (kaffir lime, chilis, sea salt), Narragansett corndogs (house coleslaw, Drambuie mustard), and Thai chicken wings (chili-fish sauce, crispy shallots). Round the evening (and yourself) out with some disco tots and fried chicken.



With more than 50 flatscreens and a booming sound system, you will see every scrunched-up Manning face and hear every "OMAHA!" at the Cask 'n Flagon. Super Bonus: There will be prizes every time a team scores and a FREE appetizer buffet at halftime. Chef Donley Liburd is also cooking up BBQ Tailgate Platters with beef brisket, chicken, baby back ribs, or BBQ pork (pick two = $18, pick three = $26, pick six = Rodgers-Cromartie). More meaty details here
Clerys is throwing down their 3rd Annual Super Bowl Party and Wing Eating Contest. $20 per person scores you a guaranteed table for your group, choice of any two beers, appetizer sampler during the first half, and a pizza buffet at halftime. Still hungry? Then sign up early or a chance to have your name immortalized on the wing trophy. Get your tickets here