Boston Event of the Week: Wednesday, January 15th
Since you've already given up on your resolutions, Baconpalooza IV will be going down every Wednesday night this month (through Jan 29th) at Olde Magoun's Saloon from 5-11p. Enjoy porky treats like lobster bacon rangoons, bacon poutine, and smoked-maple-bacon Old Fashioneds. So much bacon awaits you...
Recommended Video
Cauliflower Crust: Pizza or Health Fad?
Thursday, January 9th: Bust your brain AND your gut at Tasty Burger's trivia night from 8-10p in Harvard Square. Get yourself The Big Tasty, wash it down with one of their 40 rotating beers (or draft wine... if that's your thing), and show off your deep-cut knowledge of pre-Columbian art. It's free to play, with prizes for the top three finishers. Continue Reading
Friday, January 10th: You may never get to slide into home like Jonny Gomes, but you CAN go sledding in the shadow of the Green Monster at Fenway from 9a-230p. Go to work late (or ditch completely) for this one-of-a-kind opportunity. Bring your own helmet. $25 for one hour of awesome on the 20ft-high Monster Sled


Sunday, January 12th: The Salty Pig's Executive Chef Kevin O'Donnell and Sous Chef Michael Lombardi have launched a house-made pasta program and Red Sauce Sundays, where you can savor old school faves like eggplant Parm and chicken piccata amid red checkered tablecloths, Chianti bottle candles, and the soothing sounds of Sinatra.
Tuesday, January 14th: Dream of warmer South-of-the-border weather as Saloon presents its second annual four-course Mezcal Tasting Dinner at 630p. Executive Chef Jonathan Schick and Beverage Director Manny Gonzales offer four unique and neatly served Mezcals paired with Oaxacan small plates like steamed carnitas empañadas. Get your tix here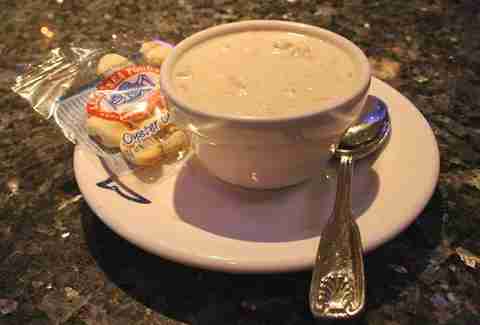 Wednesday, January 15th: It's National Soup Month (in case you didn't know) and Legal Sea Foods proclaims today as Chowda Day! Legal's much ballyhooed chowder is a buck a cup with the purchase of an entrée at any of their locations... so you can warm yourself with clam-tastic goodness ALL DAY LONG.