Boston Even though you'll still be recovering from the Southie parade (nice job), you have Monday off and rest is for quitters and old doddering Englishmen. Keep the party going at one of these shillelagh shindigs:
Recommended Video
The Real Reason Chick-Fil-A Is Closed on Sunday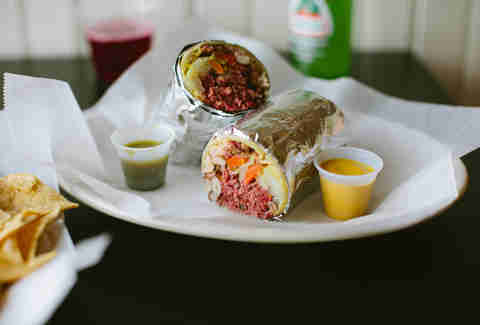 Establish your base (it's gonna be a long day) at Anna's Taqueria with their now famous St. Patrick's Day Burrito (genius). Served ONLY on March 17th (at all six locations), this treasure is stuffed with corned beef and cabbage and available with Irish add-ons (potatoes and mustard)… or anything else in Anna's arsenal of goodness. Feed your inner leprechaun from 12pm while supplies last. (They won't.) Continue Reading
Grafton Street, named for one of the main shopping streets in Dublin, gets the Blarney going at 11am with Paddy's Irish Whiskey cocktails (by bar manager Morgan Carney), classic Irish fare with flair from Chef Eric Gregory (corned beef & cabbage with parsley sauce, rustic shepherd's pie with braised lamb), and perfect pints of Guinness poured by bartender Paul Barry. Bonus: no cover.


Forum goes Gaelic from 5pm-1am with Irish-themed food and drink specials courtesy of Executive Chef Dan Schroeder and his team. For a $15 cover, choose from the Irish Burger topped with sliced corned beef, braised cabbage, Irish cheddar, and Thousand Island dressing (artery buster), or corned beef and cabbage egg rolls with Harpoon Stout mustard dip (yep). You're also lucky enough to get a pint of Harpoon Irish Stout or an Erin's Envy Cocktail.
Wear your green at Beat Hotel's first annual St. Patrick's Day party in partnership with the Boston Irish Tourism Association (BITA). Executive Chef Rebecca Newell will be serving up Irish-inspired food and drink specials (corned beef & cabbage, traditional Irish stew) from 5pm-12am, while Matt and Shannon Heaton perform their revved up renditions of traditional Celtic tunes starting at 8pm. (You're still lucky, no cover!)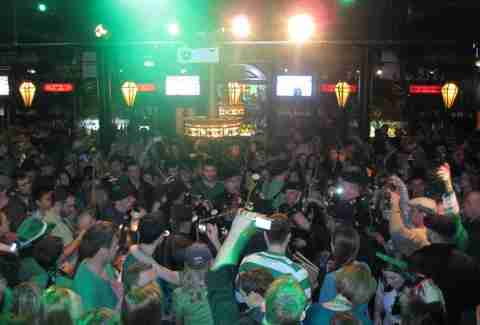 2 Gingers Irish Whiskey teams up with The Lansdowne Pub to host their 5th Annual St. Patrick's Day Celebration. Live music (featuring Bearfight!), authentic Irish food specials, and plenty of beer (sorry, none of it green) will sham-rock your world from 4pm-2am. (No cover here, either!)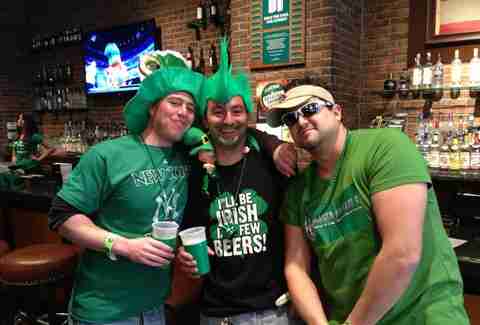 Power your way through the entire weekend, or save your strength for the big day with the St. Patrick's Day Bar Crawl (5pm-2am) starting at the Hard Rock Cafe. One- to three-day ticket packages score you a souvenir cup, no-cover-charge access to all of the venues, drink specials, Irish food specials, a map (you'll need it), and a nifty wristband. Reserve your spot, because those emerald brews aren't going to drink themselves.

The St. Paddy's rainbow ends (or begins) at everyone's favorite soccer (ok, ok… FOOTBALL) bar, Phoenix Landing, starting at 11am. They'll have all the supplies you need: an impressive array of whiskeys (Jameson, Powers, Bushmills, 2 Gingers, Kilbeggan, etc.), traditional Irish food, plenty of Guinness (obvs), and live Irish music by the Night Foxes (7-10pm). Slainte!