Event of the Week: Laugh Boston Comedy Club Debuts Opening Saturday night in the Seaport District, this brand-new 300-seat club from the seasoned comedy vets behind the North End's Improv Asylum is reenergizing the Hub's stand-up scene with a Wednesday through Saturday lineup of national comedians, a full bar pouring cocktails like the Blue Moon-topped "I Bombed", and a repertoire of vittles you won't typically find at a ha-ha joint, including fried hot dogs, plantain chips, and Peking duck spring rolls. Go inside and see it for yourself
Thursday, September 19th Your favorite C'town spot, Shōjō, is holding their second annual pig roast tonight. Four courses, including crispy offal salad, porchetta, and a Thai spit-roasted pig carving station. Two seatings, at 630p & 9p. Get your ticket now
Or take down four courses (from top Hub chefs like Joanne Chang and David Becker) to help benefit the homeless at this third annual harvest dinner held on Long Island in Boston Harbor.

Friday, September 20th Assuming things haven't been working so well on Match lately, perhaps you'd prefer to buy a date (or at least try to) at the Project Smile charity date auction Friday night at Venu? Just a thought. If you want to least take a look at the bachelorettes, they'll be right here

If you live in Central Square and need a ride home after said date auction, you're in luck, as the cab-beckoning app Hailo just launched in Cambridge.
Recommended Video
France's Fête des Lumières Is a Light Festival Unlike Anything You've Ever Seen
Saturday, September 21st
Alright, as there's so much going down this weekend, we're just going to bullet it out. You're gonna want to be:Sunday, September 22nd
Guess what, Sunday isn't any quieter, so don't make plans to visit your parents for lunch.

Tuesday, September 24th
Did someone say food fight? Tuesday night at Southie's Lincoln Tavern, chefs from K2 faves Hungry Mother and West Bridge square off in the first installment of this culinary cagematch for charity. The theme: Southeast Asian street food. $20 gets you samples of both dishes, gratis pizza, and two sponsored cocktails. Mark your calendar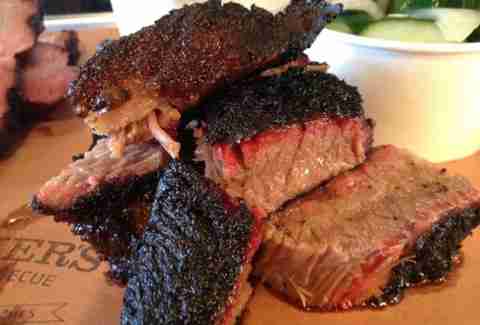 Wednesday, September 25th
Finally, don't take a chance on missing out on Austinland, a super-limited (ticket-wise) celebration of Texas BBQ complete with brisket, line-dancing, and Lone Star beer, that's going down a week from Sunday at Gallery 263 in Cambridgeport. Score your tix today before they're gone