It's no secret here that Boston is greater than most places on the planet (especially you, New York). That's not just our hubris/attitude talking; we have serious numbers to prove it. We've got 14 recent polls and studies, from tasty water to pedestrian safety, that rate Boston as tops in the nation.
Recommended Video
The Best Cheap Bagel in NYC
Sure, Chicago has that green river, but we have Southie AND the time off for Evacuation Day. Oh, and also the largest percentage (20.4%) of Irish ancestry than any other US city. Sláinte!
Conceptually Boston bachelors might disagree with this statement. However, mathematically there are more single ladies here than single men, even though they might not all want "tickets to the gun show."
Apparently our dirty water isn't that dirty anymore. The American Water Works Association bestowed top honors on the Boston Water and Sewer Commission with the "Best of the Best" Tap Water Taste Test.
Not only do we hydrate with delicious tap water, but according to NerdWallet, our solid fitness levels, accessibility to health care and insurance, and per-capita concentration of physicians keep us closer to Mark Wahlberg than Pablo Sandoval.
We let wandering cattle design our street system, and it's obvious they didn't have a master plan. Like… at all. Nice job, Bessy.  
Okay, so maybe the cows weren't so dumb after all. Our winding, compact streets and traffic slow cars down pretty much to a standstill, thusly making roads safer for our modern-pedestrian-commuter herds.
While the Mayo Clinic dominates most medical specialties, Mass General is No. 1 at keeping your head on straight, with high marks in patient satisfaction.
Travelers hoping to score a cheap Airbnb rental in the Hub are in for big-time sticker shock. We beat out destinations like Dubai, Cancún, and freakin' MONTE CARLO on GoEuro's Accommodation Price Index. You're definitely not getting that castle, but you can stay in this Cambridge igloo.
Average price: around $375 per hour. This could be a function of good old-fashioned supply and demand. Lots of single dudes around here. (See #2.)
GQ had some harsh words for our fashion sense and ranked us the Worst Dressed City in America. It's not our fault that hoodies and Bruins jerseys go with everything… and together.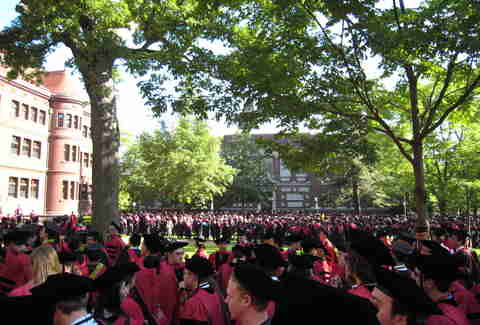 We aren't called the "Athens of America" because we eat a lot of gyros. Upper echelon institutions + city amenities + potential jobs after graduation = first in the nation (and sixth in the world) for college students. Too bad there's no metric for how annoying college kids are.
Who needs Airbnb when you can stay at Condé Nast Traveler's Reader's Choice for best hotel? Chic décor (e.g. fine mahoganies), ultra-comfy canopy beds, and a fleet of chauffeured Lexuses secure XV Beacon as THE place to stay in America. Bonus: its restaurant is the steak-tastic MOOO.
We know this. We take pride in many things, particularly our ability to responsibly consume mass quantities for sustained periods of time. It's like we're always celebrating something...
14. Best at winning championships
No need for a study on this one; you've seen it with your own two eyes. Nine championships since 2000. Titletown, people. Titletown.
Sign up here for our daily Boston email and be the first to get all the food/drink/fun the Hub has to offer.