Growing up in the Boston suburbs fills you with certain hard-to-shake insecurities. Your town is either too rich or too poor. It has a good mall, has a crappy mall, or isn't even big enough to get a mall. The list of suburban woes goes on and on. So as an exercise in self-loathing, we've gathered all-stars from every corner of Eastern Mass -- graduates of Masco, Needham, Dedham, Marblehead, North Quincy, LS, CC, DS, and several other initialed high schools -- to properly evaluate their towns and surrounding 'burbs.
Newton
It's not enough to know you're from Newton; people need to know what village you're from. Did you go to Brown, Bigelow, or Day for middle school? Are you from fancy Chestnut Hill or Nonantum, where everyone knows Matt LeBlanc's family and calls each other "Mush"? Do you live in Newtonville so your mom shops at the Shaw's that hangs over the Pike? If you're tired of the questions, you can just call it the rich man's Quincy and be done with it.

Brookline
It's the city-suburb compromise for Boston couples wealthy enough to have a conversation about city-suburb compromises. Your T line dictates more specifically what you're looking for. The closer you get to St. Mary's on the C, the more likely it is that you got a regrettable tattoo when you were younger. The D is a little more regal, a little more "let's just say I know someone who lives on Hammond and leave it at that" (unless your stop is Reservoir).

Wellesley
Wellesley has long dealt with an identity crisis. All the other schools in the Bay State Conference sneered at the Raiders, imagining a town populated entirely by the yuppies from National Lampoon's Christmas Vacation, even if that wasn't always totally true. Although now, with its Downtown's fancy rebirth and scores of smaller homes knocked down in favor of McMansions built to the property lines (I'm looking at you, Pilgrim Rd), it might be true. Great sandwiches at Linden, though!
Weston
"Hide your immense wealth behind taller-than-average hedges" is the official town motto.

Needham
This is the suburb for white-collar professional families that want a slightly lower price point than Wellesley and at least one more Not Your Average Joe's. Slightly above-average sandwiches at Cowlicks, though!

Wayland
If you're old enough to remember the old Red Coach Grill, you've probably been priced out by now.

Ashland
The greatest trick the fathers of Ashland pulled was convincing the rest of Boston it didn't exist. Seriously. You could live your whole life within 10mins of Ashland and only remember driving through it once after going the wrong way on 135 out of Framingham and seeing that old clock in the town center.
Lincoln
Cambridge with fields. And a Dairy Joy.

Sudbury
Where divorced Lincoln dads live if they have kids, so they can take them to the Friendly's on Boston Post Rd. (Sigh).

Burlington
Sadly not even the Burlington that Burlington Coat Factory is named after.

Milton
A picturesque community filled with lace-curtain Irish folk whose parents grew up two-toilet Irish folk in JP and grandparents grew up in Southie. Something they love to point out while showing you each mansion's 12 gables.

Dedham
Trying hard to cling to that blue-collar past even though everyone there now shops at Legacy Place and works in tech. If you happened to grow up there during that blue-collar past, chances are you're Italian, only refer to your friends by their last names, and played baseball with Josh Police.

Westwood
For parents who want the cache of a W town, but can really only afford an M.

Norwood
Because not all football coaches can live in Grafton. Except for the Olde Colonial Cafe (get the onion rings!), every other restaurant in town serves steak tips.

Dover
"A greener, more subtle Weston," is what people from Dover quietly say to the other plastic surgeons in their practice looking to move out of Back Bay. A great place to get your daughter into equestrianism, if that's your thing.

Sherborn
Sherborn is like Dover's stepbrother who grew up with the same advantages as Dover, but decided that -- instead of going to med school -- he'd be happier selling commercial farm equipment and hanging out at C & L Frosty.

Woburn
Safe to drink water for nearly 20 years!
Hopkinton
"WE'VE GOT OTHER STUFF BESIDES THE MARATHON," shout the residents of Hopkinton unconvincingly as marathoners pee on their lawns.


Holliston
That town you played soccer against in the North Andover Columbus Day Tournament and haven't thought of again until right now.

North Andover
Known for its Columbus Day youth soccer tournament.

Natick
DOUG FLUTIE, THE MALL; DOUG FLUTIE, THE MALL; DOUG FLUTIE, THE MALL. Also, Newbury Comics. (Serious question: who lives in those luxury condos by the mall? I'm obsessed with the idea that "Nouvelle at Natick," WHICH IS WHAT THEY'RE CALLING THOSE RESIDENCES BY THE WAY, is only populated by associate managers at Hollister. Don't ruin my dream.)

Millis
The town version of the movie Son in Law.
Medfield
Pretty sure it's spelled "Medway." Wait, what? That's a whole other place? (Mind explodes while eating the Frances Ford Capicola at Italian Groceria).

Weymouth
Your cousin who gets in a lot of bar fights. But a town.

Hingham
Suburban Connecticut distilled into a single place. New residents receive packets informing them that they must tell everyone they can commute to Boston by ferry at least twice per conversation.

Cohasset
Don't you mean Hingham?

Scituate
Don't you mean Cohasset?

Avon
It's not necessarily a good look if the nicest house in your town is the model kitchen inside that Jordan's Furniture with the MOM.

Canton
Where Reebok employees drink before going home to Milton. Also possesses five golf courses, each broken down by religious preference (Milton Hoosic Club = WASP, Blue Hill CC = Jewish, Wampatuck CC = rich Catholic, Brookmeadow CC = not rich Catholic, Ponkapoag = that Unitarian church in Dedham).

Walpole
If you've always wanted to experience the latent racism of the rural South without the good food and temperate climate, the Walpole Rebels have a Confederate flag for you to stick in your yard.

Framingham
You know you're struggling when people nostalgically remember the time your mall had a Lechmere.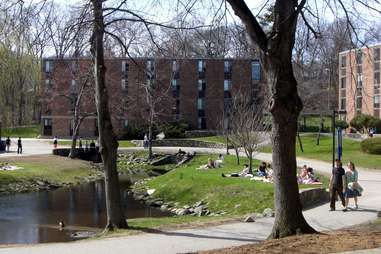 Waltham
WATCH CITY, SON! A fun pastime is watching the look on out-of-state Brandeis freshmen's faces when they realize they're not actually in Boston and will spend most of the year eating cheesesteaks at Carl's and going to Bertucci's for birthdays.

Wrentham
The only town actually proud of the fact that it clogs up an entire interstate every weekend so people can get 60% off jacquard cardigans at the Dressbarn Women outlet.

Medford
Somerville's Somerville. But like, Somerville from the '80s' Somerville.

Quincy
One of its high-school teams is still called the Red Raiders, which no one objects to, because it's the least politically incorrect thing that's ever happened in Quincy.

Saugus
The crown jewel of Route 1, and home to Square One Mall, where an unusual amount of girls with severely chapped lips hang outside of Pierced Utopia.

Melrose
Exactly like the show Melrose Place, except the Billy in this Melrose just works part-time slinging cheeseburger subs at Liberty Bell.

Malden
Everyone you've ever met from Malden is named Scotty, wears tracksuit sweatpants all day, and still maintains a strong MySpace presence.

Watertown
Putting DMVs in malls since 1965. Oh yeah, and by the way: calling it "The Arsenal Project" just makes your mall sound like a London ska band that used to play downstairs at The Middle East on Tuesdays.

Belmont
Weirdly close to Cambridge, Belmont is the Northwest equivalent of Milton, except with more kids cruising over Leonard St in their parents' Volvos to pick up buckets of Grandpa's Mess from Comella's.
Lynn
Can't seem to shake its reputation thanks to that catchy "City of Sin" song. Also, doesn't seem to want to.

Lynnfield
A nice place that can't seem to shake its reputation as Lynn with fields. Really, really wants to.

Nahant
Wait, no one actually lives here, right?

Peabody
The North Shore's version of Natick, with a slightly worse mall somehow overlooked by no luxury condos.

Marblehead
The boating-town version of that really pretty girl in high school who knows she's really pretty but can't even muster the fake modesty to object when people call her pretty.

Swampscott
Like Marblehead, but with smaller boats and more crew-neck sweatshirts.

Beverly
The nightlife spot for Masconomet grads who haven't quite figured out where Salem is yet.

Ipswich
Where everyone thinks your family either owns a clam shack or works at one.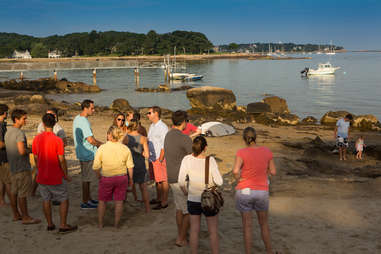 Manchester-by-the-Sea
In 1989, it voted to officially add the beachside real-estate hyphenate to its name because yes, it is that proactively pretentious.

Newburyport
The beautiful part of New Hampshire.

West Newbury
A merely nice part of New Hampshire.

Lexington
Not even the most historic town in its area.

Concord
Clings to its ancient, forgotten past with a tenacity rivaled only by rural Southern towns that played semi-pivotal roles in the Civil War.

Foxborough
Looking for a place to rent in Walpole since the local economy collapsed when it outlawed renting driveways for Pats games.

Billerica
Conducts its census by counting sports talk-radio callers.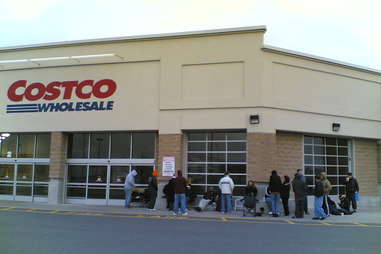 Everett
A dilapidated industrial city seeking salvation from a casino. What could go wrong?

Revere
Wishes it were Everett.

Hull
One letter from accurate.

Athol
There are certain disadvantages to living in a town whose name sounds like a 13-year-old with braces and a bite plate swearing at you.

Marlborough
Very likely the only town in America where you can still smoke in restaurants.

Westborough
West of Marlborough.

Southborough
South of Westborough.

Northborough
Worcester.
Sign up here for our daily Boston email and be the first to get all the food/drink/fun the Hub has to offer.
Kevin Alexander is Food/Drink Executive Editor at Thrillist, worked at the Natick Mall in high school, and is interested in mall-view real estate. Follow him to The Arsenal Project @KAlexander03.