Inside Charleston's Outsized Theater Scene
Courtesy of Charleston Stage
In South Carolina Lowcountry, you can walk in George Washington's footsteps in the morning, eat a lavish lunch prepared by a James Beard-recognized chef, travel across the harbor to Fort Sumter, then dine on fresh oysters steamed over an open fire at dinnertime. But while history and food are the two pillars of Charleston's tourist appeal, the Holy City's cultural offerings don't end there.
Charleston's theater scene has a rich history -- the first theater built in the American colonies, Dock Street Theatre, opened in the French Quarter in 1736. Rebuilt as a hotel in 1809 and reopened as a theater in 1937, the room still anchors the local scene (and received a $19 million restoration in 2010).
But just as Charleston isn't resting on its culinary laurels (envelope-pushing eateries like the globally-flavored Tu and tropical-inspired Wiki Wiki Sandbar still open at a breakneck pace), its theatrical offerings have expanded, too. Startups like What If? Productions have joined original alternative outlets such as PURE Theatre to build a fertile environment where professional-quality shows are performed nightly. The buzz culminates each spring, when the Spoleto Festival USA and Piccolo Spoleto festival debut international works and showcase the city's best theatrical talent.
A city with only 135,000 inhabitants (775,000 in the greater metro area), Charleston now offers a nightlife culture closing in on the likes of New York and Chicago, with over 15 production companies calling it home. It's made South Carolina's newly largest city a place where you can eat a terrific meal, take in a memorable play, and stroll home through historic neighborhoods preserved in time.
PUSHING THE BOUNDARIES
Charleston is considered the nation's most polite city, but that doesn't mean its theater scene is stuffy. While Hedwig and the Angry Inch, a musical about a transgender rock singer, is hardly the genteel entertainment one would have expected to find in 2010 at the American Theater on King Street, What If? Productions founders Kyle Barnette and Brian Porter didn't move here to fit in.
"People used the word 'edgy' to describe us, which was fair," Barnette admits. "We were challenging the norm that we saw in the community at the time."
Despite its risqué subject matter, the production was well-received, and What If? has since thrived. Their eighth season kicks off this fall at their shared, rented home at the Threshold Repertory Theatre with Gutenburg! The Musical! (November 30 to December 9) and will later stage Hair (May 2-12, 2019).
Even as What If? challenged norms, its founders knit themselves into the city's theatrical fabric. Porter worked in administration at Charleston Stage (the company based out of Dock Street Theatre) and is in his first year as executive director for the Footlight Players, now in their 87th season, at the Queen Street Playhouse. He'll lead the troupe through Alfred Hitchcock's The 39 Steps (October 12-28), Death of a Salesman (March 8-24, 2019), and Ken Ludwig's A Comedy of Tenors (April 12-28, 2019).
Even Charleston Stage -- where most season ticket holders sport at least a touch of gray -- tested its audience with Avenue Q last year. This season, they'll host the poignant Of Mice and Men (October 17 to November 4) and the stark Holocaust story, Number the Stars (January 19-20, 2019), in addition to classics like A Christmas Carol over the holidays. That's all in a centuries-old room that seats 500.
This fall, PURE Theatre will utilize the Dock Street Theatre for its 16th season kickoff, the 2017 Pulitzer Prize winner Sweat (October 4-20), before moving the production to their new permanent home on Cannon Street, where buzzy restaurants like Xiao Bao Biscuit (Asian soul food) and French bistro Purlieu are within a few blocks walk.
On the scene's fringe, there's the comedy-driven Theatre 99, known for their in-house bar and weekly "Improv Riot" and "Laugh for a Lincoln" shows (a Wednesday and Thursday night steal at $5), and for bringing big-name comedians like Colin Quinn and Iliza Shlesinger to town for their annual Charleston Comedy Festival in January.
"We don't have to go home and watch Netflix -- we can go out any night of the week and hear great music, go to a good restaurant, and see a great show," says Julian Wiles, Charleston Stage's founder and director. "You can do that in a lot of cities in America, but it's unique and special in a city our size."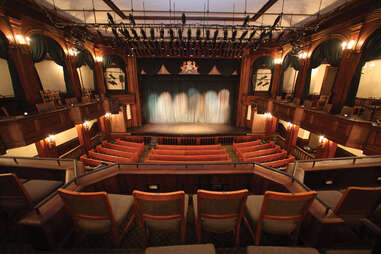 ORIGIN OF A SCENE
You can compare theater's growth here to that of the restaurant scene over the last few decades. "When I first came to Charleston, there weren't a lot of terribly interesting restaurants," Wiles notes. "Now... you can pick a different cuisine every night of the month." Just as celebrated chefs like Michael Toscano (Le Farfalle) and Alex Lira (of the just-shuttered Bar Normandy) have left posts in New York to move south, Charleston theater has become similarly forward-thinking. But it wasn't always that way.
DuBose Heyward's and George Gershwin's Charleston-inspired masterwork, Porgy and Bess, debuted on Broadway in 1935, but wasn't performed here until 1970, due to issues over segregation and the all-black cast. Five years later, Mayor Joe Riley entered the first term of his 40-year reign, priming the city for a cultural renaissance. The internationally-acclaimed Spoleto Festival USA premiered in 1977, and a year later, Charleston Stage was founded.
Spoleto, the sister festival of one in its namesake Italian village, includes over 150 opera, classical, dance, and theatrical performances, held at theaters across town, with sales topping 60,000 tickets. It brings world-renowned artists to Charleston each May and June -- Tennessee Williams' Creve Coeur debuted here in 1978, and the US premiere of Monkey: Journey to the West drew an international audience in 2008. The companion Piccolo Spoleto festival does the same for local and regional talent, presenting more than 500 performing, literary, and visual arts events during those weeks.
But despite Spoleto's influence, careers in theater couldn't traditionally be sustained in Charleston. That's changing. The appetite for world-class entertainment now doesn't end when the festival wraps, and the demand is fueling an influx of talent and creative ideas.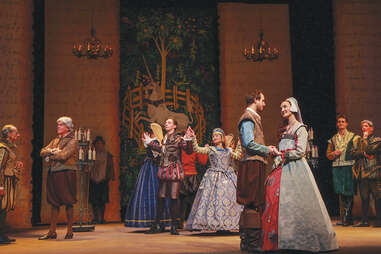 MAKING IT WORK
Actors and theater professionals now make their careers in Charleston, but they hustle to make it work. On select weekends, What If? hosts a Piano Bar Series (go for the $35 ticket that includes two specialty cocktails), where they convert the theater into a divey cabaret bar. "It's become so popular that it's almost its own business," says Barnette, the What If? Productions co-founder.
Actor Andrea Rausch, a member of Charleston Stage's ensemble, also runs an after-school acting program and is a regular at The Black Fedora, a comedy mystery theater in the tourist-oriented Market area. "It's hard," she admits. "None of the theaters can pay enough to make a full living."
That's partially because Charleston's popularity has sent rents sky high. PURE had to move out of its long-time King Street location this year, and Barnette questions how long What If? will be able to sublease at the Threshold. But as it becomes more difficult for independent theaters to survive on the downtown peninsula, there are opportunities to expand across the city. Charleston Stage, while secure at the Dock Street, will open a 130-seat venue, The Pearl, in January in the West Ashley suburb. It's the future hub of their educational programs, built to inspire the next generation of actors, designers, and stage managers.
WAITING IN THE WINGS
That new generation is also taking the stage at the College of Charleston theater department, where season tickets (seven shows) are $120 -- making their series a relative bargain. To kick off the 2018-2019 season, the College produced overlapping productions of The Tempest and the modernized Rough Magic, which borrows the Shakespeare play's characters in a New York revamp. There's also The Wolves (October 17-28), a coming-of-age story about nine American girls that emphasizes the season's social justice theme. In April, they'll close with the much-celebrated Urinetown.
"We're not PURE, doing the brand-new work, or Charleston Stage, focusing on musicals," says department chair Janine McCabe, who worked as a Broadway costume designer before returning to her alma mater. "We try to give our students and the community a broad look at different time periods and topics and cultures."
The College also provides a steady stream of professionals to the local scene, who have increasing options for their post-school resume. Wiles, of Charleston Stage, claims that it's far easier to hire qualified staff -- both performers and technical support -- than when he founded the company in 1978. When he does hire a guest actor from New York, they often stick around Charleston after their role ends.
"Going back 40 years to the start of Spoleto, the city has a tradition of supporting the arts," he says. "These things feed on each other to create a vibrant scene, so that today, people see Charleston as a very fertile place for theater."