Charlotte Date Ideas That Won't Break The Bank (Or Your Heart)
The air is a bit more crisp. The sun is setting earlier and earlier. Pumpkin-flavored everything is available for consumption. And the Panthers are inching closer to a possible Playoff bid (fingers crossed!). Now indulge that sudden urge to buy a new flannel scarf and/or sweater, because it's autumn in Queen City.
And with the cooler temps and the gorgeous fall colors, comes the ultimate season for romance. You can experience local museums, jazz music, and other events for next to nothing, and in some cases even for free! Whether you are in a relationship, looking for a relationship, or just looking for someone during cuffing season, Charlotte has plenty of date night options that are equal parts affordable and fun.
Here are the best -- and most affordable -- Charlotte date ideas to go on right now.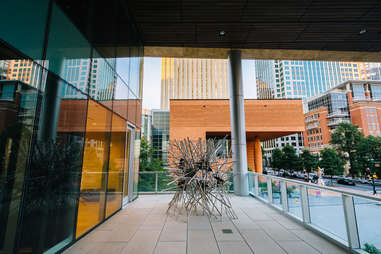 Uptown
Who doesn't love a midweek date? Especially a midweek date that is also free. From 5-9pm on Wednesdays, the Mint Museum's Uptown location offers free entry to its various galleries. The museum is 145,000 square-feet of art and unique experiences. If you can't find something to talk about here, hopefully you're incredibly good looking.
Bojangles' Coliseum
The Charlotte Checkers are the 2019 Calder Cup Champions and have kicked off the season in hopes of winning two championships in a row. Wear a sweater, snuggle up with your date, and enjoy a cold one (especially if it is a $1 beer night) while watching players slam each other up against the glass. Tickets start at just under $20.
Belmont
Bowling may be a fun, albeit cliché, date so why not take things up a notch? Does tossing an axe at a large wooden bullseye seem like a good time to you? Well, The Axe Club of America, formerly Luberjaxe, is Charlotte's first axe-throwing facility. Lane rentals are $20 an hour and it is in the same building as Catawba Brewing. Nothing screams great first date, or safety, than axes and beer.
Plaza Midwood
Do you love the crackling sound made when you put a record on? If so, head to Lunchbox Records on Central Avenue and look and listen to a wide selection of music available. Buy some new vinyl, grab a bottle of wine, and head home for what will be a date to impress.
Uptown
Hear us out on this one. While we are not always the biggest fans of the crowds at the Epicentre, especially on the weekends, we do love a fun and inexpensive date. Dueling piano bar, Howl at the Moon, has no cover charge, cheap drinks, and some hysterical and talented musicians able to play your favorite sing-along worthy songs on demand.
Eastway
Why rewatch the same show you've already seen 12 times when you can learn something new at the Charlotte Museum of History? The museum is the steward of the Hezekiah Alexander Homesite, which is the oldest house in Mecklenburg County. When you're there, the entry fee is $12, check out the Unforgettable Music Venues of Charlotte exhibit, which beautifully and sadly features Charlotte's lost music venues.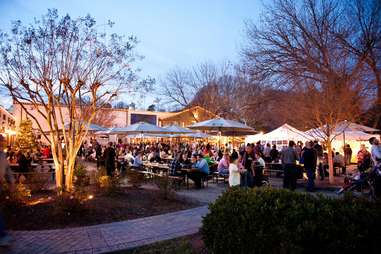 Multiple locations
You love to drink them -- now take a peek behind the curtain (or the next room over) and see how your favorite beers are made. Most breweries, such as Olde Mecklenburg Brewery and NoDa Brewing Company, offer free tours. No need to register; just show up. Check their websites for tour times and don't forget to try one of their seasonal offerings.
South End
Sleepy Poet Antique Mall is full of hidden gems like furniture, jewelry, books, and clothing. Take your date to dig through the wares and see what goodies you can unearth. Don't forget to grab some of the complimentary popcorn as you peruse the various vendor stalls. Snacks make everything better.
Midtown
Lunch is a great and inexpensive date option, especially when it involves the lunch menu at Pisces. Show up hungry because Monday-Friday from 11:30 am-2:30pm and Saturday/Sunday from noon-2:30pm they offer an all-you-can-eat sushi menu. It costs just $12 to stack plate after plate with no shame and impress your main thing, your Hinge date, or your side piece (who are we to judge?).
Dilworth
If you want to go the dinner and drinks date on a budget route, head to local favorite Fran's Filling Station. The restaurant features half-price bottles of wine Monday – Thursday, but it's the prix fixe dinner menu that is the standout. For $50 (Monday – Thursday), the menu includes one appetizer, two entrées, and a bottle of wine.
South End
BYOB and some snacks, and for $40 per person you can create a candle with the perfect fall scent all while making a fun memory with your date. The process takes about an hour and then while you and your date wait for your candles to cool, walk hand-in-hand around South End on a crisp night.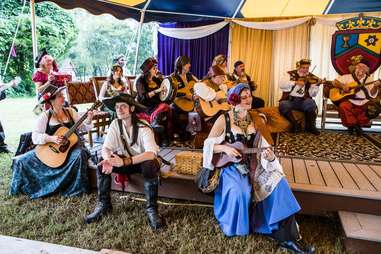 Huntersville
Knights, mermaids, and fairies are just some of the sights you can expect to see at the Carolina Renaissance Festival. Perfect for a first date, you'll have the opportunity for amazing people watching -- or to watch jousting matches and other demonstrations to keep the conversation going.
Uptown
If gooey cheese is not a love language then you're not someone I want to know. Every Thursday, Orrman's Cheese Shop, located in 7th Street Market, hosts Raclette Night. Watch as these cheesemongers fire a wheel of semi-hard cheese under a broiler and then scrape the hot cheese onto a plate of roasted potatoes, bread, and meat. Plates start at $10 ($13 if you add meat).
Uptown
Looking for a unique experience in a warm place as the temps outside continue to drop? Portal is an immersive art exhibit where couples can check out art installations all with different themes. Each installation is in its own room and each will be great on your Instagram story. For $19 per person, you can explore, play, and well, post.
Uptown
Every third Friday, Discovery Place hosts its signature monthly event, Science on the Rocks. For $12 per person, adults have access to the museum after hours -- free of children running amok and hogging all the exhibits. Enjoy a beverage, live music, and scientific demonstrations, as each month has a different theme. Past themes have included zombies, Harry Potter, and Game of Thrones.
Jazz it up out on the town
Multiple locations
From monthly concerts at The Bechtler Museum of Modern Art and The Jazz Room to free weekend performances at The Imperial and The Ritz-Carlton, the Queen City loves that soulful sound. Grab a glass of wine or a cocktail, sit close to your special someone, and let the sounds of smooth jazz set the tone for your night.
York, South Carolina
From now until December, drive about an hour and cross the South Carolina border and sip cider, pick apples, and eat cider donuts at Windy Hill Orchard & Cider Mill. Admission to this Charlotte autumn staple is free, but you'll have to pay to pick apples, etc. You'll need reservations on the weekends to pick your apples, or you can cheat and buy pre-picked apples. We won't tell.
Fourth Ward
Is there anything more romantic than strolling arm-in-arm through historic and charming Fourth Ward? If there is, we haven't found it. For $30, tour historic homes, renovated condos, and everything else in between. Drinks and food are available along the way, but we recommend bringing your hot chocolate and stopping at Alexander Michael's before or after your tour. If you don't want to pay for a ticket, you can walk the neighborhood without going into homes.
Sign up here for our daily Charlotte email and be the first to get all the food/drink/fun in the Queen City.