It's cold, it's getting dark at 5:30pm, your bank account is drained from the holidays, and you're yelling at Netflix because of course you're still watching.
The cold embrace of winter mixed with a holiday hangover can be anything but romantic, but it doesn't have to be. Charlotte has plenty of date night options that are equal parts affordable and unique. They'll leave you excited to put on actual pants, turn off the TV, and venture out of your house for a wintertime adventure. Here are the best -- and most affordable -- Charlotte date ideas to go on right now. 
Recommended Video
Timothy DeLaGhetto and David So Light Up Houston's Hops n' Hot Sauce Festival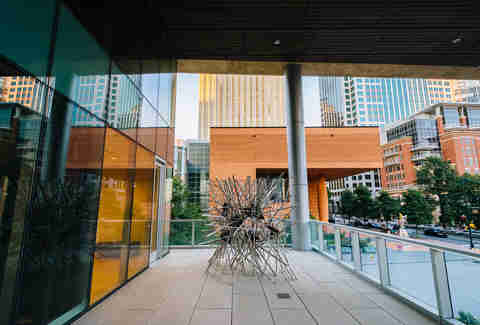 Uptown
From 5pm-9pm on Wednesdays, the Mint Museum's Uptown location offers free entry to its galleries. And there are many. The museum is 145,000 square feet, with five stories of exhibits. If you can't find something to talk about here, hopefully you're incredibly good looking.
Montford
Jeff's Bucket Shop, a Montford staple, is the requisite spot to let your inner Hootie shine through. It's been called the best karaoke in Charlotte, and every night there's good drink specials (cheap PBRs and $5 Fireball shots) to give you some liquid courage before belting out Darius Rucker's cover of "Wagon Wheel." Karaoke is free to perform, but expect a crowd.
Various locations citywide
On January 13, volunteer organization Hands on Charlotte honors the legacy of Dr. Martin Luther King Jr. by organizing a citywide day of service. Spend quality time with your date and do some good at the same time.
Bojangles Coliseum
Charlotte Checkers games are a blast as is, but when you factor $1 beers into the equation, the experience is obviously better. It's happening on January 17, February 14 (what a way to celebrate Valentine's Day!) and March 14, so snag your tickets to those games to take advantage of the deal. Tickets start at just $15.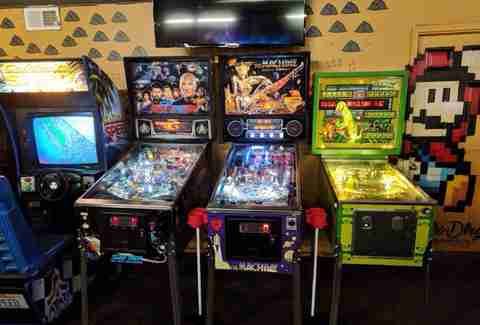 NoDa
NoDa's Abari Game Bar is hosting the North Carolina State Pinball Championship on January 20, with the winner of that heading to Nationals in Las Vegas. Head over to cheer on the competitors, and use it as inspiration to return with a bag of quarters to see if you've got any hidden pinball talent yourself. Loser buys drinks.
LoSo
Brunching every weekend is costly, but Red Clay Ciderworks has a unique option to counter that. From noon until two on January 21, stop in and enjoy PepperBox Donuts, plus eats from local food truck Queen City Sliders. It's totally free, but you'll definitely want to buy a couple of hot mulled ciders to wash it down.
Elizabeth
Since 1985, Cajun Queen has brought authentic New Orleans cuisine to Charlotte. Situated in a 100-year-old house, the restaurant serves up reasonably priced dishes like étouffée and shrimp and grits (entrees start at $17.95), as well as live jazz seven nights a week. It's dinner and a concert combined. And be sure to ask to be seated in the band room when you make your reservation. It's the move (plus your date will think you're super cool and understand jazz).
South Park
Kindles are convenient, but there's something special about holding a book in your hand. If your date loves to read, take them to Park Road Books (in the Park Road Shopping Center) to browse the shelves for their next favorite pick. The store also hosts book signings and readings. On January 25, author Brett Ingram will be there.
Avidxchange Music Factory
If the two of you are are usually in a rush to get out the door as soon as the alarm blasts, try something different with CreativeMornings. The free monthly speaker series (don't forget to reserve your tickets online in advance) gets your day off to an inspired start and leaves you with more to talk about at dinner that night than the usual, "So, how was work? Is your cousin Tevin coming over for dinner this weekend?" The theme of the February 2 event is "curiosity." Now you're curious, aren't you?  
Montford
You think you have eclectic taste in music, but Angry Ale's music trivia (which happens Tuesdays-Thursdays at 8:30pm) will test that assumption and help secure your bragging rights. Rounds will cover Justin Bieber to Journey and everything in between. Grab a few of your favorite musically inclined friends, create a cool name like "Eddy Money For Nothin'," and don't come in last. Especially if you use that team name.
Elizabeth
First thing's first… if you sign up for a membership here and use the code "THRILLIST," it'll only cost you $5. And you'll make that money back immediately as you can score free pizza on Fridays at 7pm from Pizza Peel. So come on down, grab a table, and use some billiard nomenclature like "break," "rack," "corner pocket," and "what? I totally meant to miss that pocket."
Plaza Midwood
If your honey bear boo boo thang is hoping for a different way to celebrate the holiday, Bring Your Own Vinyl night at Petra's Bar in Plaza Midwood is the perfect evening out. Bring in your most treasured vinyls and the DJ will spin them for you. And at the end of the night, you'll leave with a whole queue of love songs for next year.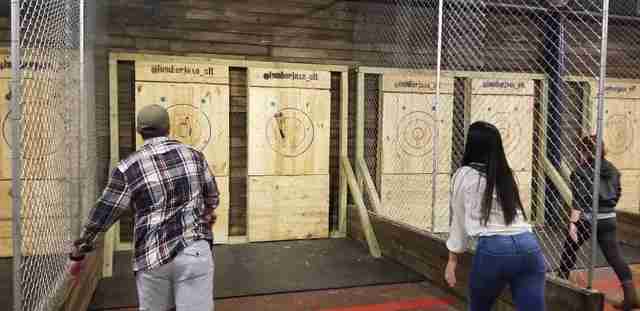 Plaza Midwood
Bowling is fun. Throwing darts is neato. But you know what's even better? Tossing large wooden axes at an even larger wooden target. It's all possible at Lumberjaxe, Charlotte's first axe-throwing facility. This is sure to be different than any date night you've had recently. Lane rentals are $20 an hour.
Plaza Midwood
Speaking of vinyl, if BYOV night inspires some record player envy, head to Lunchbox Records on Central Avenue and beef up your collection. It doesn't cost anything to look and you can always buy your sweetheart a used Scandal featuring Patty Smyth record for super cheap.
Uptown
You don't want to sit at home on the weekends, but going out gets expensive... especially if you're headed to spots with hefty cover charges or have impulsive spending issues. Mix it up with a visit to dueling piano bar Howl at the Moon, where talented musicians crush your favorite sing-along worthy songs. There's no cover, and the bar regularly has drink specials like $3 Bud Lights on Thursdays.
Eastway
Why rewatch the same show you've already seen 12 times on TNT when you can learn something new at the Charlotte Museum of History? The museum is the steward of the Hezekiah Alexander Homesite, which is the oldest house in Mecklenburg County. Alexander was a framer of North Carolina's Constitution and Bill of Rights. When you're there, check out their Charlotte's Road to Revolution exhibit (good for knowledge… and trivia questions!). Entry is $10.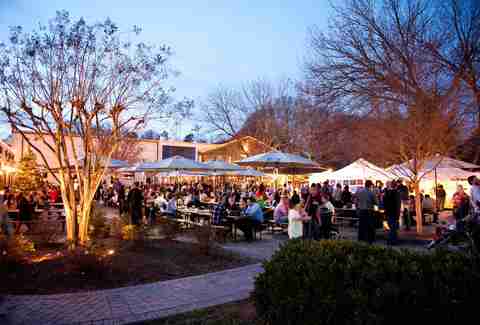 LoSo
You love to drink them -- now take a peek behind the curtain (or giant copper vat) and see how your favorite beers are made. Olde Mecklenburg Brewery offers free tours every Saturday at 2pm, 2:30pm, 3pm, 3:30pm, and 4:40pm. No need to register; just show up.
South End
Sleepy Poet Antique Mall is full of hidden gems like furniture, jewelry, books, and clothing. Take your partner to dig through the wares and see what goodies you can unearth.
Uptown
Decompressing over a glass of wine is the perfect way to unwind with your side piece after a long day of work. But it's time to add a little color to your next date night. Every Wednesday, Coco and the Director in Uptown offers Wine 'n' Color Wednesday at 5pm. Grab a $5 glass of select wine, pastries at half price, plus a coloring sheet and some colored pencils. Then it's time to let your inner Picasso shine. If you're proud of your work, enter it for a chance to win a free coffee. You better bring it -- people love coffee.
Midtown
Show up hungry when you head to Pisces, because Monday-Saturday from 11:30am-2:30pm is all-you-can-eat sushi. It costs just $11 to stack plate after plate with no shame as you enjoy some mid-workday time with your number one.
Sign up here for our daily Charlotte email and be the first to get all the food/drink/fun in the Queen City.