There's no shortage of stuff to do in Charlotte: a nice dinner out on Friday, brewery tab on Saturday, maybe brunch and a Whitewater Center visit on Sunday... and THAT is how you spent your rent money. Mix in any of these 21 free activities now and then to save a little cash and also to explore a new side of the city. There's no word like "free" to get you out of your comfort zone.
1. Watch the Knights from a grassy knoll
We're all about supporting the Charlotte Knights, especially since their kick-ass Uptown stadium ranks as one of the best minor leagues in the country. But once in a while all you need is a spot to sit and a picnic for a perfect summer night. Set up camp at the hill along Fourth Street this season, before their plans to add a mixed-use office building/terrace/restaurant kick into construction.
Recommended Video
Finally You Can Zip Line Across the Grand Canyon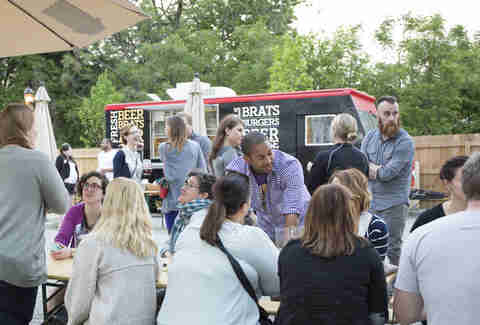 2. Meet your Instagram friends in real life at #instabeerupclt
Social media and the real world collide at this hashtag brainchild of Vintage CLT's Amy Herman and Black Wednesday Social Co.'s Corri Smith. With exponential growth since its 2014 launch, the (free) conversations and networking opportunities are worth going for on their own -- and occasional sponsored freebies (like a pint) make it a no-brainer for anyone who agrees that networking almost always sucks. Just follow the hashtag to learn the next watering hole in the rotation.
4. March to the beat of your own... you know
Channel your Asheville side with the drumming circle at Trade and Tryon, held on the Friday closest to the full moon from 8-11pm. You saw Drumline, right?
5. Put your problems in perspective at the airport overlook
Pack a picnic or just some food for thought for this pull-up spot off Old Dowd Road (Pro tip: 4355 Airport Overlook Drive is a GPS-friendly address). There's something about giant planes flying overhead that makes your daily stresses seem just a little bit smaller.

6. Splish splash on Lake Wylie
Free lake access is hard to come by, so post-Labor Day check out over-the-border neighbor Ebenezer Park of Rock Hill with picnic areas, fishing areas, a boat ramp, and swimming access. Just can't wait to jump in that water? A day pass is only $5 per car during summer peak season.

North Carolina laws put a serious damper on traditional happy hour, but summer Thursdays on the EpiCentre rooftop kick off the weekend in style with bands ranging from '80s tribute groups to the island vibe of Simplified.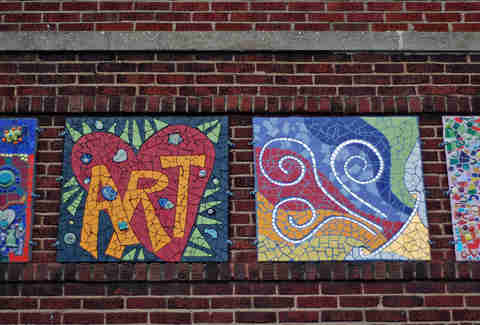 8. Get artsy at the South End gallery crawl
The first Friday of the month marks the perfect time to browse -- and buy -- in one of Charlotte's up-and-coming art 'hoods. Elder Gallery, Ciel Gallery, and Lark & Key are just a few of the key regular participants.

9. Circle the city on the Little Sugar Creek Greenway
Enjoy an uninterrupted stroll, sprint, or bike thanks to the locally beloved greenway. A popular portion stretches from 7th Street to Freedom Park, but the network continues North through Cordelia Park and South to Park Road Shopping Center.
10. Stop and appreciate Charlotte's public art
Okay, okay, we've all taken a photo (or 10) with "Firebird" by Niki de Saint Phalle. But there's so much public art in Uptown that it's easy to overlook it as part of the scenery. Take an afternoon and get to know your own city; the Arts & Science Council offers a downloadable podcast, map, or even scavenger hunt to guide you through Uptown's most notable pieces.

11. Give back to the city you love
Charlotte has a serious soft side -- we support tried-and-true organizations like Habitat for Humanity alongside a new crop of nonprofits as they emerge. Work the soil at a friendship garden or train your pet to be a service all-star; there's an activity for everyone, and Meetups are a great place to start.
Soak in the skyline view and enjoy the free live entertainment, ranging from jazz to rock to beach music, Wednesday nights from 6-9pm. And just in case you go overboard with the cheese and crackers, the park also hosts free exercise classes on the daily with "Fit in '15." Now you can't even blame expensive gyms for your summer workout slump.

13. Discover something new at the Mint Museum(s)
Wednesday evenings from 5-9pm admission is free to both Mint Museum Uptown and Mint Museum Randolph. Tired of people telling you you'll regret your tattoos? Then don't miss this summer's Body Embellishment exhibit Uptown (through Sept 6), which explores avant-garde body art.
Charlotte plays host to several open-mic nights, but perhaps the most quirky and cherished is Monday night in Derita at Puckett's. With no cover you've got nothing to lose except your Monday blues.

15. Learn some skills at Bass Pro
Fly fishing, archery, outdoor cooking -- get in touch with your country roots with a free class at Concord Mill's megastore for all things outdoor.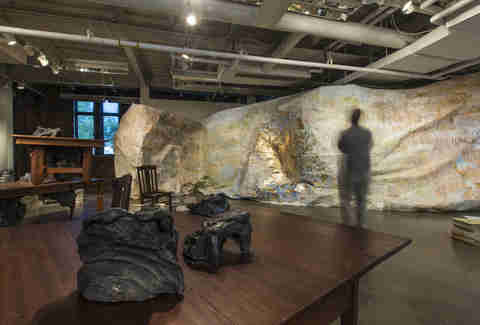 This church building-turned-gallery on North Tryon is known for hosting artists-in-residence and cutting-edge exhibits, but by far the biggest value-add to your free admission is Open Studio Saturday. Get up close and personal with the artists in their process -- they may even invite you to participate.

17. Start with a concert then walk around Davidson
It's a short jaunt up 77 to Davidson at exit 30, both town and college. Strolling the campus and exploring Main Street takes you back about 50 years, even more so when you enjoy one of the free Concerts on the Green on select Sunday evenings in the summer.

A neighborhood dive, pool and darts, and free pizza on Fridays -- what's not to love?
You don't have to go to the Biltmore, or even outside city limits, for free access to calming, curated gardens. The Harwood Garden is in vibrant bloom in summer, and the Van Landingham Glen offers woodland shade when you need a break from Uptown concrete.

20. Make friends at the dog park
Full disclosure: dog not included. Charlotteans love -- okay, obsess -- over their dogs, and Charlotte public parks just feed the obsession. McAlpine Creek Park down Monroe offers lots of space and rare crowds, while Frazier Park is Uptown's spot for mixing and sniffing, with two separate pens for small dogs and large.

21. Sing stupid loud at Snug Harbor
Squeeze the last drop out of the weekend with Sunday night free karaoke parties at Plaza Midwood's Snug Harbor. It starts at 6pm, so you can go a little crazy and still survive Monday morning.
Sign up here for our daily Charlotte email and be the first to get all the food/drink/fun in the Queen City.