Charlotte's 10 Best Music Venues, Ranked
Despite having to say goodbye to some longtime favorites like Amos' and Tremont in recent years, the Queen City has a strong musical voice and a quality collection of live music venues. You'll find a wide variety of genres strumming in different settings across Charlotte, from historic landmarks in neighborhood backstreets to popping Downtown hangouts and spacious outdoor pavilions. Buy your tickets for a show at these excellent venues, ranked for performance quality, venue popularity, and overall atmosphere.
Plaza-Midwood
Hosting everything from country and hip-hop to gothic rock, Snug Harbor offers up great live music to go along with its cheap drinks and unpretentious atmosphere. This eclectic dive bar is home to a variety of low-key visitors, and you really can't ask for more than that when it comes to a local stomping ground. Check out the events schedule for upcoming acts, or stop in on a Sunday for Bone Snugs n Harmony, the joint's free karaoke party that offers up some voices fit for the stage (and a whole lot of others who should stick to singing in the shower).
Uptown
Music, booze, city lights, and a young party crowd combine to create an open-air rooftop venue unlike anything else in the city. Perched at the top of the EpiCentre, Rooftop 210 provides you with an expansive layout and incredible skyline views, along with excellent cocktails and tunes. In the summer, Rooftop 210 showcases live bands at its weekly Alive After 5 celebration and has also hosted big names such as Calvin Harris.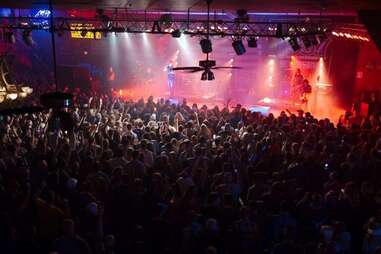 Westerly Hills
Referred to as a country music nightclub (yes, this concept actually does exist), Coyote Joe's has been leaving its own unique mark on the live music scene since 1991. Between the line dancing and rowdy 1-2-3 drink nights, Joe's has hosted many country stars on their way to hitting it big (Travis Tritt, Brooks and Dunn, and Garth Brooks have all graced this stage), so make sure to catch new hit songs on the cheap before you have to hand over more money later in order to catch a mainline tour. Brett Young, Cole Swindell, and Chris Lane are all throwing down in the coming months. The (cash-only) bar is open three days a week, and you'll find live entertainment each of the nights. If you want to skip out on the lines of swooning fangirls, catch Coyote Joe's award-winning house band, which typically performs on Wednesdays.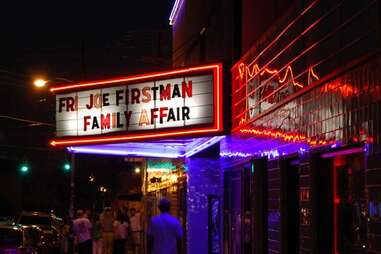 NoDa
The fact that this institution is in Charlotte's historic arts district certainly doesn't hurt its creative allure. Neighborhood Theatre is a community landmark that music lovers have come to rely on -- and one that newcomers should definitely make a point to experience. Built in 1945 as a movie theater, this classic space stands today as host to our favorite local and regional bands. Standing room fills the front for attendees to soak in the stage experience, or guests can sit back and relax among reserved tables or balcony seats. Expect a wide range of independent bands, from garage rockers The Mummies to funk/jazz musician Karl Denson, and even Finland's Children of Bodom.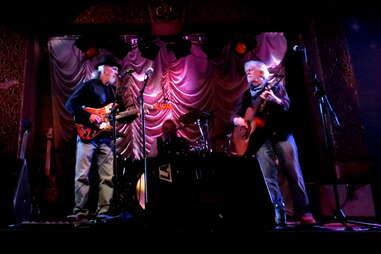 Elizabeth
The Visulite Theatre on Elizabeth Ave exudes a small-neighborhood vibe with a larger-than-life personality. The modest entrance opens up to reveal traditional theatre charisma complete with full bar and stage curtains. Visulite has a sizable floor, so you can succumb to a passionate crowd for a night of up-close-and-personal musical talent. Up-and-coming artists in a wide variety of genres frequent the stage here -- from singer-songwriters to reggae and burlesque. Try to snag tickets to catch local favorites
Simplified
for a little island rock in the Carolinas.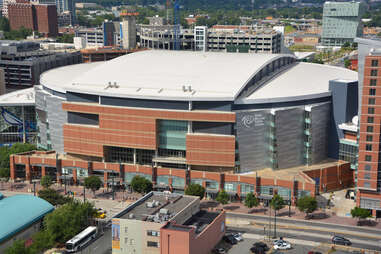 Uptown
This arena is home to our Charlotte Hornets, but don't let the incredible performances also held here slip you by. Right among the Uptown action, Spectrum Center (formerly the Time Warner Arena) is your main source for all the heavy hitters, and thus earns its claim in the top five. This sports platform fills with more than 20,000 fans for mega headliners like Taylor Swift, Beyonce, and Rihanna (Queen City girl power in full force, y'all). Catch Stevie Nicks, Dolly Parton, and Carrie Underwood, who will all grace the stage soon for shows you won't want to miss. While the arena may be one of the most convenient venues in Charlotte due to its central locale, don't automatically expect an awesome viewpoint. If you want a good seat, you have to be ready to shell out some change, because the tickets won't come cheap.
NoDa
If you're looking to listen to local music in an intimate environment, this 80-seat establishment has been hosting independent performers on its neighborhood stage for over a decade. Whether you're into acoustic musicians, electric acts, or folk entertainers, The Evening Muse has you covered. Check out open mic night for a diverse mix of music, or search the event list for a band you haven't heard of -- you'll likely walk away a fan. There's usually an opportunity to connect with the artists at the end of their sets, and it's this relaxed, personal approach that puts this place at No. 4. The venue also has a great selection of beer and wine, so plan to stay a while among a crowd of equally good company.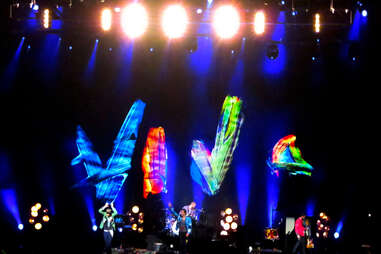 University City
Nothing beats witnessing a country star jam out on a summer night at PNC. This outdoor amphitheater sits about 15 miles north of the city and is an epic platform for big names like Brad Paisley, Zac Brown Band, and Kenny Chesney. You can choose between standard seats under the pavilion or (our ticket of choice) lawn general admission so that you can cozy up to all the other insane country fanatics who have had one too many Bud Heavies. Pick your piece of grass wisely -- that is, away from the rambunctious, wobbly 20-somethings who think they can sing -- and give yourself extra time to get here. PNC isn't easy to get to at the end of a long work day, particularly if you want any time to tailgate.
Uptown
This historic mill building features hardwood floors, vintage posters, and chic chandeliers that distinguish it from other spankin'-new venues. The dated charm and iconic performance décor provide an ideal concert ambiance, and there's plenty of room in this 2,000-capacity space to claim a back corner of the standing-room-only area or push yourself up front to the feet of the performer. The quality of artists who take the stage push it up even further on our list, with a gig lineup that includes everyone from country stars to hard-rock acts. Chase Rice, Mac Miller, Weezer, Marilyn Manson, Passion Pit, and The Weeknd are just some of the well-known names that have played here. Make it a double bill at The Underground, a newly opened concert venue adjacent to the Fillmore with a 750-guest capacity. Be on the lookout for upcoming underground acts like Nothing But Thieves and Daya.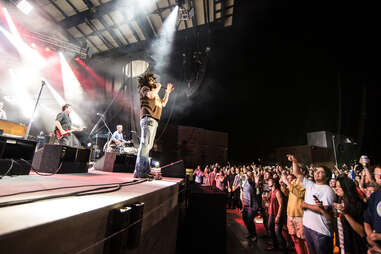 Uptown
Formerly known as Uptown Amphitheatre, this popular outdoor arena hides within the AvidXchange Music Factory on the outskirts of Fourth Ward. This venue will definitely not disappoint, earning the top spot with its killer combination of accessibility, flexibility, and festive attitude. You'll consistently find late-'90s and early-aughts favorites like Third Eye Blind, Goo Goo Dolls, and Counting Crows, as well as your latest girl-crush obsessions like Ellie Goulding. Join in on the lawn for a giant sing-along and an incredible backdrop of the city skyline, then take advantage of the amphitheatre's excellent location for post-show fun. Bars like
Label House
,
Wet Willies
, and
VBGB
provide you multiple (and very different) drinking options to completely round out your night of entertainment.
Sign up here for our daily Charlotte email and be the first to get all the food/drink/fun in the Queen City.
Courtney Matinata is a freelance writer for Thrillist, and was in fact one of the obnoxious tone-deaf girly girls belting it out to Ellie Goulding this summer.