Courtesy of ExploreAsheville.com
Courtesy of ExploreAsheville.com
For a quickly sprawling city, Charlotte does a decent job of hanging onto its natural greenery. But once in a while, another two miles on the Booty Loop just won't cut it. Jump in the car, and in less than three hours you can transport yourself to majestic mountains or small towns with peace, quiet, and plenty of home cookin'. These are the nine best (non-beach town) destinations worth road-tripping to.
Lexington, NC
Distance from Charlotte: 59 miles Northeast; One-hour drive
Why it made our list: Two words: barbecue and wine. Not together. Whether or not you time your visit with the annual Barbecue Festival in October, you won't be disappointed with legendary Lexington Barbecue's standard menu. For a change of scenery, sit back and sip a flight or two at Tuscan-style Childress Vineyards.
Pro tip: Driving back to Charlotte around lunchtime? Take a pit stop in Salisbury for a burger or dog at standing room-only Hap's Grill and wash it down with a Cheerwine in the cherry soda's hometown.
Winston-Salem, NC
Distance from Charlotte: 79 miles Northeast; 1.25-hour drive
Why it made our list: Downtown Winston-Salem is in the midst of a serious revival, but we recommend using the tobacco town as home base for Yadkin Valley winery touring and Triad-area brewery hopping (hi there, Natty Greene's). Not in the mood for more mileage? A full day at Foothills Brewing's downtown brewpub or main tasting room will keep you plenty busy.
Pro tip: Plan ahead -- way ahead -- and try your luck snagging cult classic Sexual Chocolate imperial stout at Foothills' one-day-only release in February.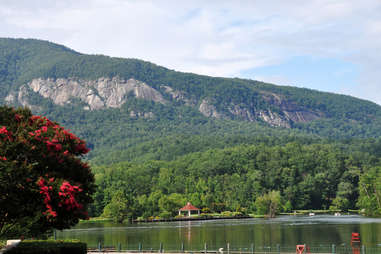 Lake Lure, NC
Distance from Charlotte: 92 miles West; 1.5-hour drive
Why it made our list: Forever famous as a key setting for Dirty Dancing, this quiet mountain destination is a nice change of pace from the party-boat vibe of Lake Norman. We can't promise it'll be the time of your life, but for R&R, a laid-back "beach," and nearby attractions like Chimney Rock, it's pretty damn nice.
Pro tip: Look, historic Lake Lure Inn (1927) is tried and true for a reason. Enjoy the charm of a small room, but eat a giant brunch (plus build-your-own Bloody Marys) at onsite Veranda Restaurant.
Boone, NC
Distance from Charlotte: 95 miles Northwest; 1.75-hour drive
Why it made our list: The High Country tops the list for outdoor adventure, with bouldering, zip lines, lazy tubing, and winter snowboarding better than any other in the state. Get the lay of the land with a stroll on the Mile High Swinging Bridge (yep, one mile above sea level) at Grandfather Mountain, and map out your meals carefully because there are some serious culinary creatives in the Boone area, like Artisanal in Banner Elk and The Gamekeeper.
Pro tip: Yes, you should probably hit the family-style Dan'l Boone Inn, the oldest restaurant in Boone, for some country ham biscuits and simply to say you've been. But don't miss Proper for the rest of your Southern comfort standards.
Greenville, SC
Distance from Charlotte: 102 miles Southwest; 1.5-hour drive
Why it made our list: Mention Greenville in Charlotte, and you'll still be met with "North Carolina or South?" As far as destination spots, though, the latter has eclipsed the former with an up-and-coming food scene -- plan stops at The Lazy Goat for riverfront Mediterranean and The Bohemian for brunch -- easy, rentable bikes for exploring, and touches of natural mountain landscape mixed in with the metropolitan, like Falls Park on the Reedy with scenic overlooks, waterfalls, and a suspension bridge.
Pro tip: Join the 1,200 people a day who bike the Swamp Rabbit Trail between downtown Greenville and a little town next door. Which brings us to...
Travelers Rest, SC
Distance from Charlotte: 111 miles Southwest; 1.75-hour drive
Why it made our list: Golfers should tee up at Cherokee Valley Golf Club when in tiny Travelers Rest, and the town is a secret cyclist's mecca thanks to the 2013 debut of Hotel Domestique. Tour de France veteran George Hincapie and his brother Rich opened the luxe boutique property with design that caters to hobbyists and pros alike: think bike valets, onsite bike shop, and guided Blue Ridge rides for all levels.
Pro tip: On-property Restaurant 17 serves up local proteins with classic (and beautiful) techniques; for downtown comfort food stop in The Cafe @ Williams Hardware.
Asheville, NC
Distance from Charlotte: 124 miles West; Two-hour drive
Why it made our list: A food- and drink-obsessed itinerary will serve you well in Beer City, USA, where you can jump from national darling tapas spot Cúrate to butter heaven Biscuit Head to River Arts District favorite White Duck Taco Shop, or simply follow the Western North Carolina cheese trail with spots like Blue Ridge Mountain Creamery (by appointment) and Looking Glass Creamery. After pints from Highland Brewing or Sierra Nevada -- or maybe before -- try a foraging tour by No Taste Like Home to experience full Asheville crunchiness.
Pro tip: Gorgeous hikes and bikes abound, but make the worthy drive to Max Patch on the A.T., where you can hike to the wildflower meadow mountaintop for a serious "the hills are alive" moment.
Chapel Hill, NC
Distance from Charlotte: 140 miles Northeast; Two-hour drive
Why it made our list: 13.9% of Charlotte's population graduated from UNC Chapel Hill based on unscientific polling, so y'all know the drill. But for the rest of you, follow the Tar Heel tracks to catch a show at intimate venue Cat's Cradle, see what the buzz is about at award-winning Lantern, and save some room for Franklin Street staple Crook's Corner.
Pro tip: Carrboro speakeasy Peccadillo is totally worth finding -- which is tougher than it sounds. Expect strong sips concocted by lab coat-wearing mixologists.
Cherokee, NC
Distance from Charlotte: 165 miles West; Three-hour drive
Why it made our list: Get your poker face ready on the drive up to Cherokee, home to the only full-scale casino in North Carolina. When you're ready for fresh air after a night at the slots, take advantage of the area's abundant fly-fishing or play tourist at working time preserve Oconaluftee Indian Village.
Pro tip: Because the reservation is dry, you won't find tons of upscale dining away from the casino. But save room for homestyle blueberry or "hitchhiker's" pancakes at Peter's Pancakes & Waffles, serving up the best meal of the day from 6:30am-2pm.
Sign up here for our daily Charlotte email and be the first to get all the food/drink/fun in the Queen City.